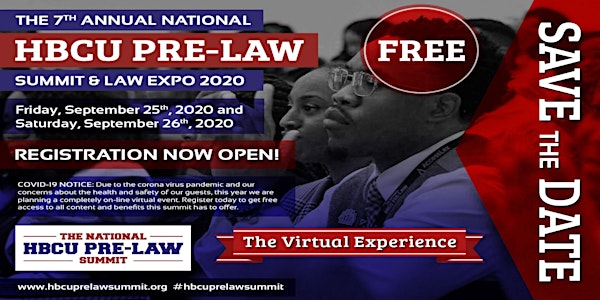 The 7th Annual National HBCU Pre-Law Summit & Law Expo 2020 (Virtual )
The nation's only major national pre-law event created especially for HBCU students and alumni interested in becoming lawyers!
About this event
THE 7th ANNUAL NATIONAL HBCU PRE-LAW SUMMIT & LAW EXPO is the only major national pre-law event in the entire country created especially for HBCU students and alumni interested in attending law school and becoming lawyers. It is designed to address their unique issues, challenges and concerns to help them to be successful.
***COVID-19 NOTICE: Due to the COVID-19 or coronavirus pandemic, and a deep concern for the health and safety of those we have created this event for, for this year only, we are planning a completely on-line virtual event. Although it will not be the same as seeing everyone in person, there will still be amazing benefits including registrants receiving EXCLUSIVE ACCESS to our speakers, panels, as well as drawings and free resources to be delivered via e-mail. ***
REGISTRATION IS COMPLETELY FREE OF CHARGE!
EVENT FEATURES INCLUDE:
CONFIRMED KEYNOTE SPEAKERS
A. Zachary Faison, Jr., Esq., 30th President, Edward Waters College, Jacksonville, Florida
The Honorable Zuberi Williams, District Court Judge, Maryland Judiciary, Rockville, Maryland
Veleka Peeples-Dyer, Esq., Partner, Baker McKenzie LLP, Washington, DC
Sadarie Chamliss Holston, Esq., Litigation Specialist, United States Department of Agriculture, Bowie, Maryland
J. Wyndal Gordon, Esq., Trial Lawyer and Solo Practitioner, The Law Office of J. Wyndal Gordon, P.A., Baltimore, Maryland
DeWarren K. Langley, J.D., M.P.A., Deputy Title IX Coordinator, North Carolina Central University and Visionary & Executive Director, Charles Hamilton Houston Foundation, Inc., Durham, North Carolina
BENEFITS
Your FREE Registration Package Includes:
Conference Strategy Booklet
Pre-Conference Audio Podcast/Webinar "How to Make the Most of the Virtual HBCU Pre-Law Summit and Law Expo"
Event App for download on your mobile phone and computer
Virtual Networking Opportunities (Within the event app, create a profile and begin networking right away - exchanging business cards, messaging people, scheduling one-on-one meetings, and small group virtual meet-ups with other attendees)
Workshops, Panels, Keynote and Special Guest Speeches
Live Q&A or Chats with Presenters and Speakers
HBCU Law School Deans Showcase: HBCU Pre-Law Talks (Hear from the deans from the 6 HBCU law schools)
Career Breakout Sessions (Small group sessions for different career paths and specialty areas)
Virtual Law Expo (Featuring law schools across the country)
Bonus Master Classes
Opportunity to Win Prizes
OFFERINGS
Panels:
How to Become a Competitive Applicant in the Law School Admissions Process
How We Scored High on the LSAT
HBCU Law Students Panel
Successful Lawyers Panel
Workshops:
Personal Statement and Diversity Statement Workshop
LSAT Workshop
Financing Law School/Paying for Law School Workshop
Special Master Classes:
From HBCU Undergrad to PWI Law School
Entrepreneurship
How to Network and Relationship Build for Future Success
Know Your Rights
Special Small Group Sessions/Career Breakout Rooms/Virtual Meet-Ups:
Corporate Law
Public Interest Law
Civil Rights Law
Criminal Law
Entertainment Law
Family Law
Intellectual Property (Copyright and Patent Law)
Small Law Firm
Large Law Firm
Plenary Sessions:
Featuring Keynote Speakers and Special Guest Speakers
HBCU Law School Deans Showcase
Opportunities to Interact with Speakers and Workshop Presenters (Time Pending):
Live Q&A
Live Chat
Law School Virtual Expo:
Featuring Over 100 Law Schools Across the Country
ADDITIONAL BENEFITS
On-Line Aspiring Lawyers Pinning Ceremony - Read The Aspiring Lawyers Success Pledge!
AND Membership in the National HBCU Pre-Law Network, Facebook Page and GroupMe!
*****FREQUENTLY ASKED QUESTIONS*****
Do I have to be an HBCU student or alumnus/na to register for this event?
No. Although this event was created specifically for HBCU students and alumni, anyone can register and participate. However, we ask that only prospective law students, pre-law advisors, career advisors, professors, parents, mentors, supporters, law students and lawyers register.
Anyone who registers and is found to be trolling or disrupting the event in any way will be reported, taken out of the Summit immediately, and banned from future events.
Is it necessary to download the Whova app?
Yes! This is the virtual platform that we chose to host the event. After you register, we will encourage you to download the app. It is to your advantage to do so, because through this platform, you are able to stay up to date on the logistics and agenda, as well as take advantage of the many other benefits it offers to virtual event attendees. You should download it on your phone and computer. Please make sure you do this well in advance of the event.
How do I use the Whova app?
Here is a link to the tutorial: https://whova.com/resources/how-to-guide/user-tutorial/
Is it necessary to download Zoom and have a Zoom account?
Yes! Our livestream sessions will be hosted via Zoom, as well as our breakout sessions and some of our virtual meetups. If possible, please download the app and sign up for a free account. You can sign up for a FREE Zoom account at https://zoom.us/.
What do I do if I have issues with the apps or if my WiFi/Internet connection isn't working during the event? Can you provide technical support?
It is your responsibility to make sure that you have downloaded the Whova and Zoom apps and that they are in good working condition prior to the event. You must also make sure you have Internet access and everything necessary to fully participate in the virtual event. The National HBCU Pre-Law Summit is not responsible for any audiovisual equipment, phones, computers, or Internet connections that will enable you to access this free online event. We are unable to provide any troubleshooting or technical support before, during or after the event.
If I have a friend who wants to participate in the summit, what should he/she do? Can he/she just watch with me or do they have to register?
We welcome them! However, please ask him/her to register. Registration is open to everyone free of charge.
What networking opportunities will I have with other pre-law/aspiring lawyers? How are you all able to replicate the networking experience online?
Although the event will be entirely online this year, we are making sure that it is highly interactive. In order to fully participate in the Summit, you must download the event app on your phone and/or on your tablet or laptop. You will not be able to fully engage in the event and take advantage of the virtual networking features without utilizing the app. It will serve as our virtual hosting platform.
As soon as you have downloaded it, go ahead and create your own personal profile. Share your interests in the bio so others can learn about you and find areas of connection. Once you have done this, you can begin virtual networking with fellow attendees right away! View the profiles of other attendees. See who you have something in common with and want to meet. Start exchanging electronic business cards. Message people virtually one-on-one who you are interested in meeting. Schedule one-on-one meetings.
At the actual event, participate in the planned Virtual Networking/Coffee Breaks and Virtual Meet-Ups. You can even take the initiative and create your own Virtual Meet-Up based on a special interest or topic not covered where you want to connect with others with a similar interest.
How will I know how to maximize my experience at the HBCU Pre-Law Summit?
The event founder will be hosting a special podcast or webinar and providing a strategy booklet to provide you with tips on how to approach and get the most out of the event. In addition, she will be hosting a special Kickoff Event the night before where she will be available to answer all of your questions as you get ready to prepare for the event.
On this evening before the start of the event, there will also be a virtual matchmaking event so that you can find a Summit buddy and friend group to share the event experience with if you so choose.
How will I know what's going on throughout the days of the event?
In addition to reviewing the agenda, you can stay connected by checking out the Community Board/Discussion Board often. We know that you have to navigate your life around the event during this pandemic and it may be hard to attend or remember everything planned, so we will be sending out e-mails and push notifications to your phone to remind you of upcoming sessions and opportunities as well.
Will you all have anything fun?
We will have some online icebreakers so you can get to know other attendees. We will also have games such as the Passport Contest during the Virtual Law Expo so that those who visit the most virtual exhibit booths win prizes. We will have a Photo Contest where the photos with the most likes will win prizes. You will have to choose and upload photos in your phone. Furthermore, we will also have some surprises. We will even have bonus events you can take part in. :0)
Does the event app have any other cool features?
Yes! You can share your HBCU Pre-Law Summit Virtual Experience by tweeting directly from the app. You can do this even if you don't have your own Twitter account!
How will I be able to make sure all of my questions will get answered?
You will have plenty of opportunities to ask your questions. Keep in mind that you are NOT just limited to the session times. You can ask questions ahead of time on the app. Simply post them on the Community Board. There will be opportunities for Q&A after most sessions. Speakers and presenters will try to make time for live Q&A and live chat. If time runs out or they are unable to take questions right after their presentations for any reason, please utilize the app to post your questions to ensure they are answered. If the questions are directed to a specific person or relevant to a particular session, please note this and we will try to get that speaker or presenter(s) to respond.
What kind of information do I look for on the Community Board?
That is the "go-to" spot for announcements. You can ask the organizers anything. You can also start topics of discussion. Further, you can post articles that you think would be interesting or helpful to fellow attendees.
How will the Virtual Law Expo work?
To take advantage of this, you must have downloaded the app. You will be provided with a three-hour block of time. All participating law schools will be listed and you click on their name to visit their virtual booth. During the designated expo time, we encourage you to visit the virtual exhibit booth for those law schools and organizations that you are most interested in first. Then, take the time to visit with as many other law schools and organizations as possible. Watch their videos. Ask questions. Grab any coupons for free waivers. Sign-up for further correspondence. Most law schools and other exhibitors will have a live representative available to connect with you via live chat or even livestream video as well. Take advantage of this opportunity! They are attending because they want to connect with HBCU students!
What do I do if I can't make the event but really want to attend? Can I just watch the recordings?
You are encouraged to attend the actual event to maximize your networking opportunities and have the greatest chance to interact with our speakers and presenters. The beauty of our event is not just in watching the sessions but in the interactions with others. Remember that relationships are everything! Attend so you can connect with others who are also attending - albeit virtually.
What if I am too busy to really interact with fellow attendees during the event because of other responsibilities? Did I just miss out, or will I have the chance to connect with other attendees again?
Luckily, the event app will remain live and active for up to 6 months after the event. Therefore, the opportunity to connect with others does not completely end and remains for some time after the actual event ends. However, understand that most attendees will be most active and interested in making key connections during the days of the event because they will be focused on being engaged and making the most out of those summit days. If possible, set the dates aside to make the commitment to take advantage of the event to the fullest extent - but you still do have the chance to connect afterwards as well.
If I ask a question during one of the live Q&A sessions, can I make sure that I am not recorded or it is not attributed to me?
We are unable to guarantee that you will not be recorded or that your name will not show up for any activity online during the event. Your participation gives us consent to utilize your likeness, voice, etc. in any recordings, advertising, etc.
Can I record the sessions to watch later?
No. All attendees are expressly prohibited from recording any session without the express written consent from the National HBCU Pre-Law Summit. However, you do not have the right to record or share them with anyone. If you know others who can benefit, simply tell them about the event and ask them to register. Our goal is to help as many students as possible and registering allows us to be able to keep track of how many so we can quantify and record our impact.
***If you have any other questions not answered here, e-mail us at info@hbcuprelawsummit.org.
Information * Resources * Connections * Community
www.hbcuprelawsummit.org #hbcuprelawsummit