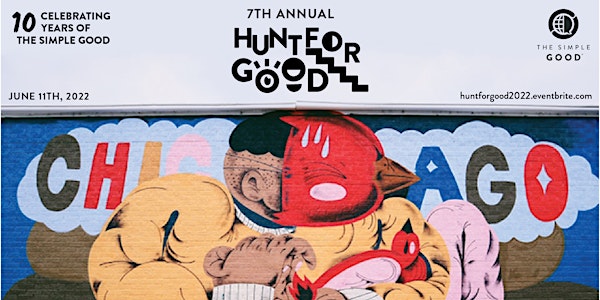 The 7th Annual Hunt for Good Scavenger Hunt + Fundraiser
Find The Simple Good from Chicago to WHEREVER you are at our Hybrid Hunt for Good Urban Art Scavenger Hunt Fundraiser 2022
When and where
Location
Haymarket Pub & Brewery 737 West Randolph Street Chicago, IL 60661
About this event
Find The Simple Good in Chicago and WHEREVER YOU ARE
The Simple Good is back with the 7th Annual Fundraiser Event, 'The Hunt For Good'. Join the race to find 'the simple good' that surrounds us! Rally your team to come together to find works of art that surrounds you, solve challenges centered around positivity and complete random acts of kindness in a race to be Hunt for Good Champions 2022.
Join our list of Hunt for Good 2022 Partners and Sponsors like Red Bull & Titos Vodka!
Email hi@thesimplgood.org for more information.
What is The Hunt for Good?
Participation is easy and fun! Here's how:
Register as an in-person or Virtual team of 2-4 people
Pick-up your HFG Swag Bag prior to the hunt which includes a tote bag, HFG Tee and swag from our HFG Partners or have it mailed to you at home.
Your goal is to find positive things aka 'simple goods' around you (murals, acts of kindness, nature, etc) and take pictures of them for points! We will provide a Clue Map to guide your adventure the day of the event.
Upload your photos on Instagram as you complete each challenge for us to score your hunt
At the end of 3 hours, our Judges will tally up the scores and teams with the most points are announced our Hunt for Good Champions 2022 (one in-person and one Virtual) on Instagram Live and at the Afterparty! Winners win HFG Medals and prizes for 1st-3rd place teams.
All proceeds from The Hunt for Good benefit Chicago non-profit The Simple Good, whose mission is to connect the meaning of good from around the world to empower youth to become positive activists through art and discussion.
Art is our 'simple good,' it's the vehicle we use to empower our students to express themselves, develop empathy and practice mindfulness to overcome obstacles and become positive leaders in the future. It is important that we remember the small things that we all have to be grateful for - our 'simple goods,' and to share them with each other to stay positive and hopeful for what lies ahead. That's why we're bringing this experience to people around the world: to connect virtually and in-person to collectively remind ourselves of the 'good' that still exists.
What is included in registration? 
A Hunt for Good Tee  (for each team member)
Tote Bag filled with simple-goodies
A Clue Map either downloadable or printed
A Morning Meditation (virtually or on-site)
An afternoon filled with good vibes, exercise and a collection of new group photos ;)
An after party with a guest Chicago DJ, Live Art + exclusive Art Auction at Haymarket Pub and Brewery AND Instagram Live
Come for The Hunt, Stay for the Party!
Join us after the Hunt ends for a celebration with our guest DJs NotGuiltyDjs, exclusive silent auction and surprise appearances from TSG Artists from across Chicago. Enjoy from home or at our Hunt for Good HQ in Chicago, Haymarket Pub and Brewery! Winners will be announced, tagged and celebrated during this time! 
Who can join? 
Anyone can join in the fun! You, your neighbor or your colleagues! The Hunt will only be available to kids who participate virtually with a Parent or Legal Guardian present. See ticket options for families and large groups. 
How is The Hunt for Good scored?
Scoring is based on the challenges completed and submitted via Instagram. Each individual or team must create an Instagram account or choose an existing personal account and submit it to us before the Hunt. Once a clue from the map is solved, a task is completed or item identified, you will snap a photo proving its completion (for teams all members must be in every photo) and post to Instagram with the clue number in the caption to be scored. Judges will follow each team's page and confirm if the answer is correct by liking the photo or by leaving a comment if it is incorrect. You'll rack up posts and points throughout the 3-hour window, and then the individual or team with the most points wins it all! No posts will be scored once time is up. Check out #HuntforGoodChi on Instagram for examples from past participants. 
FAQs
Check out our event page for Frequently Asked Questions or contact us directly at hi@thesimplegood.org