Description
As a manager, team leader or supervisor do you realise it's time to develop your management skills and leadership smarts?
On August 17th and 18th you can be part of The 7 Pillars of Management – Australia's leading 2-day management and leadership acceleration program to develop your "leadership smarts."
Over two days you'll be immersed in the seven most important aspects of managing and leading in today's workplace.
What is covered through the 7 Pillars program?
Pillar #1: Managing Expectations. One of the most vital of all management traits is to understand the expectations that are placed upon them by their (direct line) manager and their organisation. We'll be taking a critical look at the difference between management and leadership, and determine where your natural skills lay? Do you have stronger management or leadership traits?

Pillar #2: Managing for Results. Years of research indicates that the single most important trait of all managers is to ensure that their efforts and energy are committed towards achieving their team's annual KRA's (Key Result Areas). During this pillar, you'll be shown how to identify, clearly break down and set out your management objectives for the year, months and weeks ahead. We'll also introduce participants to the One-Page Business plan –enabling you to create a strategic plan for your team or business on just one page.

Pillar #3: Managing Yourself and Getting Things Done. It's impossible for any manager to manage his or her team well, and to achieve their goals if they are not highly organised and in control of their time. This pillar looks at the importance of personal productivity, time management and day-to-day planning and personal organisational skills.

Pillar #4: Managing Your Emotional Intelligence. Many years ago was thought that intelligence (IQ) was the best indicator of how successful a manager would perform. Today however we know that a person's Emotional Intelligence (EQ) is a better predictor of how effective anyone in a management role can manage him or himself, get things accomplished and bring the best out in others.

Pillar #5: Managing Your Team. A manager's most important and often difficult role is to lead people. In your roll, you're expected to lead, motivate and coach the people in your team to accomplish your team's weekly, month and annual goals. In this pillar you'll discover which leadership styles are the most effective in bringing out the best in your team and how to "lift the lid" on your team's capabilities.

Pillar #6 Managing Delegation. A key management task is to develop your people, so delegating is one way in which you can bring out the very best in your people. Learning how to delegate is one of the most principles in leveraging yourself as a manager and multiplying your value to your team and organisation. When you have better delegation skills, you'll move from what you can do personally to what you can manage.

Pillar #7 Managing Career & Life Balance. The work-life balancing act - it's getting harder. Experts agree that the compounding stress from the never-ending workday is damaging and it hurts relationships, health and a person's overall happiness. Balancing life and work is a major issue for most Australian managers, so in this pillar you'll discover how it's possible to have a successful career and a fulfilling personal life in this last pillar.
How you'll benefit from this training?
Gain a deeper understanding of how to be an even more effective manager and inspiring leader within your team and organisation.

Learn how to develop your emotional intelligence and how to increase the skills of cohesiveness of your team members.

Learn to adapt your management and leadership style to meet the changing needs of your customers, team members and your organisation.

This 55 page DISC report is considered to be one of the best behavioural profiles available anywhere in the world. After around 20 minutes of taking the online assessment you'll receive a highly detailed report to help you understand more about your behaviourin personality style in great detail. Understand what drives and motivates you and where you struggle. More importantly, discover how to communicate and work with others in your team more effectively.

These powerful mini webinars provide you one powerful management and leadership lesson. They include templates and tools that you can use either for yourself or to coach your team.
Your FREE training resources include: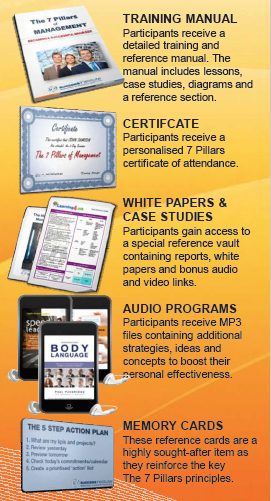 Other BONUSES included: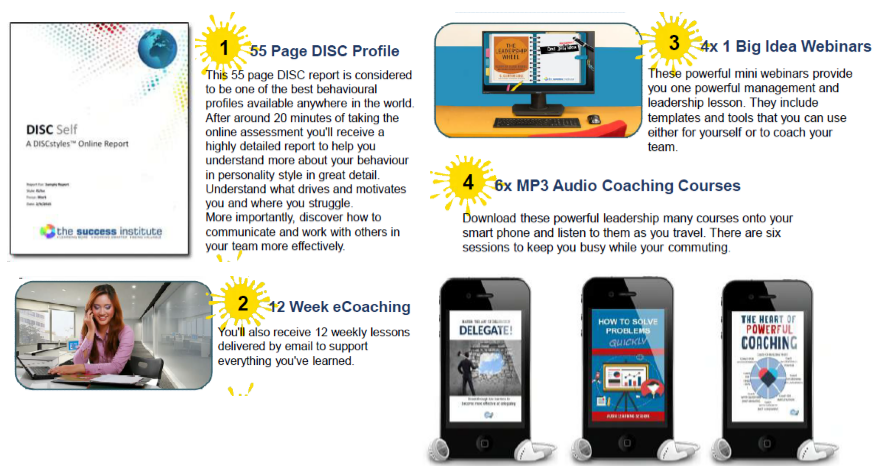 Click HERE to get your FREE The 7 Pillars of Management Training brochure.
Date and Time
Location
The Hub Conference Centre
80 Harbour Esplanade
Docklands
Melbourne, VIC 3008
Australia