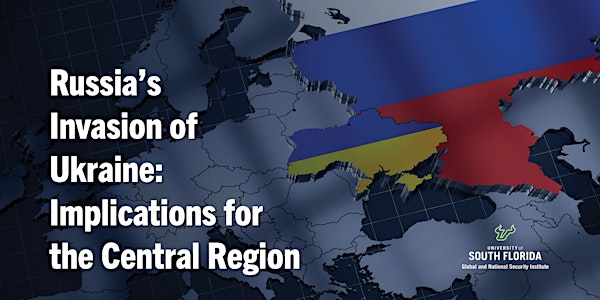 The 6th Great Power Competition Conference (Virtual Attendance)
The 6th Great Power Competition Conference will examine how Russia's invasion of Ukraine affects U.S. operations in the Central Region.
About this event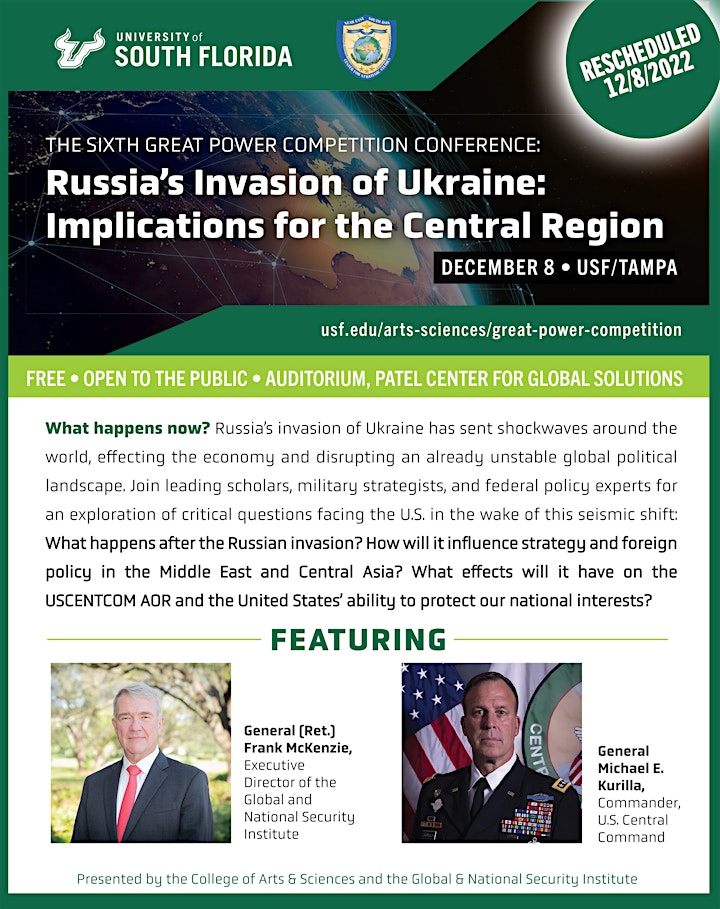 The Great Power Competition Conference is a platform bringing scholars, researchers, and practitioners together with policymakers to ensure that decision-makers can access the most current and complete knowledge possible. As academic and private researchers investigate the issues and challenges facing the United States globally, this conference series provides a conduit to diverse perspectives on global issues to military and foreign policymakers at the tactical, strategic, and doctrinal levels to ensure that U.S. national security remains nimble and responsive to emerging threats.
The 6th installment in the conference series will focus on Russia's invasion of Ukraine, an event that has sent shockwaves around the world, affecting the economy and disrupting an already unstable global political landscape. Join leading scholars, military strategists, and federal policy experts for an exploration of critical questions facing the U.S. in the wake of this seismic shift: What happens after the Russian invasion? How will it influence strategy and foreign policy in the Middle East and Central Asia? What effects will it have on the USCENTCOM AOR and the United States' ability to protect our national interests?
The University of South Florida (USF), in partnership with the National Defense University's Near East and South Asia (NESA) Center for Strategic Studies, is proud to sponsor the 6th semi-annual conference on The Great Power Competition (GPC), scheduled for December 8th, 2022, at the Patel Center for Global Solutions auditorium on the University of South Florida campus in Tampa, Florida. This event is presented in partnership with the USF's College of Arts & Sciences and Global & National Security Institute. More Information at: https://www.usf.edu/arts-sciences/great-power-competition/
Thursday, December 8, 2022, Agenda
8:00 – 9:00 AM Check-in and Registration (Coffee and Tea available all day)
8:55 – 9:00 AM Conference Introduction: Dr. Adib Farhadi, Conference Emcee
9:00 – 9:05 Welcoming Remarks: Ms. Rhea Law, President, USF
9:05 – 9:10 Welcoming Remarks: Dr. Eric Eisenberg, Interim Provost, USF
9:15 – 9:45 General (Ret.) Frank McKenzie, Executive Director, Global & National Security Institute (GNSI), USF, and former U.S. Central Command Commander
9:45 – 10:15 Keynote Address: General Michael E. Kurilla, Commander, U.S. Central Command
10:15 – 10:45 BREAK
10:45 – 12:45 Panel 1 - The Russian Invasion: Russian strategy in the Middle East and Central Asia after a Russian invasion of Ukraine
This panel will address how Russia's invasion of Ukraine and the world's response to that crisis will shape the international conditions in the Central Region. The panelists will share insights on how strategies will change, what new alliances might form, and what lessons can be learned for security arrangements. The discussion will be on Russian trade-offs in its security decision-making, the regional states' perspectives, and WMD's changing roles in international bargaining processes.
Moderator: Dr. Golfo Alexopoulos, Professor and Director of the USF Institute for Russian, European & Eurasian Studies
Panelist 1: Rear Adm. Nicholas Homan, Director, CENTCOM J2
Panelist 2: Ambassador (Ret.) Philip Kosnett, Former Ambassador to Kosovo and Senior Fellow for the Transatlantic Defense & Security program at the Center for European Policy Analysis (CEPA)
Panelist 3: Dr. Dmitry Gorenburg, Center Associate at Harvard University, Davis Center for Russian and Eurasian Studies and Senior Research Scientist, CNA
Panelist 4: Mr. Hans Wechsel, Senior Foreign Policy Advisor (POLAD) to CENTCOM
Panelist 5: Dr. Michael O. Slobodchikoff, Chair/Associate Professor of Political Science, Troy University
12:45 – 2:15 PM LUNCH
2:15 – 2:30 Plenary Speaker - Ambassador and Former Assistant Secretary at the Department of Treasury Marshall Billingslea, Senior Fellow at Hudson Institute and Former Special Presidential Envoy for Arms Control
2:30 – 4:30 Panel 2 - Partnering to Counter Narcotics and Transnational Organized Crime
This panel will address how regional and global competitors respond to and/or exploit transnational criminal organization activity and the narcotics trade. The key to the discussion will be the nexus of synthetic drugs (such as fentanyl), weapons trafficking, and human trafficking and how the intersection of these issues is shaping the needed responses. The panelists will share best practices to improve the effectiveness of partnership activities.
Moderator: Dr. Andrew Whiskeyman, COL (Ret.), Associate Professor, College of Information and Cyberspace, National Defense University
Panelist 1: Rear Admiral Curt Renshaw, Director, CENTCOM J3
Panelist 2: Ambassador and Former Assistant Secretary at the Department of Treasury Marshall Billingslea, Senior Fellow at Hudson Institute and Former Special Presidential Envoy for Arms Control
Panelist 3: Dr. Jonathon Schroden, Director, Special Operations Program/ Director, Countering Threats and Challenges Program, CNA
Panelist 4: Mr. Matt Donahue, Former DEA Senior Executive responsible for Foreign Operations
4:30 – 4:45 Closing Remarks: Dr. Randy Larsen, Associate Dean, Office of Research and Scholarship, USF