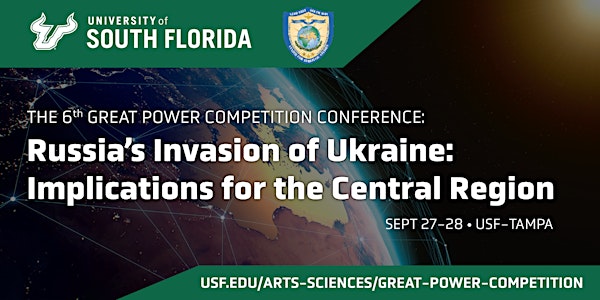 The 6th Great Power Competition Conference
The 6th Great Power Competition Conference will examine how Russia's invasion of Ukraine affects U.S. operations in the Central Region.
When and where
Location
Phyllis P. Marshall Student Center University of South Florida 4103 Cedar Circle Tampa, FL 33620
About this event
The Great Power Competition Conference is a platform bringing scholars, researchers, and practitioners together with policymakers to ensure that decision-makers can access the most current and complete knowledge possible. As academic and private researchers investigate the issues and challenges facing the United States globally, this conference series provides a conduit to diverse perspectives on global issues to military and foreign policymakers at the tactical, strategic, and doctrinal levels to ensure that U.S. national security remains nimble and responsive to emerging threats.
The 6th installment in the conference series will focus on Russia's invasion of Ukraine, an event that has sent shockwaves around the world, affecting the economy and disrupting an already unstable global political landscape. Join leading scholars, military strategists, and federal policy experts for an exploration of critical questions facing the U.S. in the wake of this seismic shift: What happens after the Russian invasion? How will it influence strategy and foreign policy in the Middle East and Central Asia? What effects will it have on the USCENTCOM AOR and the United States' ability to protect our national interests?
The University of South Florida (USF), in partnership with the National Defense University's Near East and South Asia (NESA) Center for Strategic Studies, is proud to sponsor the 6th semi-annual conference on The Great Power Competition (GPC), scheduled for September 27-28, 2022, at the Marshall Center on the University of South Florida campus in Tampa, Florida. This event is presented in partnership with the USF's College of Arts & Sciences and Global & National Security Institute.
PLEASE NOTE: Due to building capacity limitations and security protocols, we will NOT accept walk-ins/day-of registrations. You MUST register in advance to attend. The registration deadline is 4:00 pm on Friday, September 23.