Description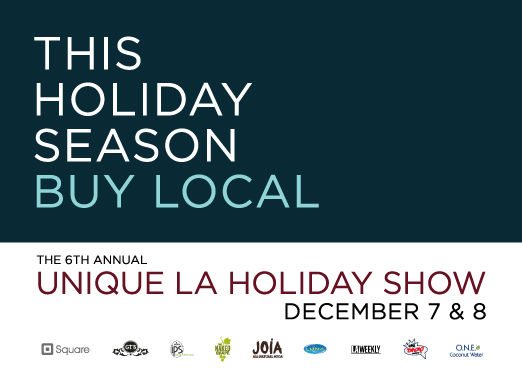 ---
This Holiday Buy Local!
*Only 1500 Pre-Sale Tickets are available online, but tickets can always be purchased at the event for $10 (Buying online means you don't have to wait in a line and you'll get our brand-new bumper sticker for free!) *
UNIQUE LA is the only curated, modern made-in-America design show in the country - and the largest shopping event around! Seriously, it's big - get ready to shop from 350 designers & artists, support the local economy, join in community and have a blast!

When: Saturday & Sunday, DEC 7 & 8, 11am - 6pm both days
Where: California Market Center in DTLA
Cost: $10 (Good for both days!), 10% goes to the amazing local non-profit Downtown Women's Center (kids 12 and under are free)

Admission includes:
• Your very own collectible tote bag, exclusive-to-the-show designed by LA-based artist Ashkahn
• Free drinks from The Naked Grape wine, JOIA, Honest Tea, GT's Kombucha & Coconut Water
• Unlimited re-entry for both days and access to giveaways all weekend long
• Free DIY Workshops all weekend
• Free photo portraits & print from Oh Snap Studios and FlipbookLA!

Clothing & Accessories • Stationery • Jewelry • Housewares • Artwork • Ceramics
Gourmet Edibles • Bags & Purses • Furniture • Lots more!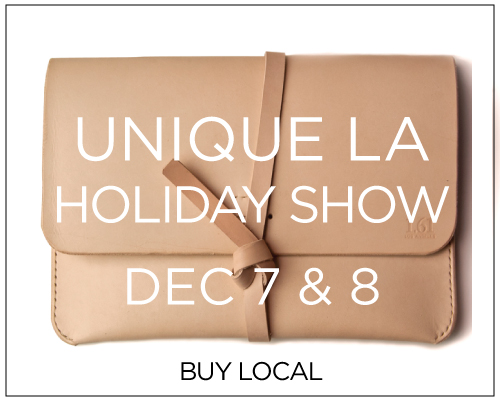 ---
More About UNIQUE LA
UNIQUE LA is an exciting two-day shopping event that showcases fresh, hand-selected design talent.
With no 'middle man' you'll shop directly from the designers themselves, which means prices
will be less then retail yet they actually make more profit. It's a win-win for everyone!
More important, UNIQUE LA is truly about fostering and growing LA's great community and bringing attention to the Made in America movement.

---
Check out our UNIQUE photos from previous shows! Watch designer interviews and videos of past events!