Description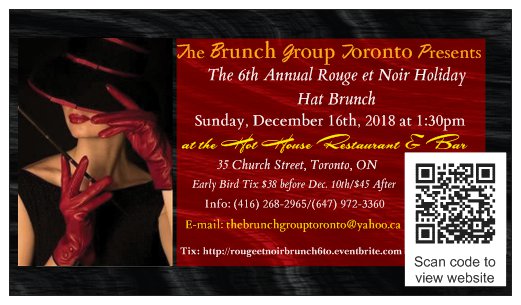 The Brunch Group Toronto Invites You to Join Us
for the Final Fundraising Hat Brunch for This Year!

THE 6TH ANNUAL ROUGE ET NOIR HOLIDAY HAT BRUNCH

Sunday, December 16th, 2018,
From 1:30pm - 4:30pm
at the Hot House Restaurant and Bar, 35 Church Street, Toronto, ON
The Holiday Season is upon us, so it's time to get into the spirit and deck the Hot House Restaurant and Bar with another awesome Holiday Hat Brunch!
Carol A. Allen and Jules Francis are kicking off this joyous time of the year with The 6th Annual Rouge et Noir Holiday Hat Brunch! And, we'll also be celebrating the Birthday of the Brunch Group Toronto Founder and Creator of C. A. Confidential, Carol A. Allen!
We've already seen some incredible and creative hat offerings over the past six years with our signature brunches--The Fancy Hat Brunch, The Big Hats and Brimz Brunch and the Fall Fascination and Fedoras Brunch. And, for this occasion, you can come decked out in a RED or BLACK or RED and BLACK Fancy Hat, a Big Hat, a Fedora or a Fascinator!
Rouge et Noir. Red and Black.
Make it Fab. Make it Fierce. Make it Funky! Your creative flair could land you one of several incredible prizes!
Proceeds from each ticket goes towards the Keegan Allen Memorial Trust which allows for youth and families to enjoy a special day.
If you would love to contribute and you are not able to attend, you can select the donation option and share your love for families connecting the donation way.
ADVANCE TICKET SALES ONLY
NO TICKETS WILL BE SOLD AT THE DOOR!
Early Bird Tickets (Available until December 10th) - $38
$45 After December 10th
We will accept INTERAC e-Transfer

until December 14th, 2018.
Join The Brunch Group - Toronto Facebook group for updates and event pix.
Follow the Hashtags #RougeetNoirBrunchTO and #HatBrunchTO on Twitter & Instagram
For more info: email - thebrunchgrouptoronto@yahoo.ca or call (416) 268-2965