Description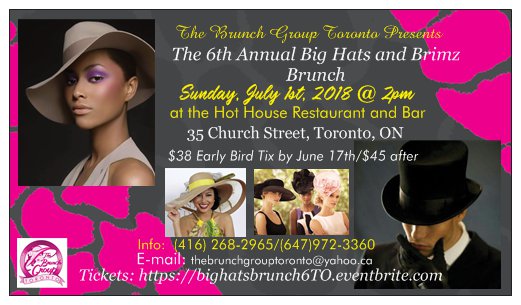 Ladies & Gentlemen!
Summer is just around the corner which means that it's time to break out the Big Hats and Brimz!
THE BRUNCH GROUP TORONTO invites you
to The 6th Annual Big Hats and Brimz Brunch
&
The Official Toronto Meets NOLA Pre-Essence Festival Social Mixer
On Sunday, July 1, 2018
From 2:00pm - 5:00pm
taking place at one of the city`s most popular Sunday Afternoon Brunch Buffet Spots,
The Hot House Restaurant and Bar, 35 Church Street, Toronto, ON
Our 6th Annual Big Hats and Brimz Brunch, is the second of four seasonal Brunches in our signature series created in 2013 to give you an opportunity to meet and connect with like-minded, fun-loving people while giving back to the community. So, $5 from every brunch ticket will be donated to the Keegan Allen Memorial Trust which assists youth and families.
This year, we welcome those of you who are planning to attend the Essence Festival in New Orleans to meet with your fellow attendees.
Since we're celebrating on Canada Day, feel free to show off your red and white Canadian attire! There will be prizes for style and creativity, so find your BIGGEST, BROADEST and most STYLISH hat and come and be part of an elite group of Brunch Enthusiasts!
If you would like to contribute and you are not able to attend, you can select the donation option on the ticket link and share your love for families connecting the donation way.
This is an Advance Ticket only event and a limited amount tickets are available online here accepting Visa and Mastercard.
NO TICKETS WILL BE SOLD AT THE DOOR!
Early Bird Tickets (Available until June 17th) - $38
After June 17th - $45
We will accept Interac E-Transfer

until June 29th, 2018.
For more info: email - thebrunchgrouptoronto@yahoo.ca or call (416) 268-2965, Twitter: @FabChic_MzAllen
or email myjoyinc@gmail.com or call (647) 972-3360
Join us on Facebook at: The Brunch Group - Toronto for pictures and event updates
Follow the Hashtags #HatBrunchTO and #BigHatsandBrimzBrunchTO on Twitter and Instagram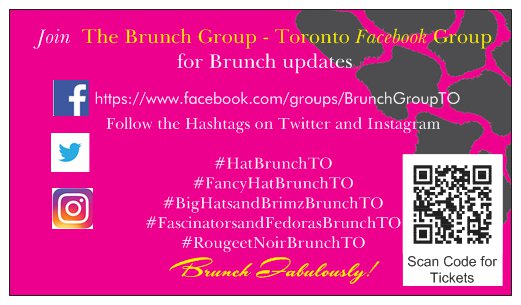 Note: Tickets purchased for the original date, Sunday, June 24th, will be honoured for Sunday, July 1st.