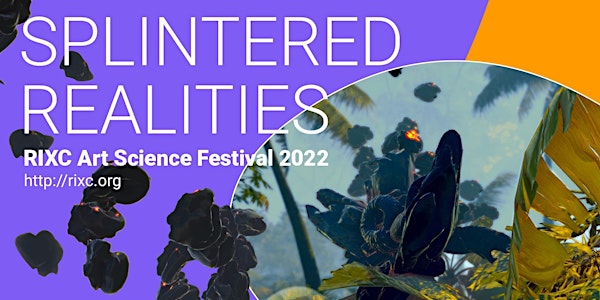 The 5th Renewable Futures Conference: Splintered Realities
The SPLINTERED REALITIES Conference of the RIXC Art Science Festival 2022, is the 5th edition of the Renewable Futures conference series.
About this event
RIXC in Riga is preparing the next edition of its annual Art and Science festival, which under the title SPLINTERED REALITIES will take place in Riga and virtually, including the exhibition opening program (August 25, 2022) followed by artist talks, guided tours, workshops and performances (August 25 – October 16, 2022), and the final international conference event (October 6–8, 2022).
The SPLINTERED REALITIES Conference of the RIXC Festival, is the 5th edition of the Renewable Futures conference series. The Conference will take place from October 6 – 8, 2022, as a hybrid event; the on-site part will take place at the RIXC gallery in Riga, hosting keynote speakers, panel curators, co-chairs and moderators, while most of the participants (selected through an open call) will be joining online, including in hybridity format sessions co-hosted by RIXC partners – NAIA in Karlsruhe, MPLab in Liepaja and FeLT in Oslo.
The SPLINTERED REALITIES Conference will be structured into a three-day program, with each "Splinter Session" focusing on a different area or field, identifying the key "splinters" and discussing how to make tentative steps towards reconstituting our realities, everyday lives, and communication with each other, now and into the future.
The Conference will also look at creative practices that deal with "splintered realities", showcasing what art can do and discussing what kind of (extended reality) technologies can help us to become more open (and sensitive) towards each other and our environments.
We don't expect to provide answers. Instead, the conference aims to be a forum for revising the "splinters" of our contemporary condition – affected moreover by ongoing military conflict.
Buy the early bird tickets until October 4! The full price: 36 EUR
Students: 50% reduction
Conference Program
[Splinter Session 01: Deep Europe] on Day 1 (6 Oct).
Day 1 will be hosted by LiepU MPLab in Liepaja, the European Capital of Culture in 2027. Session 01 curators: Andreas Broeckmann and Rasa Smite. Topics: Deep Europe, Entangled Histories, Cultivated Futures, New Ecosophies, Extended Realities
[Splinter Session 02: Naturecultures] on Day 2 (7 Oct).
Day 2 will be hosted by the new Karlsruhe based art center – NAIA (Naturally Artificial Intelligence Art association), featuring presentations by Karlsruhe UNESCO Media Art city artists. Session 02 curators and co-chairs: Anett Holzheid, Eva-Maria Lopez, Daria Mille / NAIA. Topics: NatureCultures, Eco-feminism, More-than-Human, Socio-Ecological Justice, Naturally/Artificial Intelligences…
[Splinter Session 03: Living Technologies] on Day 3 (8 Oct).
Day 3 will be hosted by the FeLT project team from Oslo, Norway, who are also co-founders of the Renewable Futures conference series. It will also feature the Green Revisited Book presentation by editors Kristin Bergaust, Jens Hauser and Rasa Smite. Session 03 curators: Kristin Bergaust, Jens Hauser and FeLT (Oslo) project team. Topics: Techno-Ecological Sensoriums, AI and Biological Systems, Technologies of Sensible, Terrestrial Co-existence, Beyond Green…
Read more: http://rixc.org/