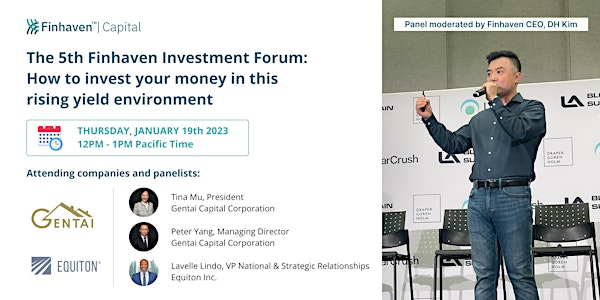 The 5th Finhaven Investment Forum
Our 5th investment forum features a panel of market experts who will discuss winning investment strategies in this rising yield environment.
About this event
Our 5th Investment Forum features a panel moderated by Finhaven CEO DH Kim. Panelists from Mortgage Investment Fund Manager Gentai and real estate corporation Equiton will discuss winning investment strategies in the rising yield environment.
The Finhaven Investment Forum will take place on January 19th, 2023 from 12-1PM (PST).
Panelists:
Tina Mu, President, Gentai Capital Corporation
Tina co-founded Gentai after a progressive 10-year career serving one of Canada's major financial institutions where she held positions including Senior Business Advisor. Earlier in her career, Tina was a five-time nominee for a Canada Mortgage Award (commercial category). She has an MBA from the University of Wollongong, is a Certified Financial Planner and a licensed sub-mortgage broker.
Peter Yang, Managing Director, Gentai Capital Corporation
Peter co-founded Gentai in collaboration with Tina Mu in 2012. For close to 25 years, Peter held senior positions including Financial Security Advisor in financial services, real estate and mortgage lending with companies including Acer Mortgage Lending Corp. Peter is a graduate of Sichuan Foreign Language Institute, a licensed sub-mortgage broker and completed the CSC Partners, Directors and Senior Officers Course.
The partners set out to create a high-performance asset management firm that would deliver superior risk-managed returns for fellow investors through highly responsive residential and commercial real estate mortgage lending. Using their own capital and ingenuity, Gentai was formed in 2012 and is today one of Canada's fastest-growing companies.
Lavelle Lindo, VP National & Strategic Relationships, Equiton Inc.
Lavelle has spent his 20+ year career developing, building and growing strategic relationships within the financial service industry. He is a charismatic leader with a proven track record of onboarding and partnering with Advisors and creating lasting relationships. Lavelle's deep experience with asset managers, independent wealth managers, and some of Canada's biggest banks extends from front line client facing roles to senior management. Trust, Integrity and giving back to the community are cornerstones of Partnership development for Lavelle. At Equiton, Lavelle is responsible for actively growing and maintaining strategic corporate relationships. Lavelle holds his Honours Bachelor of Arts Communications and Public Relations from Andrews University
Moderator:
DH Kim, CEO & Director, Finhaven Technology Inc.
DH serves to execute on Finhaven's bold vision of transforming capital markets to make them work better for investors, issuers and regulators alike. Mr. Kim is a member of the BC Securities Commission Fintech Advisory Forum and has advocated innovation in capital markets at international economic conferences and summits around the world including, New York, London, Seoul, Tel Aviv and Zurich. He obtained his master's degree in International Finance and Business from Columbia University and has lectured at Columbia University, New York and Korea University, Seoul.
---
Finhaven™ Private Markets is operated by Finhaven™ Capital Inc., a registered exempt market dealer and authorized marketplace and clearing agency in British Columbia, Alberta, Saskatchewan, Manitoba, and Ontario in Canada. We are a digital private securities marketplace focused on vetting and curating deals offered by real estate and entertainment industry businesses.