The 5th BioForum - February 21, 2019
Description
한미 생명과학인 협회 (KAPAL) 주최로 제 5 회 바이오 포럼을 2월 21일 개최합니다. 2019년에 첫 바이오포럼에 바쁘시더라도 부디 참석하셔서 네트워킹하시고 새해 인사들도 나누시기 바랍니다. 이번 제 5 회 바이오포럼에서는 테라이뮨 (TeraImmune) 대표인 김용찬박사님께서 발표를 하십니다.
Title: Immunosuppressive function in autologous Tregs originated from the patients with multiple sclerosis (Dr. Yongchan Kim)
이번 바이오포럼에서는 네트워킹시간도 충분히 준비하고 있읍니다.
* Venue: 2400 Research Blvd, Rockville, MD 20850 (sponsored by NeoImmuneTech)
* Date: February 21, 2019 (Thursday) 6:00 -9:30 PM
주위에 혹시 초대이멜을 받지 못한 분과 공유하시고 같이 참석하시기 바랍니다.
저녁식사와 드링크 준비를 위해 등록을 해주시면 감사드리겠습니다. 등록후 개인사정으로 불참시 꼭 비등록으로 수정바랍니다.
You are cordially invited to the 5th BioForum on 2/21 organized by KAPAL. Dr. Yong Chan Kim (CEO, TeraImmune) will present the recent development of their work. We will have dinner served and plenty of networking time.
Don't forget to complete registration today.
We look forward to seeing you at the 5th BioForum.
www.facebook.com/kapal.dc - Special Movie Clip - 2018 KAPAL

KAPAL committee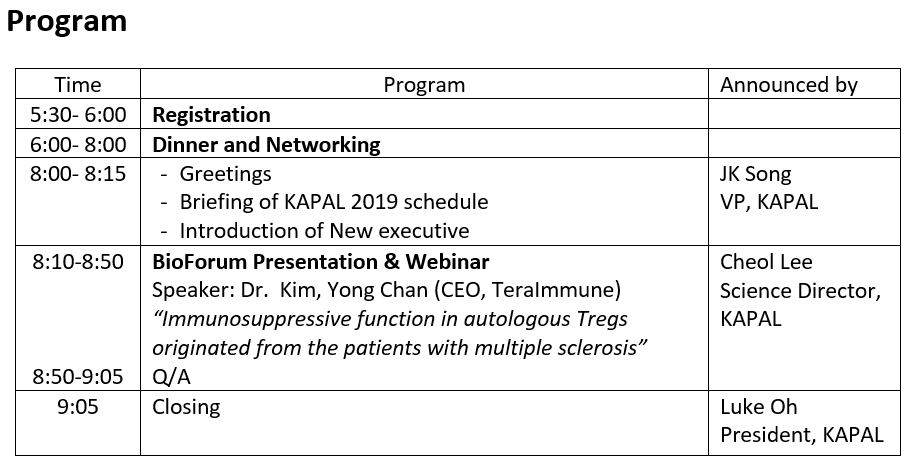 [Building Access information]