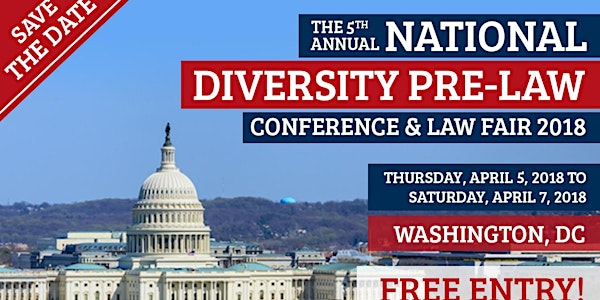 The 5th Annual National Diversity Pre-Law Conference and Law Fair 2018 Sponsored by AccessLex Institute
When and where
Location
American University Washington College of Law 4300 Nebraska Avenue Washington, DC 20016
Description
The National Diversity Pre-Law Conference and Law Fair is a national outreach, networking and empowerment event designed specifically for DIVERSE aspiring lawyers from across the country. Through keynote and special guest speeches presented by prominent lawyers and thought leaders, and dynamic panel discussions and workshops led by seasoned professionals, this event connects students with critical law school admissions, preparation and career success information that they otherwise might not receive from websites and other forms of media.
Also, it goes further than most pre-law events, by directly addressing the very real and difficult issues and concerns and added challenges facing diverse law school aspirants, law students and lawyers.
Through the Law School and Diversity Resources Fair, The National Diversity Pre-Law Conference & Law Fair brings together and connects these diverse aspiring law students with invaluable resources. Participants have the opportunity to speak one-on-one with representatives from a variety of law schools interested in recruiting them, but also organizations that have pre-law programs and initiatives, and prospective employers that are all in support of the common goal of bringing about more meaningful diversity and inclusion in American law schools and in the legal profession.
The National Diversity Pre-Law Conference & Law Fair stands apart by offering attendees seminars in diversity leadership, coalition building and collaboration, and cultural competency so they can have the necessary guidance, tools and strategies to take on leadership roles in the area of diversity and inclusion once they become law students – at their respective law schools – and then once they become members of their states' lawyer organizations. Further, it encourages attendees to utilize their law degrees in furtherance of service, advocacy and social justice.
The National Diversity Pre-Law Conference & Law Fair aims to provide aspiring diverse lawyers with access to GAME-CHANGING information, connections and resources – all in one place at one time!
We are an event designed for those who want to be lawyers who can compete AND make a difference. We are the pre-law conference with a conscience! Join our movement!
Your FREE Registration Package Includes:
• Conference Strategy Booklet and Sponsorship Guidance Booklet
• Sports Bag (for first 200 people to sign in)
• Pre-Conference Planning Guide and Official Souvenir Program Guide (Digital Edition)
• Keynote Sessions Featuring Dynamic Keynote and Special Guest Speakers
• Optional Bonus Day:Tour Opportunities at U.S. Capitol Building and Local Washington, DC Area Law Schools (Catholic University of America Columbus School of Law, Georgetown University Law Center, The George Washington University Law School, Howard University School of Law)
• Personal Statement and Diversity Statement Workshop
• Group Tour of the United States Supreme Court
• Financing a Legal Education Workshop
• Panel Discussion on Diversity and Law School Admission
• Panel Discussion on Law Schools and Diversity and Inclusion Leadership
• Leadership Diversity Training Workshop on Cultural Competence
• Law School Recruitment & Diversity Resources Fair
• Opportunity to Participate in Aspiring Lawyers Pinning Ceremony
• Networking Reception . . . and MORE!
This world-class event is completely FREE OF CHARGE and open to the public. Everyone is welcome. However, seats are limited. Pre-registration is strongly encouraged to reserve your seat!
Register NOW! Visit our website at http://www.diversityprelawconference.org/, e-mail us at info@diversityprelawconference.orgor call us at 281-944-LAW4!
Find us on Facebook, Twitter, GooglePlus, LinkedIn and Instagram! ‪#diversityprelawconference #diverseaspiringlawyers