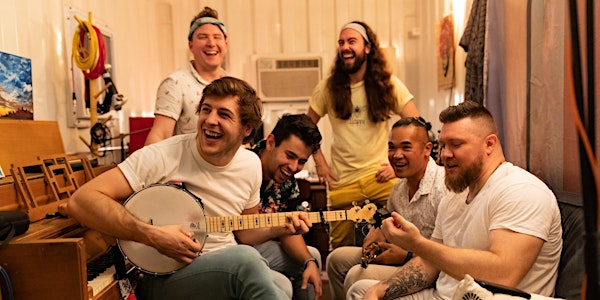 The 502s: Perfect Night Tour
Presented by The Grey Eagle and Worthwhile Sounds
Location
The Grey Eagle
185 Clingman Ave
Asheville, NC 28801
The 502s visit Asheville NC to make their Grey Eagle debut on Monday September 19th at 8pm! ALL AGES show, doors open at 7pm.
About this event
- 7PM DOORS / 8PM SHOW
- ALL AGES
- STANDING ROOM ONLY
Known for their viral music videos on TikTok and raucous live shows, Floridian feel-good folk band The 502s are kicking off 2022 with a headline tour of 13 cities across the East Coast.
The 502s provide the soundtrack for adventure, and that's exactly the spirit behind the recent viral TikTok trend of their song "Just A Little While". While the song was released in October 2021 as the lead-off to their album Could It Get Better Than This, it exploded in popularity in December, coinciding with the end of the fall school semester.
The band fired up their TikTok one day and saw thousands of videos from college and high school students posting compilations of their school year experiences, all scored by the ebullient chorus of "Just A Little While". Soon the trend caught on with users of all ages, locations and backgrounds, with the song appearing in videos of everything from motivational videos to makeup tutorials to globetrotting excursions.
The result has been a massive influx of millions of new fans, pushing their streaming numbers through the roof and landing them on Billboard's Hot Rock and Alternative chart, as well as the #3 spot on Spotify's Top Viral 50 tracks.
The 502s have grabbed the spotlight overnight, but they're anything but a flash in the pan. The six strapping lads are no strangers to TikTok audiences,following a prior viral moment back in 2020 with a video for their song "Magdalene". The most recent album is their second full length, and the band has already traveled on multiple tours across North America and Europe.
The 502s' sound can be described as a combination of the familiar folk pop singalongs of The Lumineers with the swelling instrumental energy of Paul Simon's Graceland. Employing banjo, piano, and soprano saxophone as main instruments, the band is full of unexpected surprises and always ready to bring a smile and a shout when they hit the stage.
In fact, the Funny You Should Mention It tour is named for an inside joke with The 502's raving fans on social media (known affectionately as "The Fam"). "We get comments all the time with people telling us to play in New York or Boston or DC and all over the place." laughs lead singer Ed Isola. "So this tour is our chance to say, funny you should mention it because we're on our way!"