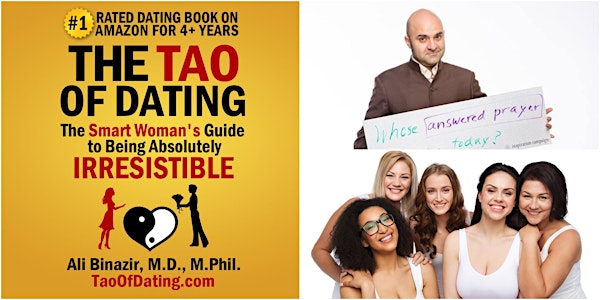 The 5 Magic Questions: What 5000 Women's Letters Reveal About Dating & Love
When and where
Location
Insight LA 1430 Olympic Blvd Santa Monica, CA 90404
Description
Since I published The Tao of Dating 10 years ago, it has been the #1-rated dating book on Amazon for 7 years, as well as the most-highlighted ebook on Kindle out of 3.4 million titles. Tens of thousands of smart, strong professional women like yourself have enriched their love lives with its precepts.
Over those 10 years, I've noticed a pattern from the 5000+ readers' letters I've received: they all seem to contain the same 5 questions!
I call these The 5 Magic Questions. Answer them right, and your love life will go spectacularly well. Get them wrong, and fulfillment will prove elusive.
In this 75min workshop, we will examine who you really are, what truly fulfills you, how to find it, and how to keep it in your life. Some topics we'll cover:
• The perils and opportunities of online dating. Used incorrectly, tools like Tinder, Bumble, Match and OKcupid can make you miserable. Find out how to use them right.
• The one question to ask to make sure a guy's not a sociopath/psychopath
• Lance, Biff and Victor: the three archetypes of men and how to spot them
• How to tell the difference between Good Guys and Bad Boys, and avoid the latter like the plague
• Subtle ways you may be sabotaging your own love life right now
• Insights on how men think, from an actual guy :)
I'll be giving you tools from both the scientific and spiritual perspectives that my readers found useful for finding and keeping love in their lives. Are you ready to graduate from app swiping and superficial interactions to deep fulfillment and happiness? Then this workshop's for you. Regardless of your age and whatever your dating situation is, these are the tools that can give you power that cannot be taken away. Sign up now and join the tens of thousands of women who have found more warmth and joy in their lives with The Tao of Dating.
PS: I'll talk for about 60min and take questions for the last 15min. There will be signed copies of The Tao of Dating paperback available for purchase for $20.