Description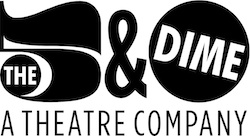 presents


The 5 & Dime LIVE!
BROADWAY BUCKET LIST
Friday, May 15 at 8pm
Saturday, May 16 at 8pm
Sunday, May 17 at 2pm


INTERESTED IN A 2020 SEASON SUBSCRIPTION? CLICK HERE!
The 5 & Dime
112 East Adams Street
in Downtown Jacksonville
DIRECTIONS

Ticket are $30 and include all taxes and fees


Let's face it – you will never sing Tomorrow on Broadway. Your adolescent dreams of being the next Billy Elliot were banished to the bottom drawer of the Dream Cabinet long ago. For that matter, you'll probably never be Jean Valjean or the Phantom. But you can always take solace in the fact that our insanely talented cabaret performers won't, either. That certainly isn't gonna stop them, however, from resurrecting the sheet music of all those dream roles and laying bare their Broadway dreams across our downtown stage. Join us for Broadway Bucket List, a wistful revue that proves sometimes dreams do come true… albeit on a MUCH smaller scale!
PARKING

Ample free parking is available within a short walking distance of the theatre. Street parking at meters is free during production hours. A pay lot is located directly adjacent to the theatre on Adams.
For more information about downtown parking, visit Downtown Vision's Parking Information page HERE.


For more information visit www.The5andDime.org.