About this Event
While their biggest international exposure was a cameo in the Tarantino flick Kill Bill, 5.6.7.8's are much more than one-hit wonders, bearing the proud distinction of being the prime and longest-enduring Japanese garage rock girl band. Featuring a revolving cast of musicians (only one of them ever being a boy) and possessing small but loyal fanbases in countries from China to the U.S., 5.6.7.8's is the brainchild of the sisters Ronnie "Yoshiko" Fujiyama and Fujii Sachiko, and it reflects their love for music of the '50s to the '80s, bluntly alluded to in the group's name.
The band was formed in 1986, at the height of the garage rock hype that seized Tokyo at the time. The first lineup included Fujiyama, who handled the vocals, and Sachiko (the drummer), supported by guitarist Rico and bassist Yoshie, who was replaced by Mikako in time for the band's debut demo Golden Hits of the 5.6.7.8's (1988). It was followed by the band's first EP Mondo Girls A-Go-Go (1989). In 1990 Rico and Mikako defected to start Sleaze Sisters, and were replaced by bassist Akiko Omo and guitarist Eddie Legend, the sole male member of the group, who used to don a wig to blend in better when they played live, but still lasted only a year before departing to start MAD3. After that, Fujiyama picked up the guitar herself, although 5.6.7.8's still performed as a quartet, with support member Gaku on the saxophone. The band's first full-length album, The 5.6.7.8's Can't Help It!, was recorded in 1991, out not only in Japan, but in Australia and the U.S. as well (the American release came in 1992). That began a period of the band's active overseas expansion: they toured Australia and America and released the single The Spell Stroll on the French label Wee Records. Japan remained their main playground -- they had several releases there in the '90s, namely EPs I Was a Teenage Cave Woman (1992) and Pin Heel Stomp (1997), as well as the second full-length The 5.6.7.8's (1994), -- but they also had six singles and the EP Bomb the Twist (1995) out in the U.S. The lineup continued to shift, with guitarist Aya joining the band for several months in 1995, and Omo leaving before their first big Japanese tour in 1996, replaced by Yamaguchi Yoshiko. In 1997, Fujiyama took a short break from the band, releasing the solo single Coney Island.
The years between 1998 and 2002 saw no releases, but some heavy touring in Japan, America, Australia, New Zealand, and Europe. In 2002, Quentin Tarantino heard their CD in a clothing shop in Tokyo, and soon invited them to star as themselves in a Kill Bill scene (they contributed the song "Woo Hoo" for the movie soundtrack). 2002 also saw 5.6.7.8's releasing the album Teenage Mojo Workout and the EP Pretty Little Lilly Can Dance No More, and their compilation Best Hits of the 5.6.7.8's came out in America and Japan in 2003 (it was released in Europe the next year). In 2004, Teenage Mojo Workout was released in Britain, and the single Woo Hoo reached number 24 on the local charts, but long-term British success eluded them. The same year Yoshiko gave up her post for Omo, who returned to being 5.6.7.8's bassist after an eight-year hiatus. The band has kept quiet since 2004, releasing no new material but playing the occasional live show. ~ Alexey Eremenko, Rovi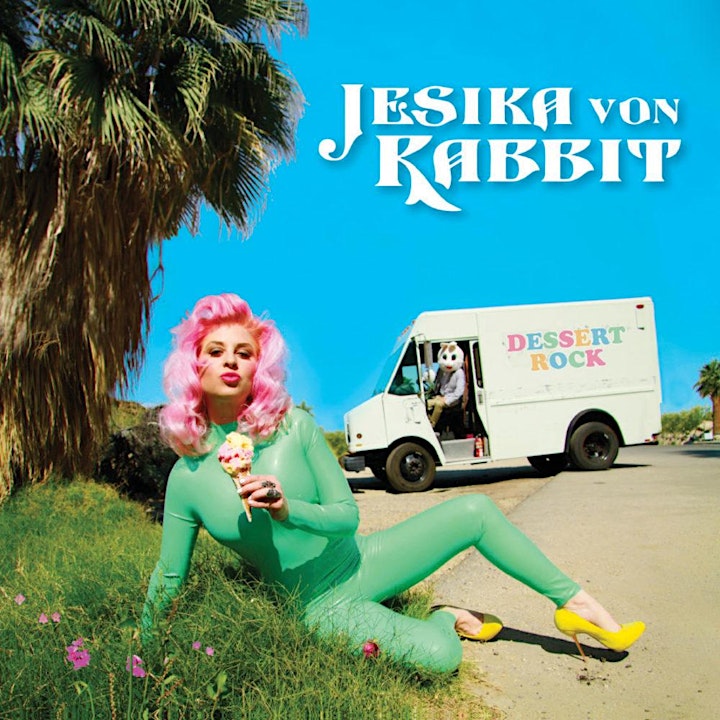 Jesika von Rabbit, the former frontwoman of Joshua Tree's hi-desert trailblazers Gram Rabbit is about to release her second solo album "Dessert Rock" the follow-up to her 2015 release "Journey Mitchell", both on Dionysus Records. While Journey Mitchell is laden with new wave-influenced synths, keyboard melodic and infectious dance beats, "Dessert Rock" is an avalanche of appetizing amalgams that incorporate hints of calypso, sci-fi, psychedelic, rock, electro and funk. You are going to want seconds after sampling this dessert!
Jesika's solo endeavor began with her performing literally solo with two dancers and has evolved into a full band line-up that includes former Gram Rabbit guitarist, and independent producer Ethan Allen. JvR has toured with Eagles of Death Metal, performed at Desert Daze and has shared the stage with a diverse roster of acts including Wanda Jackson, Cat Power, and Crystal Method. Dubbed "The Queen of the Hi-Desert", Jesika even has a menu item named after her, at the world renown Pappy & Harriet's in Pioneertown, CA, the delicious " Nachos von Rabbit".
"She is drop dead gorgeous and has an absolutely incredible voice. But von Rabbit is more than a pretty chick singer. She is an innovative creator and expressionist as well as one hell of an entertainer… Her show is brilliantly nonsensical; a sonic and visual spectacle that is unlike any other and you cannot take your eyes away. She is an artist that you just have to keep coming back to see because you evolve every time you do." – Coachella Valley Weekly
Jesika von Rabbit's original compositions have been licensed to CSI, Life, The Real World, Sons of Anarchy, Crash, Hit & Miss, Crazy Stupid Love and War Inc., as well as a commercial spot for Fruit of the Loom that aired during the 2012 Summer Olympics.
Performers
Date and Time
Location
Refund Policy