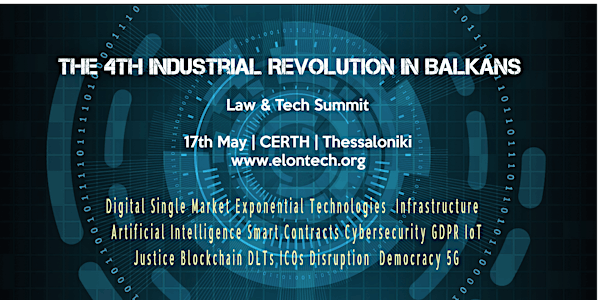 The 4th Industrial Revolution in Balkans: Law & Tech Summit
When and where
Location
Centre for Research & Technology - Hellas (CERTH) 6th km Charilaou-Thermi Rd 570 01 Thessaloniki Greece
Description
The 4th Industrial Revolution in Balkans: Law & Tech Summit
17th May 2019 | 9am-6pm | Venue CERTH, Thessaloniki
In collaboration with the Bar Association of THessaloniki and EKETA-CERTH-ITI
The 4th Industrial Revolution n Balkans, Law and Tech Summit by ELONTech: What are the Region's opportunities and challenges, emerging from the advancement of disruptive technologies? How will policy-makers, law professionals and innovators of the Balkan economies adapt and respond?
Free-entrance | RSVP *

During the 2018 Annual Meeting in Davos, a meeting of high level officials took place regarding the progress of the economies of the Balkans , by addressing the shared challenges they collectively face; boosting economic growth, improving infrastructure and the functioning of markets and attracting and retaining the talent they will need to thrive in the Fourth Industrial Revolution, between EU's structural collaborations and Asia's and U.S multilevel approach.
The European Law Observatory on New Technologies- ELONTech , the Bar Association of Thessaloniki and CERTH-ITI invite the Law and Tech policy-makers, researchers, scientists and professionals from the Region to focus on a vivid discussion about the new technologies' developments, the regulatory adaptation, the European regulatory process and best practices that can inspire and encourage further synergies.
THE AGENDA
9.30am-10.30am Arrivals-Registration at EKETA-CERTH
10.30-11.00 Introductory notes-Welcoming Speech:
Mantalena Kaili, co-Founder & Director ELONTech
Athanasios Konstantopoulos, Chairman & Director of Central Directorate Centre for Research and Technology-Hellas (CERTH)
Dr. Dimitrios Tzovaras, Director CERTH ITI-Centre for Research & Technology-Hellas- Information Technologies Institute
Efstathios Koutsochinas , Chairman Bar Association of Thessaloniki
Iveta Hricova , Ambassador of Slovakia
11.00-16.00 PART I: The 4th Industrial Revolution, how did it start, where will it leads us?
Keynotes on Policy- Strategy-Infrastructure-Investments for 5G, AI, Blockchains
Opening Speech:
Aytug Goksu, Community Lead, Government Affairs – South East Europe, World Economic Forum , Davos
Keynote Speakers:
Eva Kaili, MEP, Chair of STOA Committee, European Parliament • ELONTech Advisor
Maria Boile, Head of Unit on Transport Economics and Environment, Maritime and Air Transport, at the Hellenic Institute of Transport (HIT), Centre for Research and Technology Hellas (CERTH), Prof. University of Piraeus • ELONTech Advisor
Petros Kavassalis, Associate Professor, Dpt of Financial and Management Engineering, University of Aegean • ELONTech Advisor
Konstantinos Votis, Dr & Researcher, CERTH ITI- Information Technologies Institute
Panagiotis Demestichas, Prof. Dpt. Digital Systems, University of Piraeus
Elena Plexida, V.President Government and IGOs Engagement, Internet Corporation for Assigned Namesand Numbers, ICANN, Brussels
Younis (O) Hijazi , YouScale Sàrl-S on Exponential Technologies, Luxembourg
On Yavin , Founder and CEO Cointelligence, London • ELONTech Advisor
Harry Kalogirou, CEO EBACUS , Zug • ELONTech Advisor
Panayotis Tzinis, Intelligence Tech Lead X Lab , Google Developer Expert on Product Design & Human-Machine Interactions
13.30-14.30 LUNCH BREAK
Antonios Broumas, EY, Platis - Anastassiadis & Associates Law Partnership • ELONTech Advisor
Alessandro Palombo, Founder Jur, Zug • ELONTech Advisor
Sima Baktas, Founder GlobalB Law Office, Istanbul • ELONTech Liaison
Ayca Aktolga, President of the Istanbul Bar Association Banking and Finance Commission, Istanbul
Thanos Leontaris, Lawyer, Scientific Associate, University of Nicosia
16.00-19.00 PART II Panels of Discussion New Technologies Basic Principles, Applications and Law issues for the professionals of the Region / Best Practices and Discussion / The Disruption and the Re-definition of Law, Regulation and Justice
PANEL I Infrastructure and Disruption: Moderator Dimitris Arvanitis, ELONTech Legal Advisor
Panagiotis Demestichas, Professor University of Piraeus
Petros Kavassalis, Professor University of Aegean
Maria Boile, Professor University of Piraeus
Petros Terzis, Phd, University of Winchester
Panayotis Tzinis, Intelligence Tech Lead X Lab, Google Developer Expert on Product Design & Human-Machine Interactions
PANEL II Blockchain Applications and new Digital Business Models: Moderator Nikos, Tsoniotis, EKETA-ITI Researcher
Vassilis Tsoulis, Founder Young Entrepreneurs of Thessaloniki-YET, Director of Career, Employability & Enterprise Centre at The University of Sheffield International Faculty, CITY College
Aris Kritikos, co-founder & CEO OVIVIEW
Maria Makridaki, Founder & Director Association for Trademarks Owners SE Europe-ESIMET
Thomas Sounapoglou, Head of Engineering, Blockachain PC
Balkan Blockchain Association Representative
PANEL III The Future of the Justice Institution and Professions: Moderator Mantalena Kaili, CoFounder ELONTech
Vassilis Siaperas, member of the Council of Bar Association of Thessaloniki Representatives
George Varelopoulos, Lawyer, MScEcon, Head of Legal, interworks.cloud
Thanos Leontaris, Scientific Associate, University of Nicosia
On Yavin, CEO Cointelligence
Sima Baktas, GlobalbLaw Law Office
Christos Kazantzis, Chair Hellenic Bulgarian Chamber of Commerce
Sofia's Bar Association Representative
19.00-19.30 Closing
* If you are a guest in our city, then you may find a welcoming discound for booking your stay at the ASTORIA PAP HOTEL, in Thessaloniki, while an extra promotional code will wait for your return, during summer, at the Alexander the Great Hotel in Chalkidiki. Please use the promo "ELONTECH" at your booking.