About this Event
Welcome to the Data Science Professionals forum, where Chinese American Data Scientists across various industries gather to share cutting-edge data science applications, explore and inspire ideas, and build career networks!
In the 4th forum, we are honored to have Dr. Frank Wei from the USDA and Mr. Roger Ding from Cloudera to share their experiences on Deep Learning Algorithms and Big Data Platforms respectively.
Agenda:
1:30 PM - 2:00 PM Registration
2:00 PM – 3:00 PM Dr. Frank Wei Data Scientist at USDA - NISS
3:00 PM – 4:00 PM Mr. Roger Ding Solutions Architect at Cloudera
4:00 PM – 4:30 PM Panel Discussion:
Dr. Frank Wei, Mr. Roger Ding, Dr. Richard Xie
4:30 PM – 5:00 PM Networking
Date: July, 20th, 2019
Location: 12750 Fair Lakes Cir, Fairfax, VA
Contact: 571 528 2268
cadseadc@gmail.com
www.cadsea.org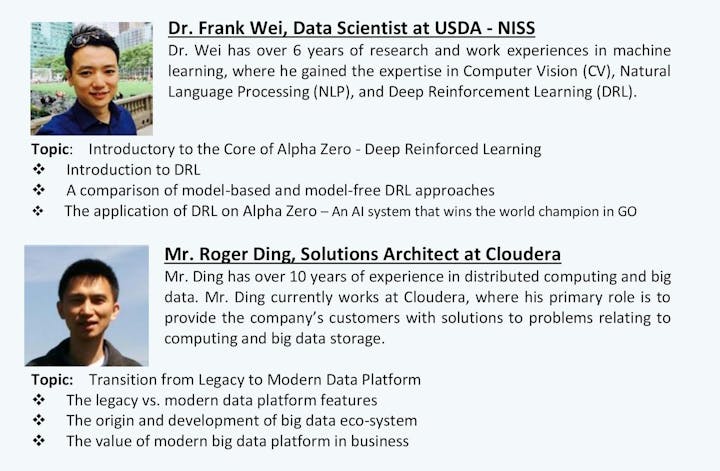 The Chinese American Data Science and Engineering Association (CADSEA) is a non-profit organization of data professionals.
Our missions:
● Build a community for mutual technical enhancement and professional development.
● Establish a high level platform for the promotion of technical leadership.
● Encourage the collaboration between the members for new ideas, insights, and visions.
● Create opportunities for the enthusiasts who intend to seek a business venture and pursue dreams.
● Facilitate interactions between CADSEA and other data organizations and communities.