Description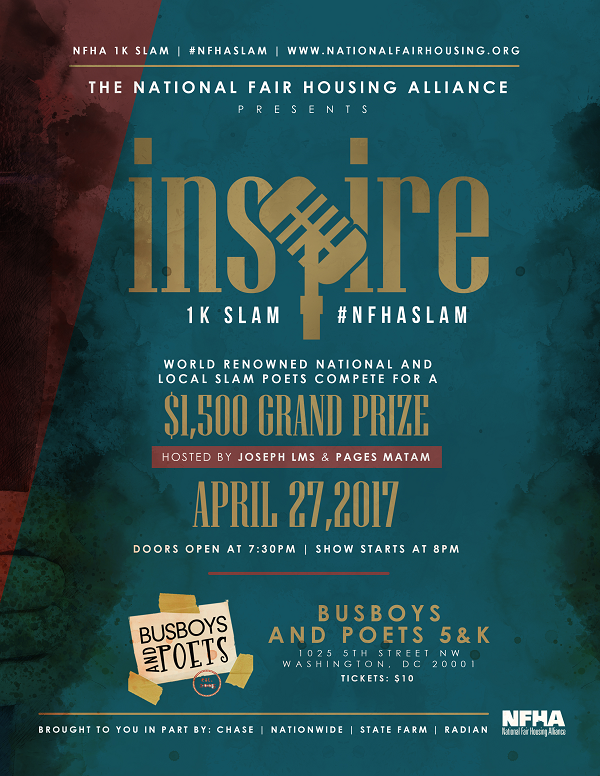 Hosted by Joseph LMS and Pages Matam
The National Fair Housing Alliance has partnered with various organizations to create open space community dialogue surrounding society's most pertinent issues. Top spoken word poets from around the country will compete in a one-of-a-kind competition for a grand prize of $1,500 - using their vibrant words and performance skills to inspire future generations. NFHA recognizes the voices of artists as those forming a necessary paradigm shift to create impact, understanding, and radical change in socio-economic, racial, political, gender, sexuality, and cultural injustices.
The NFHA 1K Slam is a poetry slam, competition & community engagement event. In the slam, selected poets will present their poems with a 3 minute time limit, and will be judged by a panel Olympic style on a scale of 0.0 - 10.0 on their creativity, originality, performance, and the overall inspirational effect of the poem in its presentation & writing.
There will be a short Q&A, and an opportunity for audience members and social media participants to win prizes!!
Event Details:
Date: April 27th, 2017
Time: Doors open at 7:30pm - Event starts at 8pm
Price: $10
THE #NFHASLAM IS SPONSORED BY:
CHASE
STATE FARM BANK
NATIONWIDE
RADIAN