Description
For additional information, please visit:
Celebrate your Chicago July 4th day with one of the best events going down this year. If you're looking for an unforgettable experience to celebrate your Fourth of July, then you need to attend the 4th Annual Freedom Fest at the Navy Pier's Rooftop! This Chicago July 4th event is going to treat you to the sounds of a top Chicago live DJ and put you in the perfect spot to view the July 4th fireworks. You don't want to miss out on this great event that's been serving Chicago for three years already!
The 4th Annual Freedom Fest- Your Chicago July 4th Event
The Navy Pier's Rooftop is going to have everything that you need to celebrate your July 4th right. The 4th Annual Freedom Fest is a July 4th event like no other. You are going to celebrate this national holiday on the Navy Pier's 27,000 square foot rooftop all night long. This event is good for all ages so make sure you bring along the family to really enjoy the night! Enjoy amazing views of Chicago, Lake Michigan, and all of Chicago's best sights from the Navy Pier's rooftop. As you view Chicago with your loved ones, you are going to enjoy this year's top hits provided by your live DJ. Dance and celebrate all night long to your live DJ as you celebrate the most memorable Chicago July 4th night.
Not only is this celebration going to have you dancing all night, but you will also be able to purchase food as you celebrate! This event is going to feature delicious BBQ food items to satisfy your July 4th cravings. Purchase your July 4th favorites then head to the bar to get something to wash it all down with. There will be a full cash bar available for you to purchase drinks throughout the night. Order up your favorite drinks and get ready for the best view of the fireworks that you can get in Chicago. From the Navy Pier's Rooftop, you and your loved ones are going to watch each firework burst and paint the sky red, white, blue, and everything in between! Don't miss out on this great Chicago July 4th event that's going to leave you with memories that will last a lifetime!
For More Information:
This is a family-friendly event and is good for all ages. Purchase your tickets now before prices increase or sell out. This event starts at 6:30 p.m. and will end at 11:00 p.m. All sales are final and there are no refunds.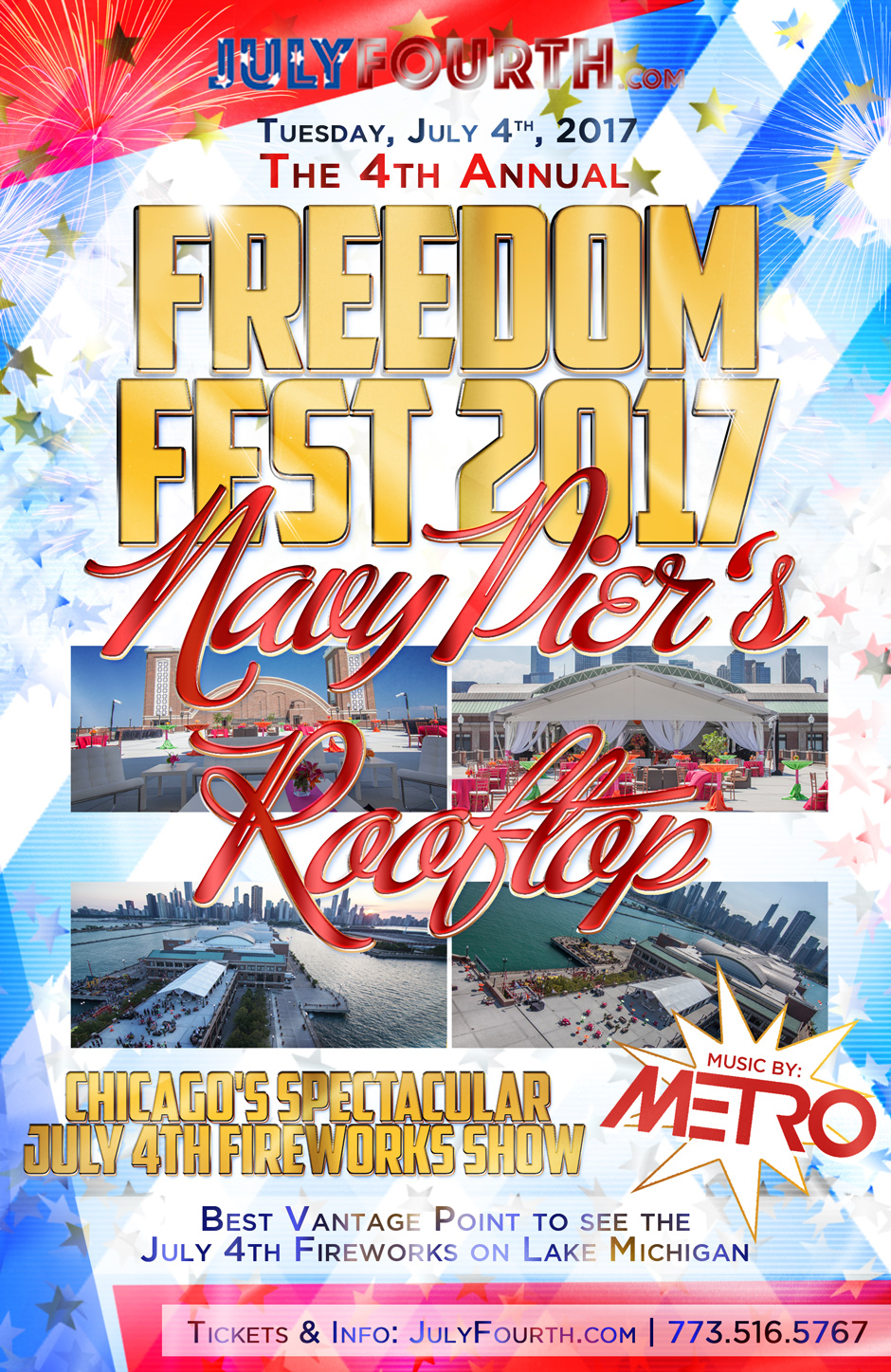 Organizer of The 4th Annual Freedom Fest at Navy Pier's Rooftop
Welcome to the premier source for Tickets Events across the Nation! We sell tickets for all major holidays including: New Year's Eve, Halloween, Fourth of July, Labor Day, Memorial Day and more.