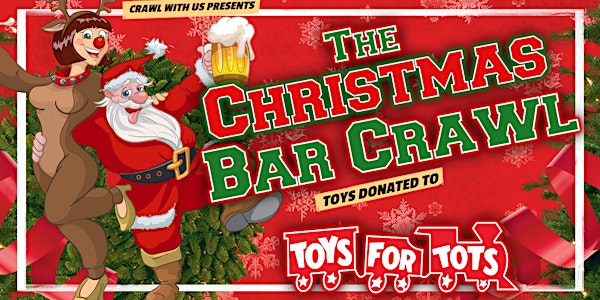 The 4th Annual Christmas Bar Crawl - Louisville
The 4th Annual Christmas Bar Crawl - Don't Miss The Biggest Crawl Of The Year!
When and where
Location
Flanagan's Ale House 934 Baxter Avenue Louisville, KY 40204
About this event
🎅🎄The Christmas Bar Crawl Benefiting Toys For Tots Is Here! 🎄🎅
Click ✅ GOING ✅ So You Don't Miss The Nicest Crawl Of The Year!
Get Your Tickets Now‼️ ➡ www.crawlwith.us/louisville/christmas#tickets
Buy Your Ticket, Get Your Toy Donation, Grab Your Santa, Elf, Reindeer, & Crazy Holiday Costumes And Get Ready To Party!
TOY OR $10 DONATION REQUIRED AT CHECK IN WITH TICKET!
We Are Keeping Ticket Prices Low For This Event! In Return All We Ask For Is A Toy Donation To Benefit Toys For Tots!
We Are The Largest Bar Crawl Company In The Nation With Over 193,000 Crawlers!
🎅 Join The Nicest Bar Crawl Ever!
🍻 2 Complimentary Drinks Or Shots!
🍻 Exclusive Drink Specials!
🍔 Amazing Local Food!
❄️ Custom Christmas Wristbands!
🎅 Waived Cover At All Venues!
🔥 Awesome After Party!
🌆 Access To Our Crawl Map!
🎅 CHECK IN TIME 4PM - 6PM 🎅
FLANAGAN'S ALE HOUSE
* GREEN VOUCHER = KENTUCKY COFFEE SHOT W/ WHIPPED CREAM *
🎅CRAWL VENUES & DRINK SPECIALS 4PM - 10PM 🎅
BAXTER'S 942
$3 Well Drinks | $3 Bud Lights | $3 Jingle Juice
BIG BAR
$6 Frozen White Chocolate Russian | $10 Frozen Patron Cranberry Margarita w/ Souvenir Mule Mug
CHILL BAR HIGHLANDS
$3 Bud Light Draft | $3 Well Drinks | $3 Fireball | $5 Long Island Tea | $5 Peppermint Mocha White Russian Frozen Chiller
FLANAGAN'S ALE HOUSE
$4 Boozy Grinch Punch (Vodka, Pineapple Juice, Gingerale, & Sprite. Green In Color.) | $5 Naughty Claus Cider (Whiskey and Hot Apple Cider Infused With Cranberries, Apples, & Cinnamon.)
HIGHLANDS TAP ROOM
$3 Miller Lite Pints | $3 Blue Christmas Shots (Raspberry Voda , Blue Curacao, Soda ) | $3.50 Fireball Shots
NIRVANA BAR
$4 Candy Cane Shot: Vodka, Peppermint Schnapps, Cranberry Juice | $4 Grinch Punch: Vodka, Melon Liqueur, Pineapple Juice
NOWHERE BAR LOUISVILLE
$4 Buttery Nipples | $5 Thin Mint Shot
O'SHEA'S IRISH PUB
$2 Jello Shots | $4 Grinch Cocktails
WICK'S PIZZA PARLOR & PUB
$5 The Grinch Cocktail | $5 Nuts & Berries Cocktail
🎅 AFTER PARTY TIME 10PM - 12AM 🎅
NOWHERE BAR LOUISVILLE
* RED VOUCHER = JELLO SHOT *
❄️ FOR MORE EVENT INFO ❄️
Please visit https://www.crawlwith.us
🎟️ FREE TICKETS 🎟️
Earn 2 Free Tickets by inviting your Facebook friends to the event. Message us for details: https://www.messenger.com/t/CrawlWithUs
🚫 DON'T DRINK AND DRIVE 🚫
We Highly Suggest Using Uber or Lyft To And From The Bar Crawl!
*Venues May Have A Limited Capacity. Please Be Respectful Of All Venue/City/State Requests, Rules, and Regulations*
FREQUENTLY ASKED QUESTIONS
https://www.crawlwith.us/questions