Description
The Butcher's Ball is about MEAT - the chefs who love it and the ranchers who raise it.
With a focus on sustainable ranching, The Butcher's Ball brings together Texas's top chefs, ranchers and farmers for a day-long celebration of meat - and a whole lot more!
INDIVIDUAL TICKETS - $100
Includes complimentary food & beverage and access to all demos, workshops, and events
CHILDREN 12 & UNDER - $25
Kids under 2 are free
RESERVED VIP TABLE FOR 10 - $1500
Sponsor The Butcher's Ball in style! Includes admission for 10, a private reserved table in a prime location for your whole crew, complimentary food and beverages, and tickets to The Butcher's Brunch (info below) starting at 11am!


ADD-ONs:
THE BUTCHER'S BRUNCH - $40
Want to get an early start out at the ranch? Join us for a very special Butcher's Brunch starting at 11am and featuring a traditional barbacoa roast with Jeff Weinstock of Cake & Bacon. Barbacoa tacos, breakfast cocktails, coffee, a set from Houston act Mason Lankford Family Band, and a beautiful morning at Rockin' Star Ranch are in store for those lucky few who are able to purchase tickets - only 50 spots available!

TRANSPORTATION TO & FROM HOUSTON TO BRENHAM - $40
We offer luxury coach transportation for guests coming from Houston to Brenham! This is the perfect way to make a day out of it and enjoy yourself out at the ranch without the worry of having to drive back. Buses will leave from a centrally located spot inside loop 610 and drop you directly at the entrance to The Butcher's Ball. Early busses for The Butcher's Brunch will leave at 9:30am, and busses for The Butcher's Ball will leave at 11:30am. All busses will leave the ranch at 6pm to return to Houston.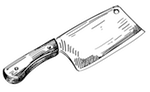 ABOUT THE BUTCHER'S BALL
With a focus on sustainable ranching, The Butcher's Ball brings together Texas's top chefs, ranchers and farmers from Houston and surrounding areas for a day-long celebration of meat. 20 chefs and their teams from across the state who will cook a variety of dishes - from brisket and ribs to pork and poultry - sourced from regional ranchers and farmers who advocate hormone free, sustainable agriculture. The Golden Cleaver, will go to the chef and their team whose dish(es) the public votes as the best.
In addition, there will be hands-on butchering demos, panel discussions, cooking workshops and educational seminars throughout the day meant to educate about sustainable ranching practices and introduce the public to the leaders in Texas's local ranching and farming movement.
Rounding out the day will be a fantastic lineup of live music, a curated craft cocktail selection from renowned bartender Alba Huerta of Julep, a local farmer's market curated by Urban Harvest, and much more!
2018 CHEFS, BUTCHERS & CULINARY LEADERS
Competing for The Golden Cleaver
Butcher's Ball brings the farm to the fork by pairing up each chef with the favorite local rancher. More chefs to be announced soon:
- Adam Dorris - Presidio, Houston
- Ara Malekian - Harlem Road Texas BBQ, Richmond
- Bobby Matos - State of Grace, Houston
- Cassy Keefe - Downhouse, Houston
- Chris Davies - Uchi, Houston
- Dawn Burrell - Kulture, Houston
- Dominick Lee - Poítin, Houston
- E.J. Miller - International Smoke, Houston
- Jane Wild - The Dunlavy, Houston
- Jennifer Hoffman - Leeland House, Houston
- Jessica Timmons - Cherry Block Craft Butcher & Kitchen, Houston
- Joey Victorian - Victorian's Barbecue, Houston
- John Tesar - Knife, Dallas
- Lance Fegen - Liberty Kitchen, Houston
- Martin Campos - Porter's, College Station
- Martin Stayer - Nobie's, Houston
- Patrick & Erin Feges - Feges BBQ, Houston
- Ryan Hildebrand - FM Kitchen & Bar, Houston
- Ryan Lachaine - Riel, Houston
- Ryan Savoie - Saint Arnold Brewing Company, Houston
- Sean "Buffalo" Carroll - Melange Creperie, Houston
- Teddy Lopez - Killen's STQ, Houston
- Tony Lhurman - El Topo, Houston
- Wade & Kathy Elkins - My Yard Reaction BBQ, Houston
- Willow Villarreal - Willow's Texas BBQ, Houston (RETURNING CHAMPION)


Desserts
- Becca Kerr - Eat My Pralines, Houston
- Dory Fung - Poítin, Houston
- Jillian Bartolome - Aqui, Houston
- Katherine Clapner - Dude Sweet Chocolate, Dallas
- Kathleen Morgan - Honeychild Sweet Creams, Houston
- Rebecca Masson - Fluff Bake Bar, Houston


Butchery & Cooking Demonstrations
- Felix Florez - Black Hill Meats, Houston
- Graham Laborde - Killens Barbecue, Pearland
- Jeff Weinstock - Cake & Bacon, Houston
- Julia Poplawsky - Central Texas Meat Collective, Austin
- Philippe Gaston - Izakaya, Houston
More to be announed soon!


Cooking Workshops
- Kids Cooking Class - Monica Pope, Monica Pope's Cookshop, Houston
More to be announced soon!


Spirits & Wine
- Beer from 8th Wonder Brewing Company, Houston
- Cocktails - Alba Huerta - Julep, Houston
- Wine - Cat Nguyen - Republic National Distributing Company, Houston



PANEL DISCUSSIONS
An important aspect of The Butcher's Ball is education. Panel discussions will take place in the Ballroom, featuring industry leaders tackling important issues facing the food industry. Panel topics TBA!


LIVE MUSIC
Mason Lankford Family Band (The Butcher's Brunch)
DJ Mexican Blackbird
Western Bling
And more!
PARTICIPATING RANCHES
Black Hill Meats
Marble Ranch
R-C Ranch
Three Sisters Farms
Liberty Provisions
Chubby Dog Farms
44 Farms
LOAM Agronomics
FARMER'S MARKET
Curated by our non-profit partner Urban Harvest, The Butcher's Ball will feature a beautiful selection of local farms, ranches, artisans and more! Come prepared to shop and take home some great items!



2018 BENEFICIARY OF THE BUTCHER'S BALL
The 2018 Butcher's Ball will be raising money to benefit Urban Harvest's Farmers Market Program, which brings together a vibrant community of farmers, vendors and thousands of Houstonians seeking fresh food grown by people they know. Butcher's Ball proceeds will go directly to Urban Harvest's Farmers Market which supports a permanent institution for our city that is accessible to all, increasing Urban Harvest's ability to bring in more area farmers and vendors, and creating a more sustainable local food system for Houston.
Founded in 1994, Urban Harvest has garnered a well-deserved reputation as a leader in the local food movement. They've earned this role by adhering to clear and simple values and a focused mission: Urban Harvest cultivates thriving communities through gardening and access to healthy, local food.
Under the direction of an all-volunteer board, Urban Harvest has grown from humble beginnings to employ a full-time staff and literally thousands of volunteers. Funding comes from nearly 1,500 annual memberships, and from individual and corporate donations, private foundations, and public grants.
SPONSORS OF THE 2018 BUTCHER'S BALL
ROCKIN' STAR RANCH
8TH WONDER BREWERY
KATZ'S COFFEE
TEXAS FARM CREDIT
ICE EXPRESS
STEEL & STONE KNIFE SHOP
DURING THE BUTCHER'S BALL YOU'LL ENJOY...
Hands-on butchering demonstrations

Seminars and panel discussions on a variety of topics

Gourmet fare from Texas's top chefs

Live music throughout the day

Specialty cocktails, wine and craft beer

Farmer's market presented by Urban Harvest

Fun for the whole family
and more!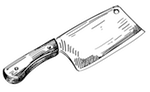 FAQs
Are there ID requirements or an age limit to enter the event?
All ages are welcome to attend the event. Kids 12 and under are $25. Infants and toddlers under 24 months old may attend for free.
What are my transport/parking options getting to the event?
We offer transportation to and from Houston to Rockin' Star Ranch. Simply add a transportation ticket to your cart, and be sure to bring your printed out ticket with you to the bus at it's designated pickup location.
If you plan to drive, most GPS systems will give you the exact route - simply type in 8002 Fuelberg Pease Lane, Brenham, TX 77833. Please always have a designated driver if you plan to drink.
Where can I contact the organizer with any questions?
For any questions contact info@butchersball.com
Rain Date?
This event is rain or shine. The event will not be rescheduled. Sorry, no refunds. We have a 7,000 square foot ballroom, which should provide adequate cover should there be inclement weather.

Can I bring my pets?
No, unfortunately pets are not allowed at this event.
Are there vegetarian items?
Yes, there will be a variety of items.