The 35th Annual Gravens Conference
The 35th Annual Gravens Conference on the Environment of Care for High Risk Newborns Transformational Change: Making it Happen in the NICU
About this event
Conference Background
In a perfect world, there would be no need for a NICU. Yet our reality is that babies continue to be born too sick, too soon, and with medical conditions requiring hospitalization. Activities in the NICU have a profound impact on the babies, their families and the staff. What you do matters. Your work has the potential to impact a neonate's health outcome, as well as that of the family and staff in the NICU.
Since the 1980s, neonatal care providers have worked to mitigate the stress experienced by babies, parents and providers. Doing so has involved change and its inherent struggles, but eventually we have adapted our NICU culture, policies and approach. We strive to nurture the developmental needs of babies and the emotional and informational needs of their parents through evidence-based knowledge in neurodevelopmental science, developmental care, healthcare design, and family support. This work continues at The 35th Annual Gravens Conference.
Target Audience
This program has been developed to meet the educational needs of healthcare practitioners such as Neonatologists, Pediatricians, Psychologists, Occupational Therapists, Physical Therapist, Speech-Language Pathologist, Neonatal Nurses (RNs, NNPs, ARNPs), NICU Therapists, Family Support Staff, Architects, Hospital Administration, Infant & Child Development Specialists, Social Workers & Counselors, Parents and Family members and other professionals working with high-risk infants, their families or their physical environment.
Competencies to be addressed
PATIENT CARE AND PROCEDURAL SKILLS; Medical knowledge; Systems-based practice; Professionalism; Interpersonal and communication skills.
Continuing Education Information
This activity has been approved for AMA PRA Category 1 Credit(s)TM
PAC/LAC is an approved provider by the California Board of Registered Nursing Provider CEP 5862.
Registration:
Gravens Conference Registration Fee Includes (per participant): Attendance at the conference, continuing education credit, exhibits, Hartline reception, EXHIBIT HALL RECEPTION, POSTER SESSION, CONTINENTAL BREAKFAST AND BREAKS EACH DAY, BEACH PARTY, AND THE CONFERENCE SYLLABUS, WHICH WILL BE ELECTRONIC. This assumes full conference fee. If single day registration is chosen, only the activities scheduled for that day are included.
Refund & Cancellation Policy: Cancellations must be requested in writing via email to gpakhanyan@paclac.org , and received by February 1, 2022 in order to receive a refund. A $100 cancellation fee will be assessed to cover administrative costs. There are no refunds for no-shows or for cancellations received after Feb. 1, 2022; however, substitutions are welcome without penalty.
PAC/LAC reserves the right to cancel this activity due to unforeseen circumstances, in which case, the full registration will be refunded. PAC/LAC will not be responsible for travel expenses incurred by participants in the unlikely event that the program is cancelled.
Confirmations: Confirmation will occur upon completion of the online registration.
Payment Policy: Checks must be made payable to PACLAC-Gravens. Payment by credit card may be done via online registration. Visa, MasterCard, Discover and American Express are accepted. Payment is in US dollars only. Therefore, all credit card transactions are processed in US dollars and are subject to the current exchange rate.
Address for mailing checks:
PAC/LAC
Attn: Aida Simonian
1010 N. Central Ave
Glendale, CA 91202
Questions or Assistance: If you have activity questions or concerns credit, please contact Gayane Pakhanyan at gpakhanyan@paclac.org.
Equal Opportunity & Accommodations for Disabilities:
PAC/LAC is an Equal Opportunity / Affirmative Action / Equal Access Institution.
For disability accommodations email Gayane Pakhanyan at gpakhanyan@paclac.org a minimum of ten (10) working days in advance of the event.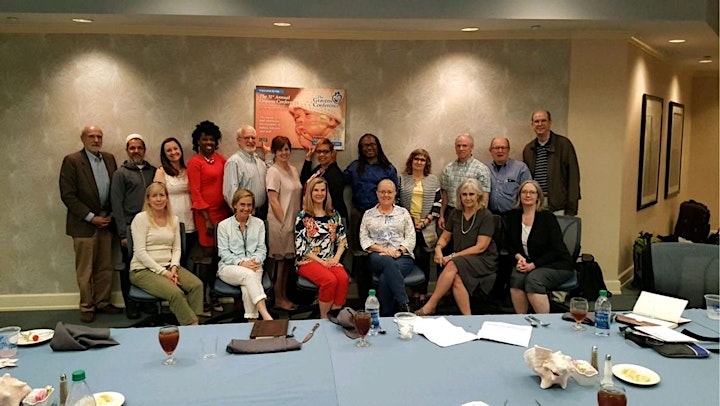 Our Planning Committee Members
(Photo credit: Rose )

Organizer of The 35th Annual Gravens Conference
The Perinatal Advisory Council: Leadership, Advocacy and Consultation (PAC/LAC) has been a leading maternal and child health organization since its incorporation as a non-profit agency in 1981. PAC/LAC's mission is to improve perinatal health outcomes by providing leadership, education and support to professionals and systems caring for women and their families. Children's health and well-being start with a healthy pregnancy and the events that occur during an infant's first few hours of life. PAC/LAC strives to make those first health experiences the best by ensuring that pregnant women, babies, and families are cared for by the most competent professionals in well-equipped health care settings. PAC/LAC has a long-standing reputation of excellence in the community for our work with hospitals and health care professionals.