The 35th Annual Dr. Martin Luther King, Jr. Birthday Celebration
Description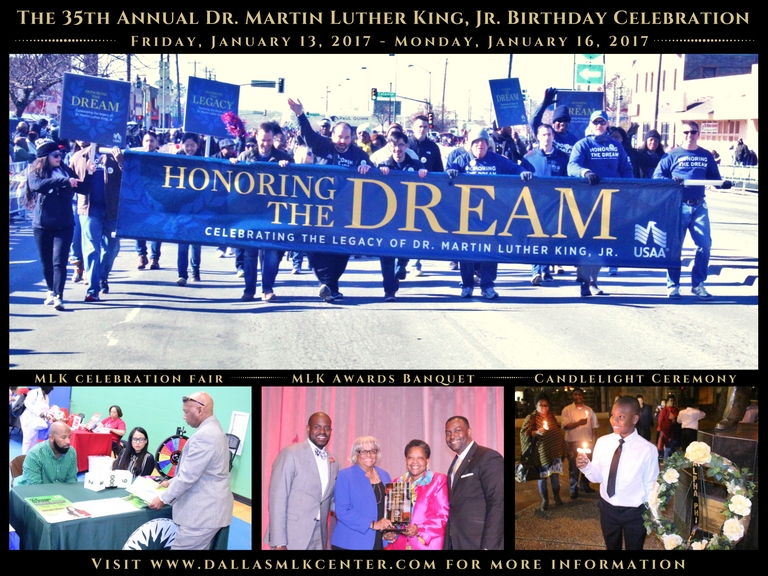 The MLK Celebration is a long standing tradition of the MLK Center with the goal of honoring and celebrating the life and legacy of Dr. King. The weekend long celebration includes the MLK Celebration Fair, a candlelight ceremony, an awards banquet, and the MLK Day Parade.
2017 MLK Celebration Fair: Friday, January 13, 2017 at 11:00 AM
The MLK Celebration Fair is a combination job fair, health fair, and college fair, targeted at adults to bring health, employment, and educational opportunities to South Dallas. Vendors include healthcare professionals, hiring managers, and college recruiters. This event is free to attend.
2017 MLK Candlelight Ceremony: Friday, January 13, 2017 at 7:00 PM
The candlelight ceremony is sponsored by the Alpha Sigma Lambda Chapter of Alpha Phi Alpha Fraternity, Inc. Winners of the Dr. Martin Luther King Essay Contest will be announced during the program. This event is free and open to the public.
2017 MLK Awards Banquet: Saturday, January 14, 2017 at 5:30 PM
The Annual Awards Banquet is a time for the MLK Community Center to honor and recognize its supporters with a special awards ceremony. This year's keynote speaker is Dr. Walter Kimbrough, President of Dillard University in New Orleans, Louisiana. Guests can enjoy dinner, a silent auction, and a live performance from the Dillard University choir. After the banquet is the "Afterglow" event, a professional mixer and networking opportunity. Tickets are $85. Table sponsorships begin at $1000.
2017 MLK Day Parade: Monday, January 16, 2017 at 10:00 AM
The parade stands as a testament to King's legacy of leadership in the fight for civil rights. Participants include civic organizations, youth groups, and other community organizations. The parade route begins at the intersection of MLK Boulevard and Holmes Street and ends at Fair Park. Sponsors can enjoy a float in the parade, VIP seating, complimentary tickets to the Annual Awards Banquet, and more. The parade entry fee is $75 for organizations and is free for elementary, middle, and high schools.
Visit www.dallasmlkcenter.com for more information.