Description
Join us for a Weekend of Latin music workshops, performances/dancing, and a community festival!! Instructors from around South Carolina and beyond will be teaching Salsa, Mambo, Bachata, Cha Cha, Afro-Mambo, Bachatango, Kizomba, Tango, and Zouk. In the evening, we have performances and dancing with music provided by DJ Stephen Greene. Buy your ticket ASAP before prices increase!

**SCHEDULE**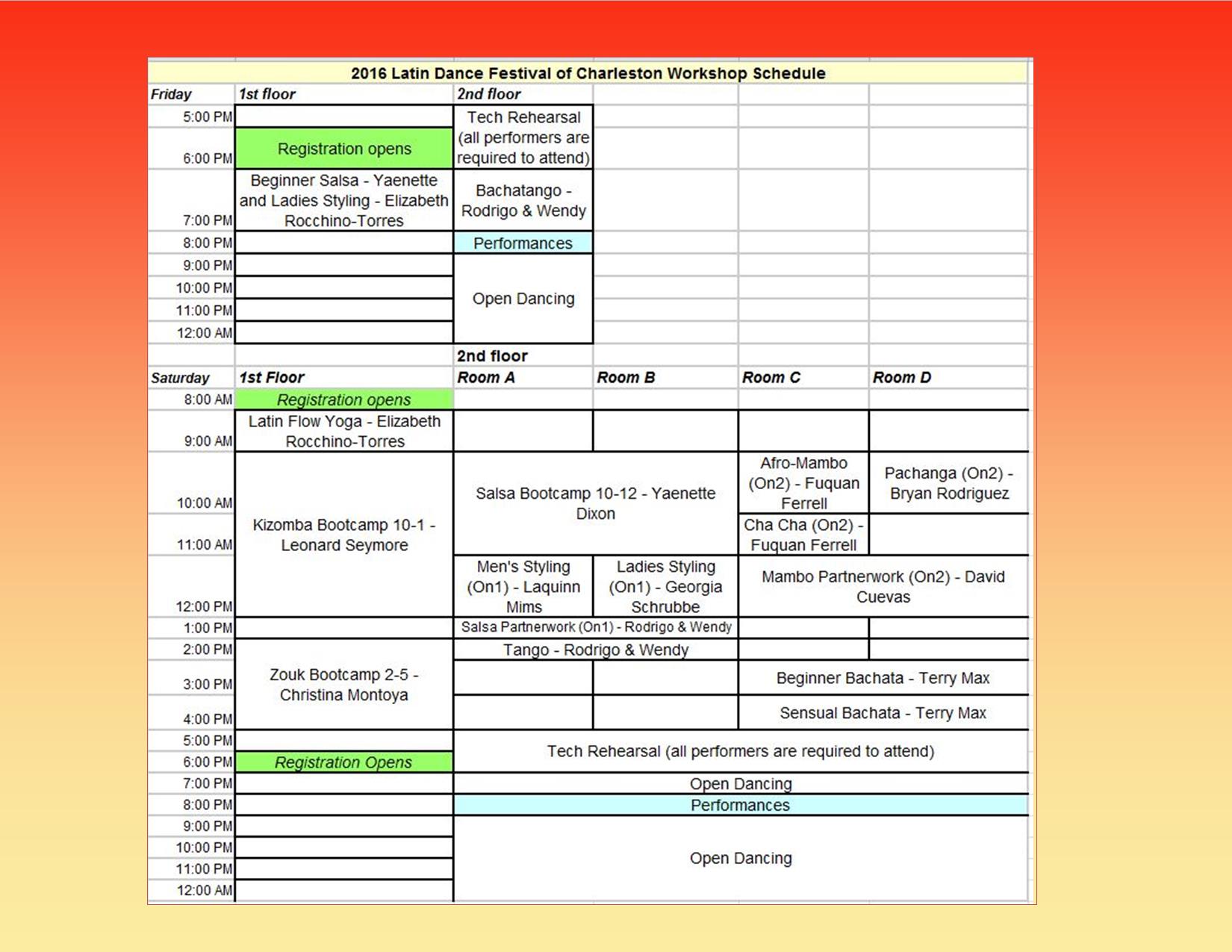 Friday, September 30th
7pm - 8pm Workshops, 8pm - 12am Social Dancing and Performances
Friday After Party from 12am-4am hosted by LaQuinn Mims at Elite Dance Student located at 709 Johnnie Dodds Blvd, Mount Pleasant, South Carolina 29464
Saturday October 1st
9am—5pm Workshops including:
Latin Flow Yoga
Salsa (On1) Bootcamp for Beginners
Salsa (On1) Men's and Ladies Styling, and Partnerwork,
Mambo (On2) Men's and Ladies Styling and Partnerwork,
A 3-hour Kizomba Bootcamp,
A 3-hour Zouk Bootcamp,
Intro Bachata and Sensual Bachata,
Tango,
Afro-Mambo,
Bachatango
and Cha Cha Workshops!
7pm - 12am Performances and dancing
Special #Kizomba/ #Zouk Room after performances Friday and all night Saturday!!!
Sunday, October 2nd
12pm - 6pm Latin American Festival at Wannamaker County Park (Tickets sold Separately at the Park Gate $10pp)
Sunday After Party from 7:30pm to 11pm hosted by Holy City Salsa at 1954 Ashley River Road Suite H, Charleston, South Carolina 29407
Confirmed Artists:
David Cuevas of Washington, DC (Mambo partnerwork)
Fuquan Ferrell of Fuego y Hielo of Atlanta, GA (Afro-Mambo and Cha Cha)
Rodrigo and Wendy Jimenez of Charlotte, NC (Salsa Partnerwork, Bachatango, Tango)
Terry Max of Fayetteville, NC (Bachata and Sensual Bachata)
LaQuinn Mims of Charleston, SC (Salsa Men's Styling)
Christina Montoya of New York, NY (Zouk)
Elizabeth Rocchino-Torres of New York, NY(Latin Flow Yoga, Mambo Ladies Styling)
Georgia Schrubbe of Charleston, SC (Salsa Ladies Styling)
Leonard Seymore of Fayetteville, NC (Kizomba)
Bryan Rodríguez of Greenville, SC (Pachanga)

Salsa Social with music provided by DJ Stephen Greene of Richmond, Virginia
Want to perform? Email CHSLatinDance@gmail.com a link to a video of your piece and you will receive the code for the performer's pass ticket.
Sponsership packages available! Please email CHSLatinDance@gmail.com for more information.
Donations to make this event occur are much appreciated! See ticket/donation lists.
Festival Hotels
Call hotel to make your individual reservations under
Group name: Latin Dance Festival of Charleston
Arrival Date: 9/30/2016
Departure Date: 10/2/2016
LaQuinta & Suites Charleston Riverview:
11 Ashley Pointe Drive, Charleston, SC 29407
Distance from Knights of Columbus: 2 miles
Phone: (843) 556-5200
20 Rooms
Rate per night (taxes not included):$154 per night plus tax
Cut off day for reservations: 9/15/2016
FREE high-speed internet and Bright Side Breakfast
Sleep Inn
1524 Savannah Hwy, US 17 S, Charleston, SC 29407
Distance from Knights of Columbus: 4.7 miles
Phone: (843) 556-6959
20 Rooms
Rate per night (taxes not included):$119 per night plus tax
Cut off day for reservations: 9/16/2016
FREE high-speed internet and Breakfast

Holiday Inn Express - Charleston Arpt-Conv Ctr Area
3025 West Montague Ave, North Charleston, SC 29418
Distance from Knights of Columbus: 8.6 miles
20 Rooms
Phone: 843-554-2100
Rate per night (taxes not included):$119 per night plus tax
Cut off day for reservations: 9/16/2016
FREE high-speed internet and Breakfast
Candlewood Suites - I-26 Northwoods Mall
2177 Northwoods Blvd., North Charleston, SC 29406
Distance from Knights of Columbus: 14 miles
20 Rooms
Phone: (843) 797-3535
Rate per night (taxes not included): $109 per night plus tax
FREE internet and NO Breakfast (has a kitchenette)