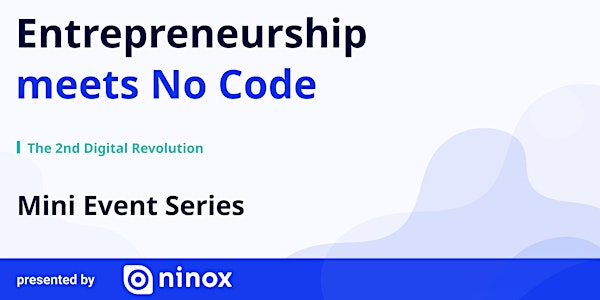 The 2nd Digital Revolution - Satellite Series
No Code - No Problem? Join our mini-event series, broaden your network, share your ideas and learn more about Low and No Code. See you!
About this event
The 2nd Digital Revolution
Mini Event Series
For Anyone who is interested in learning about No or Low Code
For Anyone who is already part of the scene
For Anyone who is running a Startup
For Anyone who wants to bring their idea to life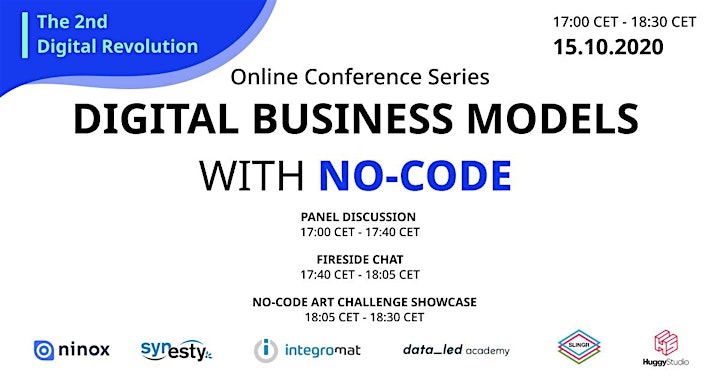 15.10.2020 - Satellite | 17:00 CET - 18:30 CET
#UPCOMING
Digital Business Models With No Code
Build your own digital business model
Join the talks with:
Alexander Koenig- General Manager at Ninox
Jessica Herauf - Head of App Partnerships at Integromat
Christoph Rüger - CEO at Synesty
Grace Schroeder - CEO at Slingr.io
Arpit Choudhury - Founder of Data_led Academy
Moderator:
Daniel Abebe - Founder of HuggyStudio
We will show the solution of the winner of the Ninox and Integromat Art Gallery Challenge and dive into what's possible with simple drag and drop.
How to find the right digital business model for my business?
How can I build a business model around No and Low Code?
How to get the most out of your data and become user centric?