Description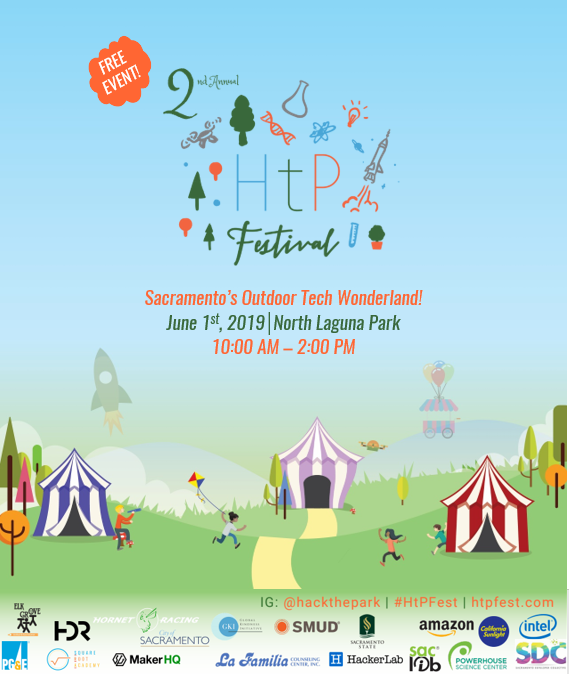 H@ck the Park Fest transforms North Laguna Park into a tech wonderland for all ages! In partnership with the City of Sacramento, local S.T.E.M. based non-profit Square Root Academy has curated a STEM-tastic experience for the whole family celebrating culture, innovation, and community! This festival is engineered for fun and you definitely don't want to miss out on experiencing the festivities!
Speaking of festivities, be prepared for all kinds of fun at the HtP Fest InnoStage, InnoBooths and Science Fair Exhibits! The InnoStage will showcase science infused performances with a special performance from our friends at Intel (ever been to a drone show?). Festival goers will also get a chance to interact with dozens of interactive booths hosted by HtP Maker Partners. And as most of us may have experienced, making happens at all ages which is why Htp Fest will also be working with scholars from the Elk Grove, Twin Rivers, and Sacramento City Unified School Districts to allow scholars the platform at the HtP Fest to show the city how they leverage their tech skills to solve issues in their community at HtP's Science Fair Exhibit!
All this, +FOOD TRUCKS! & MORE @ HtP, Sacramento's S.T.E.M. Festival in the Park!
HtP Partners: SMUD, Hackerlab, SCOE, Sacramento Public Library, Amazon, City of Sacramento, Intel, EGUSD, Powerhouse Science Center, Square Root Academy, Maker HQ, Sac Development Collective, HDR, CSUS Hornet Racing, CSUS Physics Club, CSUS Concrete Canoe, La Familia, California Sunlight, PG&E + MORE