Description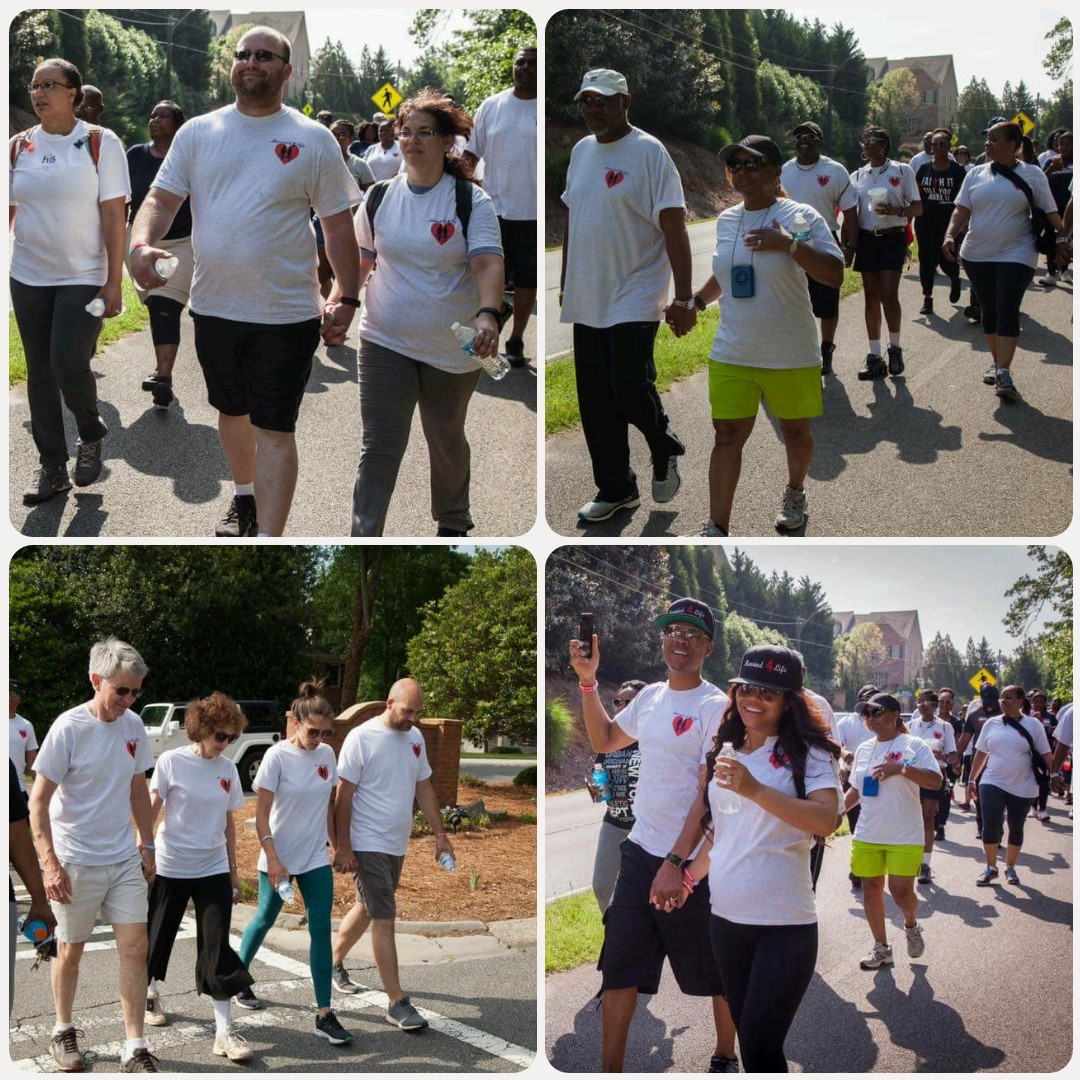 The mission of the Married 4 Life Walk is to reinforce the principle of "Walking in Unity." The purpose of this two mile walk to Kenessaw Mountain National Battlefield Park is to encourage couples to connect, share, and stand with other like-minded couples who are committed to stronger and healthier marriages. This experience will serve as a lifetime reminder for couples to take the time to slow down, hold hands, walk together, and remember that there is nothing they will face in life that cannot be conquered or overcome together as one. The event will include entertainment, words of encouragement and inspiration, giveaways, and so much more. It will be a fun-filled day of love, spiritual bonding, and unyielding unity in which couples will leave empowered to fight for their marriages.
Couples in attendance can expect:
To Connect and create a deeper bond with their spouses - This hand-in-hand walk is a simple but powerful reminder that regardless of what storms we face, we will hold on to each other and never let go.

To Share with other couples - We've all experienced struggles in our lives and marriages. Couples will walk together, encouraging each other to hold on through challenges.

To Stand with others - There is power in community! Join with others who are also committed to stronger and healthier marriages.
The walk is open to all couples regardless of age, ethnicity, or religious affiliation. Vendor opportunities are available. REGISTER TODAY!! There will also be a Married 4 Life Couples Mixer taking place the evening of the walk. Registration for this event will begin in February. Be sure to LIKE the Facebook page at www.facebook.com/married4lifewalk for further details and the latest updates.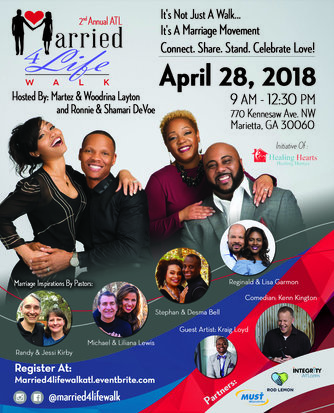 FAQs
Do you have to be married to attend this event?
No, this event is also open to couples who are engaged or committed to being married.
Do I need to register for this event to attend?
Yes, registration is required.
What are my transportation/parking options for getting to and from the event?
Parking will be available on a first come first, first serve basis at Grace Community Church. Please visit www.facebook.com/married4lifewalk for additional parking options and updates.
How can I contact the organizer with any questions?
Please feel free to email our organizers for any additional questions that you may have at info@dreambuilderscoaching.net
Is there a cost for the event?
Yes, general admission tickets are as follows:
$45 per couple - January 17th - February 28th
$50 per couple - March 1st - April 28th
Do I have to bring my printed ticket to the event?
No, you can check in using your electronic device or printed ticket.
Does my spouse need to be with me to attend this event?
Yes. It is recommended that your spouse attend with you as the walk focuses on holding hands and making a commitment together.
How long is the walk for the event?
The Unity Walk is a total of two miles which starts from Grace to Kennesaw Mountain National Battlefield Park and back to Grace.
What is the Married 4 Life Couples Mixer?
The Married 4 LIfe Couples Mixer an evening event after the Married 4 Life Walk, which allows couples to celebrate their love for one another after reaffirming their commitment "to never let go of the hand they hold." This event will also be hosted by R&B Legend and BET Lifetime Achievement Award recipient Ronnie DeVoe, and his wife, platinum recording artist and actress Shamari DeVoe. This will be a Red Carpet event with a live band, celebrity performances, comedian, DJ, celebrity guests, dancing and more.
When and Where will the Married 4 Life Couples Mixer take place?
The Married 4 Life Couples Mixer will take place the evening after the Married 4 Life Walk from 6:00pm - 10:30pm. The location for this event is the Revel in midtown Atlanta, GA. The address is 1778 Ellsworth Industrial Blvd NW, Atlanta, GA 30318. All Married 4 Life Walk registrants will be the first to receive information and updates to register for the evening Married 4 Life Couples Mixer.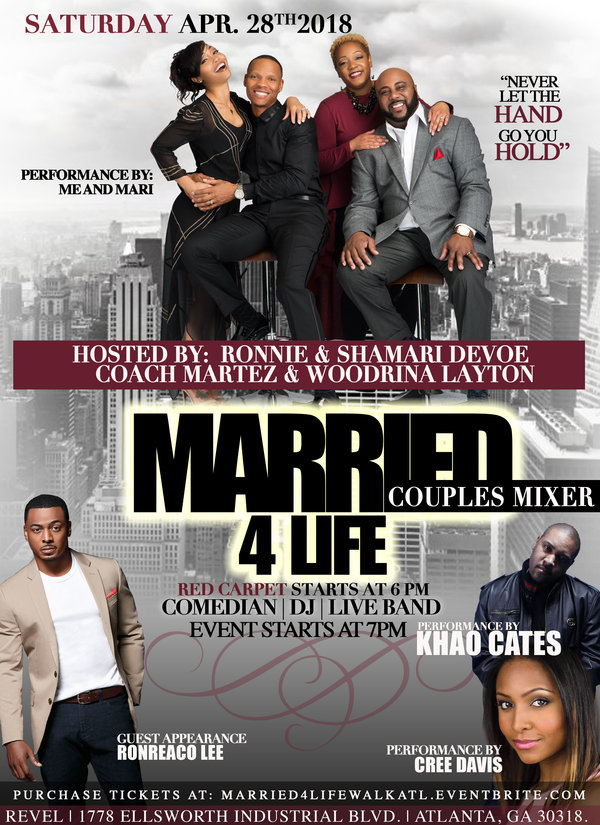 What is the best way to stay informed with the latest information and updates about both events?
Be sure to like the www.facebook.com/married4lifewalk page and follow us on instagram @ married4lifewalk.