Actions and Detail Panel
The 29th Annual Dorothy J. MacLean Conference
Fri, Nov 10, 2017, 8:00 AM – Sat, Nov 11, 2017, 5:00 PM CST
Description
Each year for the past 29 years, the MacLean Center has hosted a conference that draws speakers who discuss today's issues in clinical medical ethics. The conference remembers Dorothy Jean MacLean, who helped create the MacLean Center and was deeply committed to its work. D.J. MacLean believed that education was the best way to improve the world and throughout her life supported many leading educational institutions.
The MacLean Conference will be hosted on Friday, November 10 and Saturday November 11. Please select the day or days you will be in attendance with your ticket selection.
LOCATION AND PARKING:
The Law School is located at 1111 E. 60th Street, Chicago, Illinois 60637. Parking is readily available on the Midway on Saturday but may be difficult to find on Friday. Garage parking is available at the University of Chicago Hospitals parking structure, which is located approximately one half mile west of the Law School on Maryland Avenue between 58th Street and 59th Street. The Law School is within walking distance of the 59th Street Metra stop. For more detailed directions to the Law School, please visit: http://www.law.uchicago.edu/directions
CONTACT INFORMATION:
If you have any questions about conference registration and logistics, please contact Sarah Watanaskul at (swatanaskul@medicine.bsd.uchicago.edu) or Ben Bazin at (bbazin@medicine.bsd.uchicago.edu).
If you have any questions about traveling to and from the MacLean Conference, please contact Kimberly Conner (kconner1@medicine.bsd.uchicago.edu).
INFORMATION ABOUT THE MACLEAN CENTER:
To learn more about the MacLean Center for Clinical Medical Ethics or to register for future MacLean Center events, please visit our website at macleanethics.uchicago.edu.
To receive email updates about other MacLean Center events, join the MacLean Center listhost: http://macleanethics.uchicago.edu/about/mailing_list/
Videos from this conference will be available on our YouTube site at youtube.com/user/MacLeanCenter.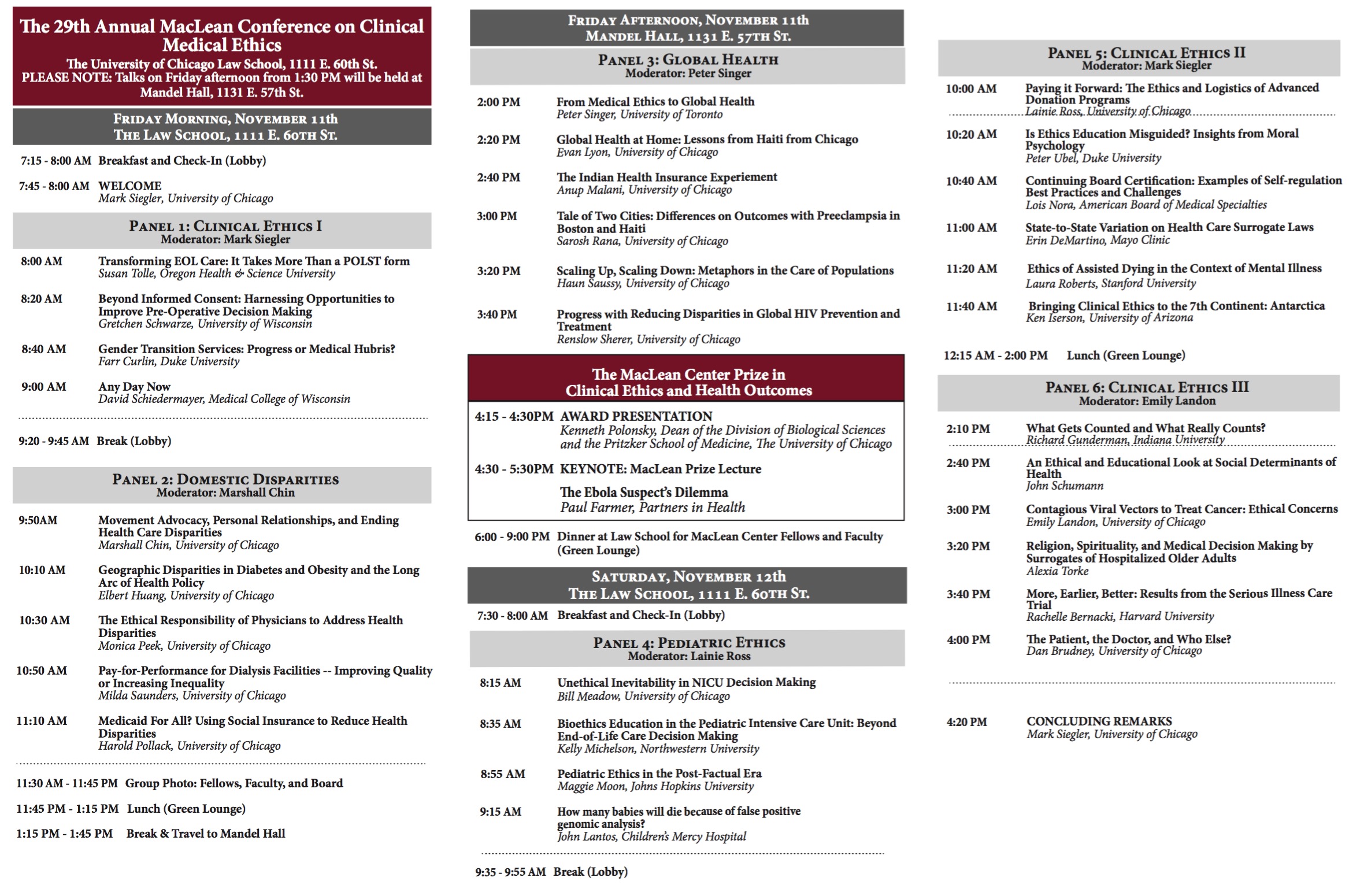 Date and Time
Location
The University of Chicago - The Law School (Auditorium)
1111 East 60th Street
Chicago, IL 60637