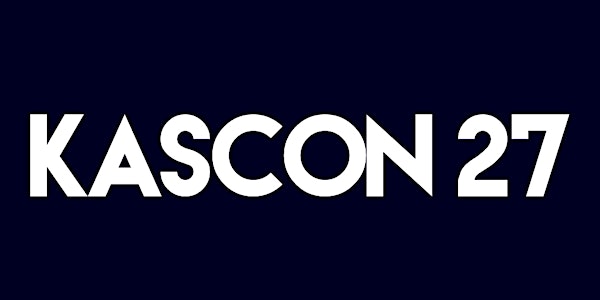 The 27th Korean American Students Conference (KASCON 27)
When and where
Location
New York City 60 Washington Square S New York, NY
Description
THERE ARE STILL TICKETS AVAILABLE!
PLEASE EMAIL info@kascon27.com!!!!!!


---




Join us at the 27th Korean American Students Conference (KASCON), the largest and oldest ethnic student conference in the nation.

KASCON 27
The cultural status of Korea and the Korean-American community has shifted immensely even just within the past decade. Many prominent Korean-American figures have become leaders in numerous industries, and students yearn for the advice and mentorship from these role models. We believe that sharing the same space and time with someone you admire—someone you aspire to become like—is very powerful. For KASCON 27, we are focusing on bringing together world-class leaders to meet passionate, enthusiastic students and create lifelong relationships.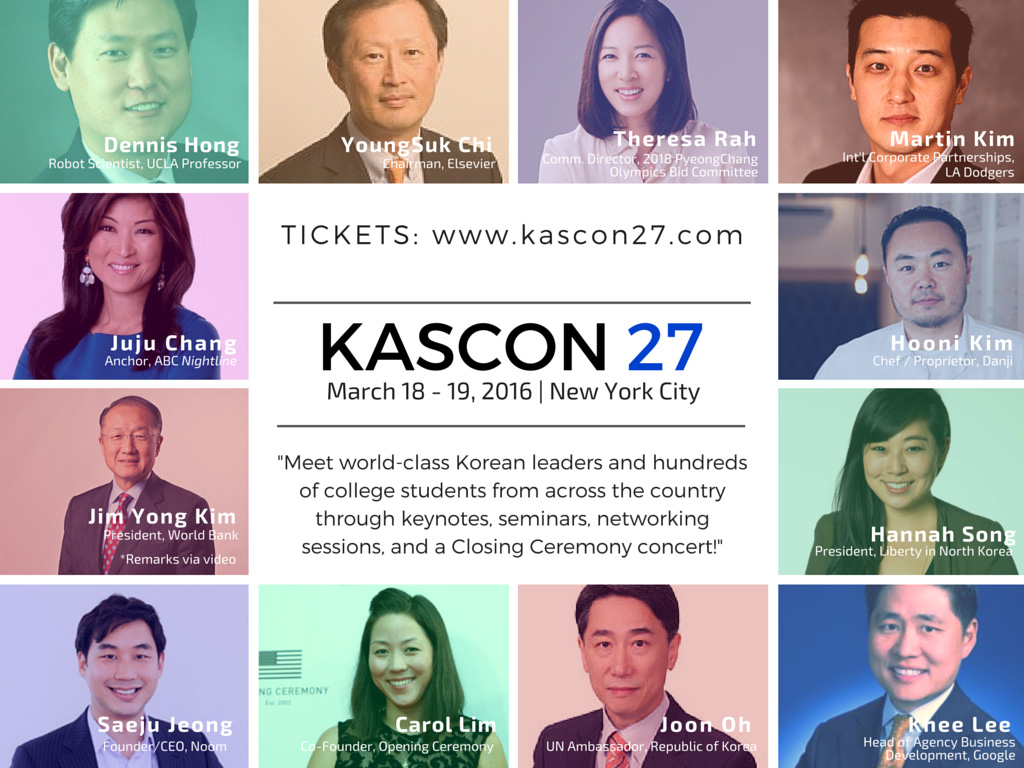 Currently Revealed Speakers (last name alphabetical order):
Juju Chang, Emmy Award-winning co-anchor of ABC News' Nightline
YoungSuk (Y.S.) Chi, Chairman of Elsevier and Past President of the International Publishers Association (IPA)
Dr. Dennis Hong, Professor and Founding Director of RoMeLa (Robotics & Mechanisms Laboratory) at UCLA
Saeju Jeong, Co-founder and CEO of Noom, Inc.
Hooni Kim, chef and proprietor of Danji and Hanjan
Dr. Jim Yong Kim, President of World Bank Group (Remarks via video)
Martin Kim, International Corporate Partnerships at Los Angeles Dodgers
Khee Lee, Founding Partner of LH2 Ventures and former Head of Agency Business Development at Google
Carol Lim, founder of Opening Ceremony and Creative Director of Kenzo
His Excellency Ambassador Joon Oh, Ambassador and Permanent Representative of the Republic of Korea to the United Nations in New York
Theresa Rah, Oratio Co-partner and former Communications Director of the 2018 PyeongChang Olympics Bid Committee
Hannah Song, President & CEO of Liberty in North Korea (LiNK)
Alicia Yoon, Founder & CEO of Peach & Lily
Sandor Hau, Managing Director of Nomura Securities

*more speakers will be added to this list, so make sure to check our official website!


KASCON 27 Concert: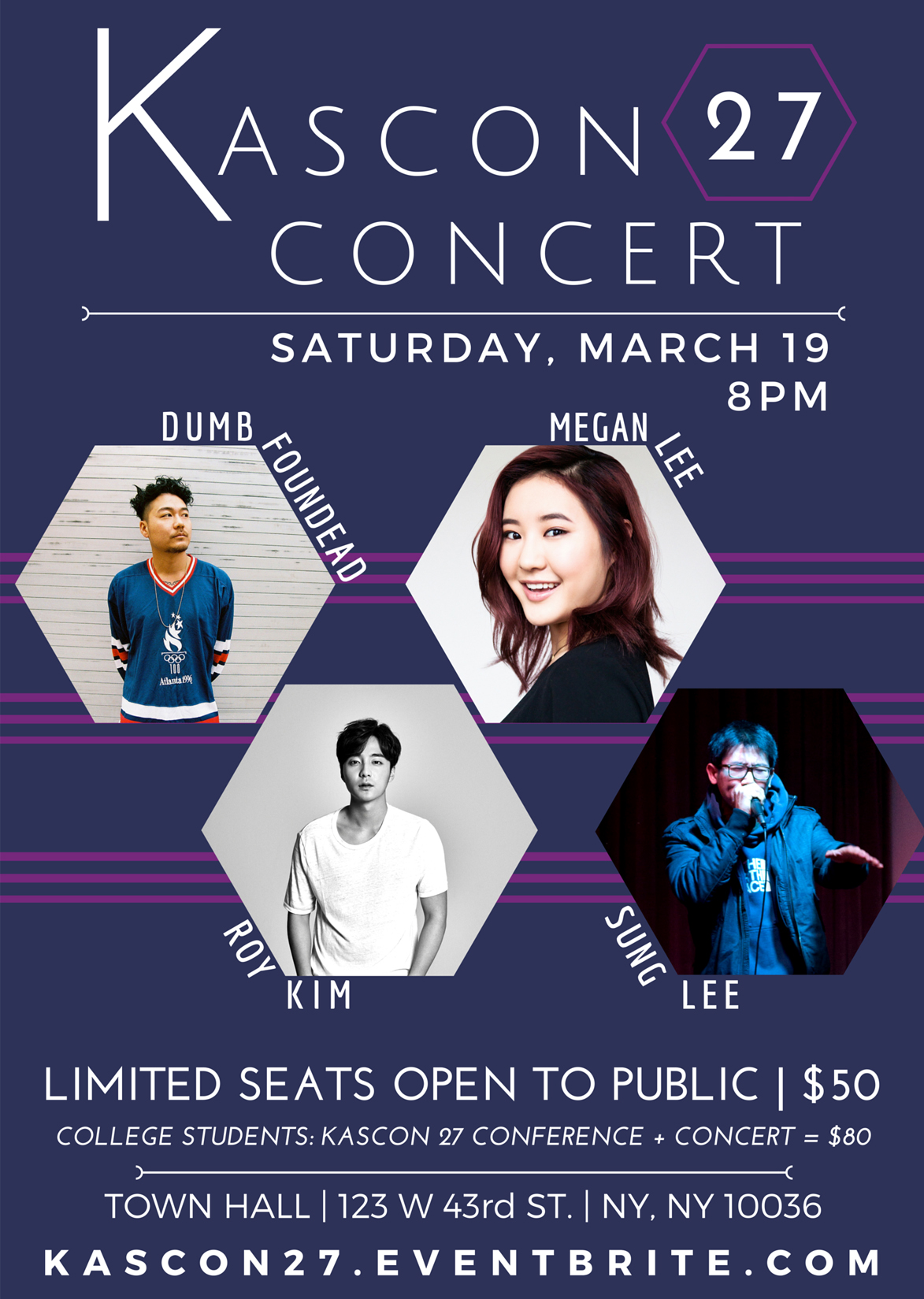 ROY KIM, DUMBFOUNDEAD, MEGAN LEE, and SUNG LEE will be joining KASCON 27 at its Closing Ceremony!

For those who are NOT students but would like to join us at the KASCON 27 Closing Ceremony, please purchase the Closing Ceremony Only tickets! The Closing Ceremony is open to the general public.
*IF you are a KASCON 27 Student Attendee, you DO NOT have to purchase a separate Closing Ceremony ticket!
HOUSING for Attendees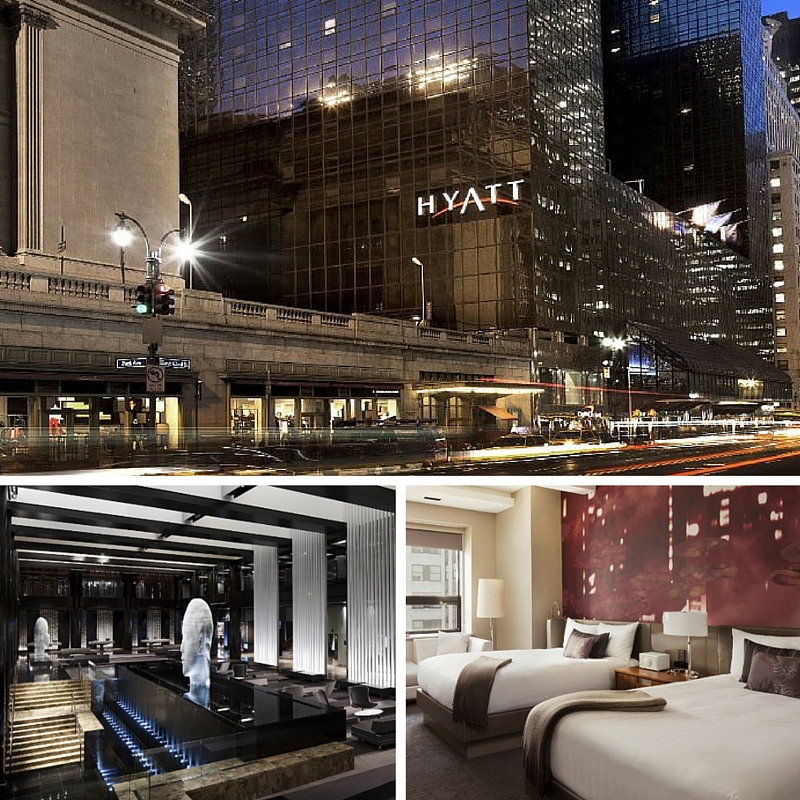 KASCON 27 is offering 3 nights at the Grand Hyatt New York near Grand Central Terminal (almost ~$1200 value) for $250 for attendees. Attendees who request housing from KASCON 27 will be housed in rooms of 4 people (two double beds), and we will do our best to honor any room requests (remember, the earlier you book, the better). Check-in will be March 17, and check-out will be March 20.
Students traveling to New York City who are looking to find alternative housing should consult services like
Expedia, Hotels.com, or Airbnb.
VENUES: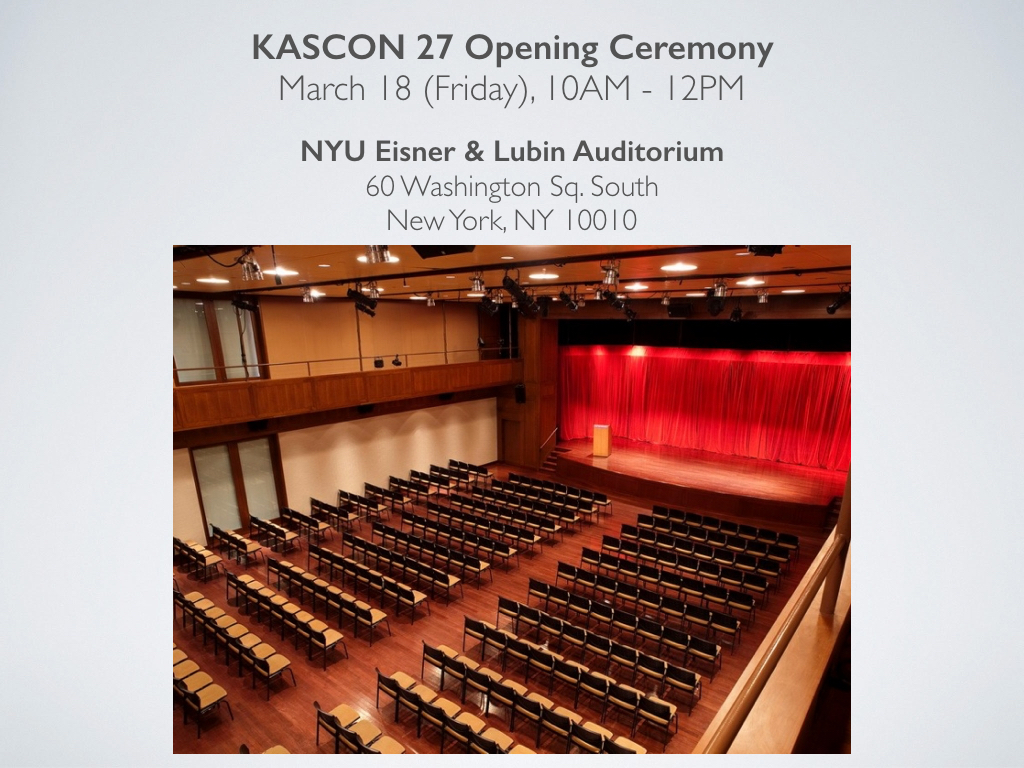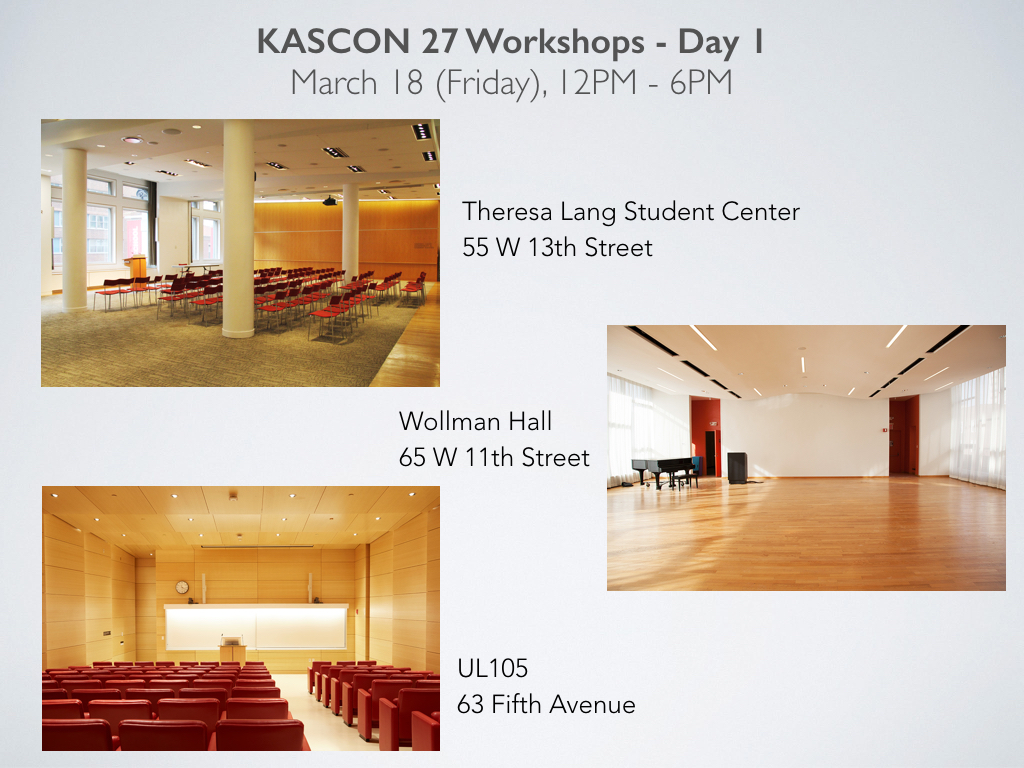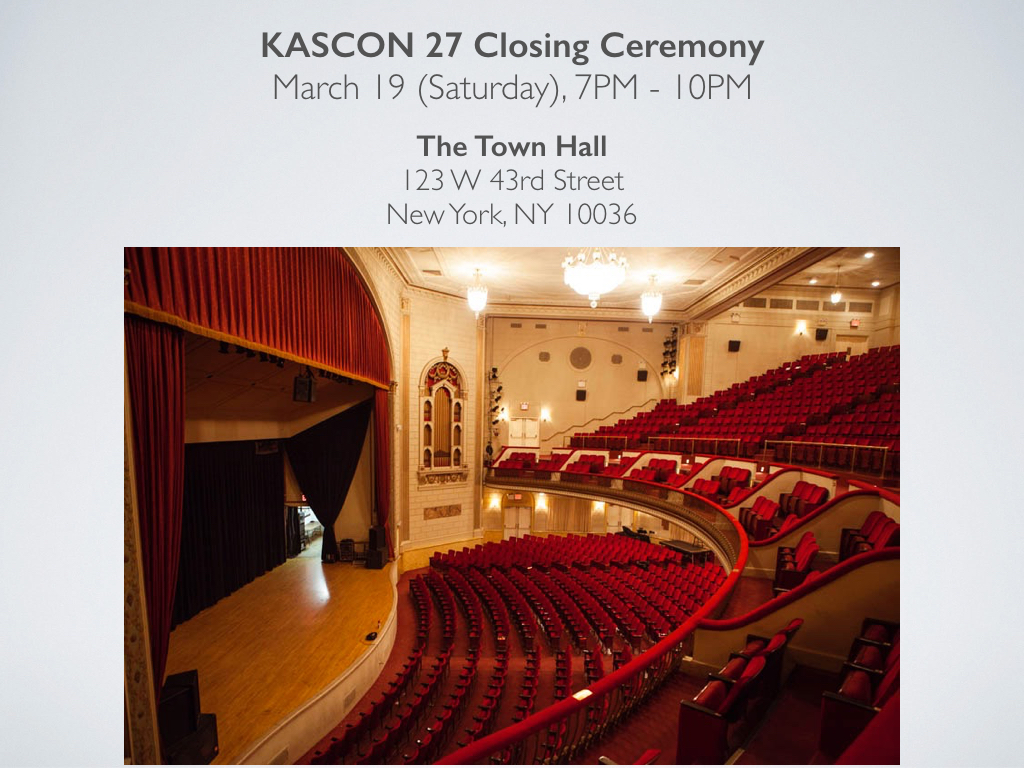 About KASCON
The Korean American Students Conference, established in 1987 at Princeton University, is the closest gathering of the young Korean-American generation for almost thirty years. As the oldest and largest ethnic-specific student conference in the nation, KASCON has been held 26 times until 2013.


---
FAQs
Where can I contact the organizer with any questions?
Please check out the full FAQ on our official website: http://www.kascon27.com/faq/
If you have any additional questions, please email info@kascon27.com.
Who can purchase tickets?

Current college students and recent college graduates who graduated in the past two years (those who were undergrad Class of 2014 or 2015) are eligible to attend KASCON 27.
Is my registration/ticket refundable?
Sorry, all purchases are final from February 15.
Can I update my registration information?
Yes, you can update your registration information. Please email info@kascon27.com with all information update requests.