The 27th Annual Gourmet Gents-"The Kings of the Kitchen Part II" presented...
Description
The National Coalition of 100 Black Women, Inc.- Metropolitan Atlanta Chapter invites all of Atlanta to celebrate "30 Years of Excellence: #ReignOn 100!" at Atlanta's Premiere Cookoff Event,
The 27th Annual Gourmet Gents Featuring 200 of Atlanta's Most Notable Gents, Celebrities & Restaurants serving up Delicious Samplings! Also, featuring Junior Gents!

Proceeds benefit the NCBW-Metropolitan Atlanta Chapter's Teens on the Move mentoring program, a post-secondary preparation and tuition assistance program.
---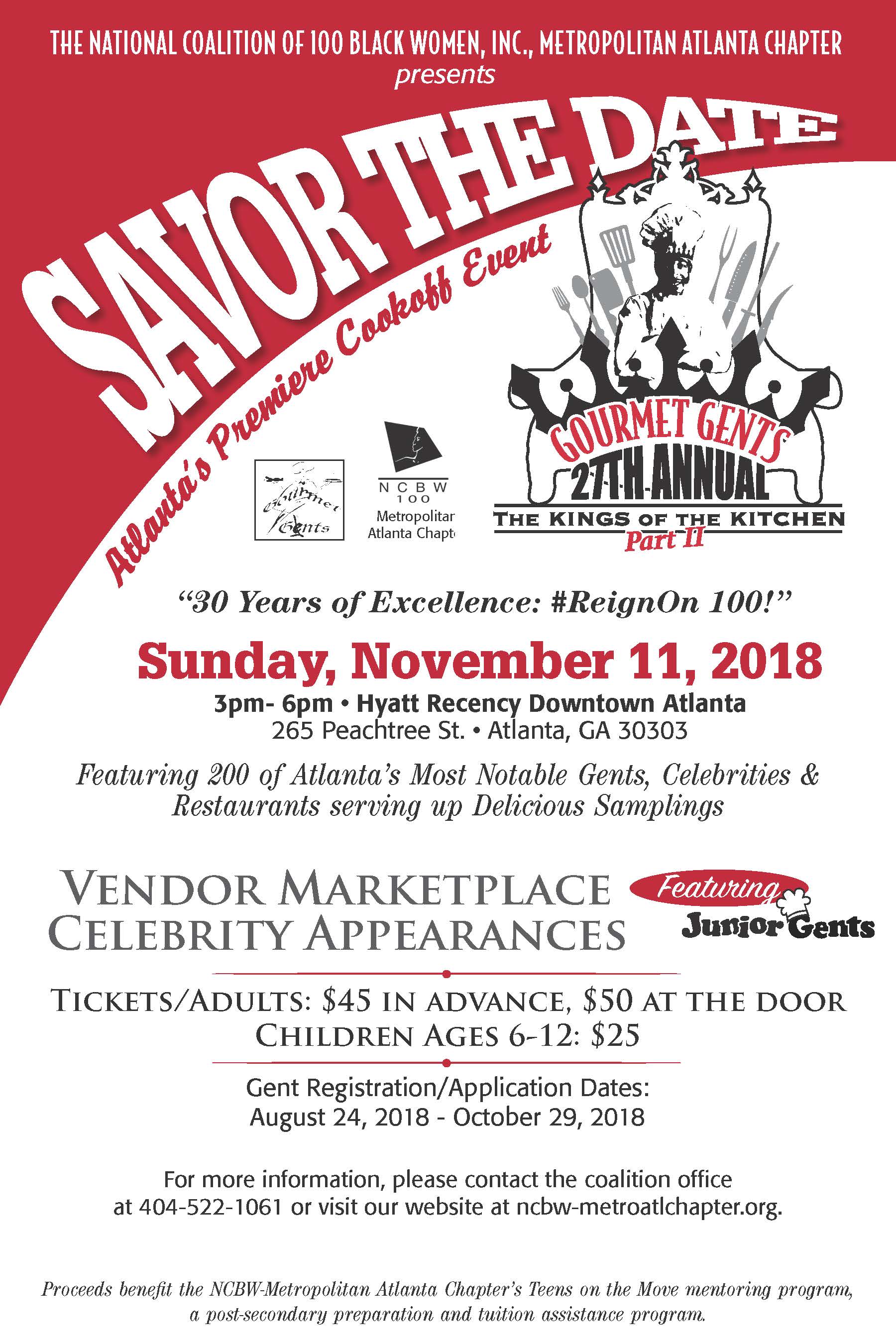 Thirty years ago, the Metropolitan Atlanta chapter of the National Coalition of 100 Black Women launched
"Gourmet Gents" in 1989 as the organization's first annual fundraising effort. Proceeds from Gourmet Gents Benefit the chapter's Teens On The Move program. Teens On The Move has been operating for over 20 years, positively impacting the lives of more than 450 young women in our community. The program's suc-cess is demonstrated by the hundreds of students who have successfully matriculated to college, including five celebrated Gates Millennimum Scholars in 2010.

At its launch in 1989, Gourmet Gents garnered more than 200 Atlanta gentlemen, celebrities, and corporate sponsors to answer the Coalition's call to volunteer their time, their culinary skills, and their food to raise mon-ey for Teens On The Move. Today, the event has been hailed by many as Atlanta's premier cook-off event. Gourmet Gents has continually increased in popularity in its appeal to the community, attracting upwards of 3,500 attendees eager to sample the food offerings of more than 300 chefs - including some of the city's most prominent business and civic leaders, as well as national celebrities - and several of Atlanta's premier restaurants.

Donned in chef hats and aprons, each Gent is provided a station to display his culinary masterpiece and offer tasty samples amidst a backdrop made festive with music, entertainment, and the excitement of the affair. These nearly 200 Gents also compete for bragging rights and the chance to win awards and prizes for the best main course, side dish, and desserts.
---
Contact:
National Coalition of 100 Black Women, Inc.-Metropolitan Atlanta Chapter
1718 Peachtree St., NW, Ste. 985
Atlanta, GA 30309
Phone: 404.522.1061, Fax: 404.522-6436