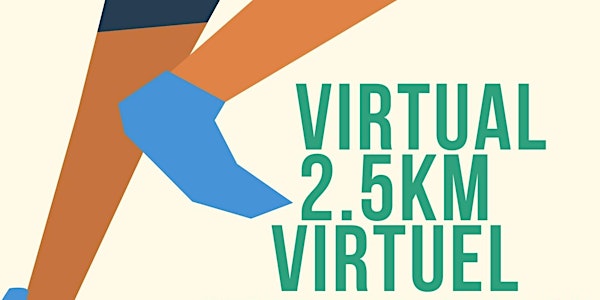 The 2.5K Virtual Challenge / Le Défi Virtuel 2.5KM
CHALLENGE DAY : The event is virtual but the challenge is real ! JOURNÉE DÉFI : L'événement est virtuel, mais le défi est réel !
About this event
Here is a little more about the mission and the goal of our CHALLENGE DAY !
The WHY?
ForColoredGirlsHealthWell wants to reduce the causes of cardiovascular related diseases such as hypertension, obesity and physical inactivity.
The WHAT?
ForColoredGirlsHealthWell is a health organization built to broaden access to healthcare and focus on creating interventions that promote health within families , communities and society to support individuals on their journey to a healthier lifestyle.
What is the challenge?
The challenge is calling Walkers, Runners, Hikers, Bikers and Swimmers to challenge yourself while staying safe ! People of all ages and abilities are welcome to participate.
#1- Register for the Challenge: Choose in what category you wish to participate. Choices :
A.walk
B. run
C.hike
D. bike
E. swim
#2- GET READY :The virtual event will officially take place Saturday September 24,2022 but you have more or less 24hrs to complete the event which means that you can complete it at earliest on Friday the 23 of September or at the latest Sunday the 25 september 2022. Start praticing !
#3-PRESS GO: You decide your start line as well as your finish line. It is as simple as a click of a button, press GO to begin and then or Press STOP when you're done 2.5Km on your favorite fitness App. Or simple record your start time and record your end time.
#4-Take selfie and submit your time and photo by tagging on Instagram via @forcoloredgirlshealthwell or by email at : forcoloredgirlhealthwell@gmail.com with subject line: 2.5K complete
#5 -Be proud of yourself for having completed the challenge and stay tuned to see if you won one of the raffle prizes !
Voici un peu plus sur la mission et le but de notre JOURNÉE DÉFI !
Le POURQUOI?
ForColoredGirlsHealthWell veut réduire les causes des maladies cardiovasculaires telles que l'hypertension, l'obésité et l'inactivité physique.
Le BUT ?
ForColoredGirlsHealthWell est une organisation de santé conçue pour élargir l'accès aux soins de santé et se concentrer sur la création d'interventions qui favorisent la santé au sein des familles et des communautés pour les soutenir dans leur cheminement vers un mode de vie plus sain.
C'est quoi le défi ?
Le défi fait une appel à tous les marcheurs, coureurs, randonneurs, cyclist et nageurs à se mettre au défi tout en restant en sécurité! Les personnes de tous âges et capacités sont les bienvenues.
# 1- Inscrivez-vous au DÉFI: Choisissez dans quelle catégorie vous souhaitez participer. Les choix sont:
A. La marche
B. La course
C. La randonnée
D. Le vélo
E. La nage
# 2- PRÉPAREZ-VOUS: L'événement virtuel aura lieu officiellement le samedi 24 septembre 2021 mais vous avez plus ou moins 24 heures pour compléter l'événement ce qui signifie que vous pouvez le terminer au plus tôt le vendredi 23 septembre ou au plus tard le dimanche 25 septembre 2022. Commencez à vous pratiquer dès aujourd'hui !
# 3- COMMENCEZ VOTRE DÉFI: Vous décidez de votre ligne de départ ainsi que de votre ligne d'arrivée. C'est aussi simple qu'un clic sur un bouton, appuyez sur GO pour commencer, puis appuyez sur STOP lorsque vous avez terminé votre parcours sur votre application de mise en forme préférée. Ou enregistrez simplement votre heure de début et enregistrez votre heure de fin à l'aide d'une montre.
# 4- Prenez votre portrait en photo (ou vidéo) et soumettez votre temps et photo (ou video) par Instagram via @forcoloredgirlshealthwell ou par courriel à l'addresse suivante: forcoloredgirlhealthwell@gmail.com avec la ligne d'objet: 2.5KM complété.
# 5- Soyez fier de vous d'avoir relevé le défi et restez à l'écoute pour voir si vous avez gagné l'un des prix de participation!