Event Information
Location
Avvo
720 Olive Way
Lobby Conference Room
Seattle, WA 98101
Refund Policy
Refunds up to 7 days before event
Description
The 21st Century Lawyer: AI, Big Data, & The Future of Legal Tech
To kick off Seattle Legal Tech's relaunch, we will be hosting a CLE and social hour on December 7th from 2-6 at Avvo's headquarters in South Lake Union. Topics will cover everything from big data's impact on civil rights to AI for lawyers and next level hacking with a social hour afterward so you can network and carry on the conversations. We'll bring CLE credit (pending) and drinks, you just bring yourselves.
3 Washington Credits Pending
Here's a more detailed schedule: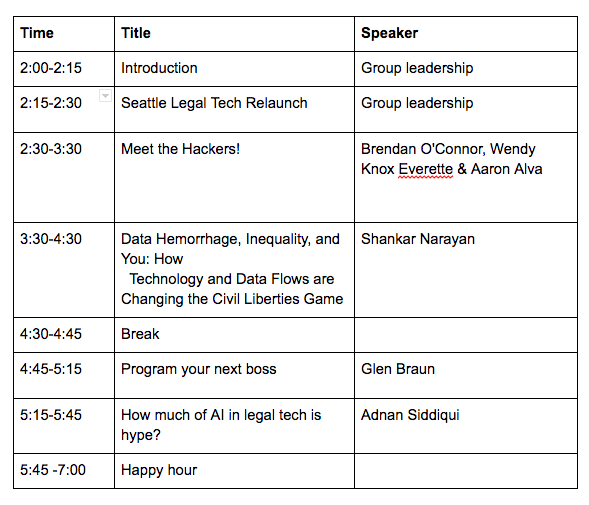 We are charging a nominal cost (just $30) to cover the fee for 3 CLE credits and to do some fundraising for future activities including more community events and small grants for civic/legal tech projects in the puget sound area. If the cost is prohibitive please let us know (legaltechsea@gmail.com) some limited scholarships may be available.
Detailed descriptions of our talks:
Meet the Hackers! - Brendan O'Connor, Wendy Knox Everette & Aaron Alva
Curious about hackers, computer security, or electronics that go blink in the night? Come meet three bona-fide computer security people who are also attorneys, working in three very different fields. Bring questions about computers, security, and cyber-anything, and possibly also some popcorn.
Data Hemorrhage, Inequality, and You - Shankar Narayan
Rapidly growing data flows and game-changing advances in aggregation, analytics, and machine learning are changing the game for all of our civil liberties. The public discourse around data often tends to focus on information security, but rarely is inequality at the core of the discussion. Yet we are in a new space where discretion and control over our basic civil liberties is being transferred to private entities from traditional government actors, making it more difficult to recognize threats to our civil liberties, much less respond to them. Our ability to use traditional statutory and constitutional protections is also rendered more challenging by the "tech-washing" of decisions through unaccountable algorithms. The result may be a world in which technology reinforces existing biases everywhere from education to criminal justice, creating a de facto two tier society. This talk will walk through the above dynamics using real-world examples such as police body cameras, advanced metering infrastructure, and other surveillance tools. It will also point to ways to create transparency and accountability around data flows.
Program Your Next Boss - Glen Braun
Smart contracts are contracts written in a computer executable language. They can range from computer controlled keyless entry systems as in smart cars to fully decentralized, autonomous organizations. As this technology progresses everyone should keep an eye on what's next. Even if you're not programming your next boss someone else might be.
How much of AI in legal tech is hype? - Adnan Siddiqui
A survey of AI and machine learning in general and a specific overview of various AI tools in legal tech. There's a lot out there and every day this technology expands. This talk till tell you where the world is headed any help you distinguish for yourself what is real, what is fantasy, and what may soon become real.
Date and Time
Location
Avvo
720 Olive Way
Lobby Conference Room
Seattle, WA 98101
Refund Policy
Refunds up to 7 days before event