The 21 Irrefutable Laws of Leadership Mastermind Study

Thursday, October 15, 2015 at 7:00 PM

-

Thursday, December 17, 2015 at 8:30 PM (MST)
Event Details
The 21 Irrefutable Laws of Leadership
"Follow Them and People Will Follow You"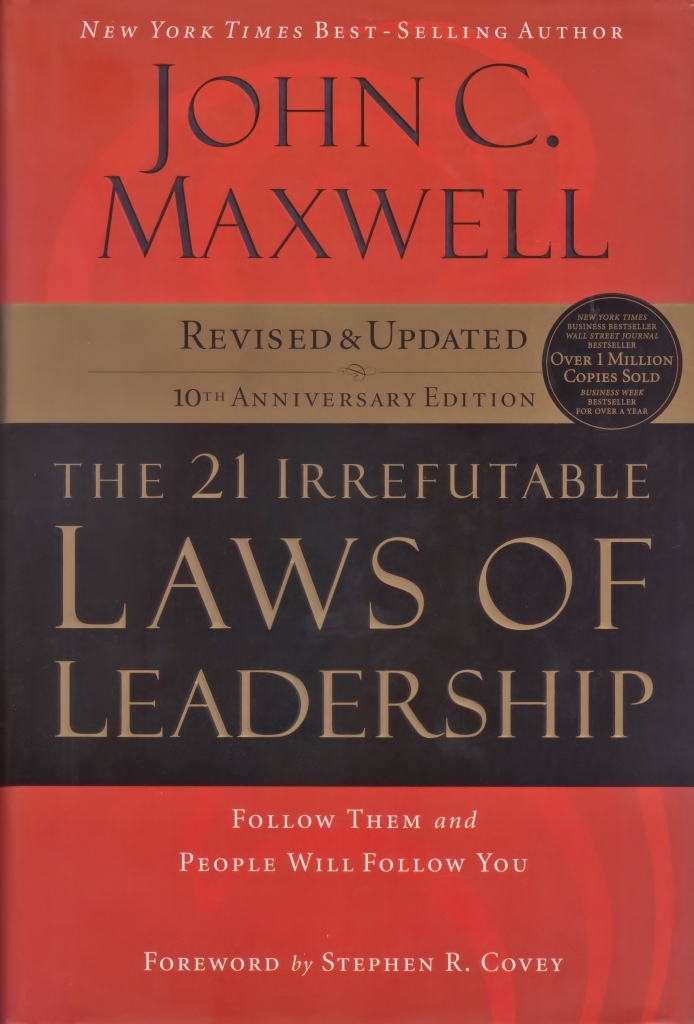 Internationally acclaimed leadership author, speaker, and coach Dr. John C. Maxwell has been learning and teaching about leadership for over 40 years.  In his book The 21 Irrefutable Laws of Leadership, Dr. Maxwell has taken those 40 years of experience, and has distilled them into 21 simple, life changing principles.  Using examples from the worlds of business, politics, sports, religion and military, the 21 Irrefutable Laws can help you understand and improve your leadership effectiveness.  Dr. Maxwell says "I've seen these laws at work in more than ninety countries around the world.  Apply them and people will follow you.  Violate or ignore them, and you will not be able to lead others.  But here's the good news - every one of these laws can be learned."
Each participant receives weekly study guides, and eight (8) weekly sessions of interactive masterminding where study participants will discuss what you are learning and how you are applying it in your lives.  The eight (8) sessions include:
WEEK  1 (October 15th)
Introduction

CH1 The Law of The Lid - Leadership Ability Determines a Person's Level of Effectiveness 

WEEK  2 (October 29th)
CH2 The Law Of Influence - 

The True Measure of Leadership is Influence - Nothing More, Nothing Less

CH3 The Law of the Process - 

Leadership Develops Daily, Not in a Day

CH4 The Law of Navigation - 

Anyone Can Steer the Ship, but it takes a Leader to Chart the Course
WEEK 3 (November 5th)
CH5 The Law of Addition - 

Leaders Add Value by Serving Others

CH6 The Law of Solid Ground - 

Trust Is the Foundation

CH7 The Law of Respect - 

People Naturally Follow Leaders Stronger than Themselves
WEEK 4 (November 12th)
CH8 The Law of Intuition - 

Leaders Evaluate Everything with a Leadership Bias

CH9 The Law of Magnetism - 

Who You Are is Who You Attract

CH10 The Law of Connection - 

Leaders Touch a Heart Before they ask for a Hand
WEEK  5 (November 19th)
CH11 The Law of the Inner Circle - 

A Leader's Potential is Determined by Those Closest to him/her

CH12 The Law of Empowerment - 

Only Secure Leaders Give Power to Others

CH13 The Law of the Picture - 

People Do What People See
WEEK 6 (December 3rd)
CH14 The Law of Buy-In - 

People Buy Into the Leader, then the Vision

CH15 The Law of Victory - 

Leaders Find a Way for the Team to Win

CH16 The Law of the Big-Mo - 

Momentum Is a Leader's Best Friend
WEEK 7 (December 10th)
CH17 The Law of Priorities - 

Leaders Understand that Activity is not necessarily Accomplishment

CH18 The Law of Sacrifice - 

A Leader must Give Up to Go Up

CH19 The Law of Timing - 

When to Lead is as Important as What to Do and Where to Go
WEEK 8 (December 17th)
CH20 The Law of Explosive Growth - 

To add Growth, Lead Followers; To Multiply, Lead Leaders

CH21 The Law of Legacy - 

A Leader's Lasting Value is Measured by Succession

Conclusion & Wrap Up
Your investment - Time.  This is a FREE PROGRAM!  Your only investment is to purchase a copy of the book, and an hour to 90 minutes of your time for eight (8) Thursday evenings.  Make a commitment to your own personal growth by investing in yourself and participating in this powerful study.  Register now so you don't miss out - this study is strictly limited to 20 participants to ensure maximum opportunity for growth is achieved. 
When & Where

Via Teleconference




Thursday, October 15, 2015 at 7:00 PM

-

Thursday, December 17, 2015 at 8:30 PM (MST)
Add to my calendar
Organizer
Ascension Leadership Group, LLC

Ascension Leadership Group, LLC (ALG) provides transformational leadership development and personal growth coaching and training, all focused on encouraging, equipping and empowering individuals and their organizations to reach new heights of success.
Our Ascending Leader coaching takes you deep inside yourself, where you create a new awareness and discover the solutions you are seeking. We also offer a wide array of leadership, team building, communication, and personal growth and development programs delivered through a variety of forums and methods. It is our honor to be a part of your leadership Journey!
ALG's Founder, Jeffrey A. Kramer, is an independent certified coach, speaker and trainer with the John Maxwell Team. Jeff is honored to call John Maxwell his business partner, mentor, and friend. Additionally, Jeff is a certified Deeper Path Team coach, the founder of the Ascending Leaders Community, and a member of the Lead With Giants Community.