The 20th Annual St. Vincent NICU/CCN Reunion

Saturday, August 18, 2018 from 9:00 AM to 12:00 PM (EDT)
Event Details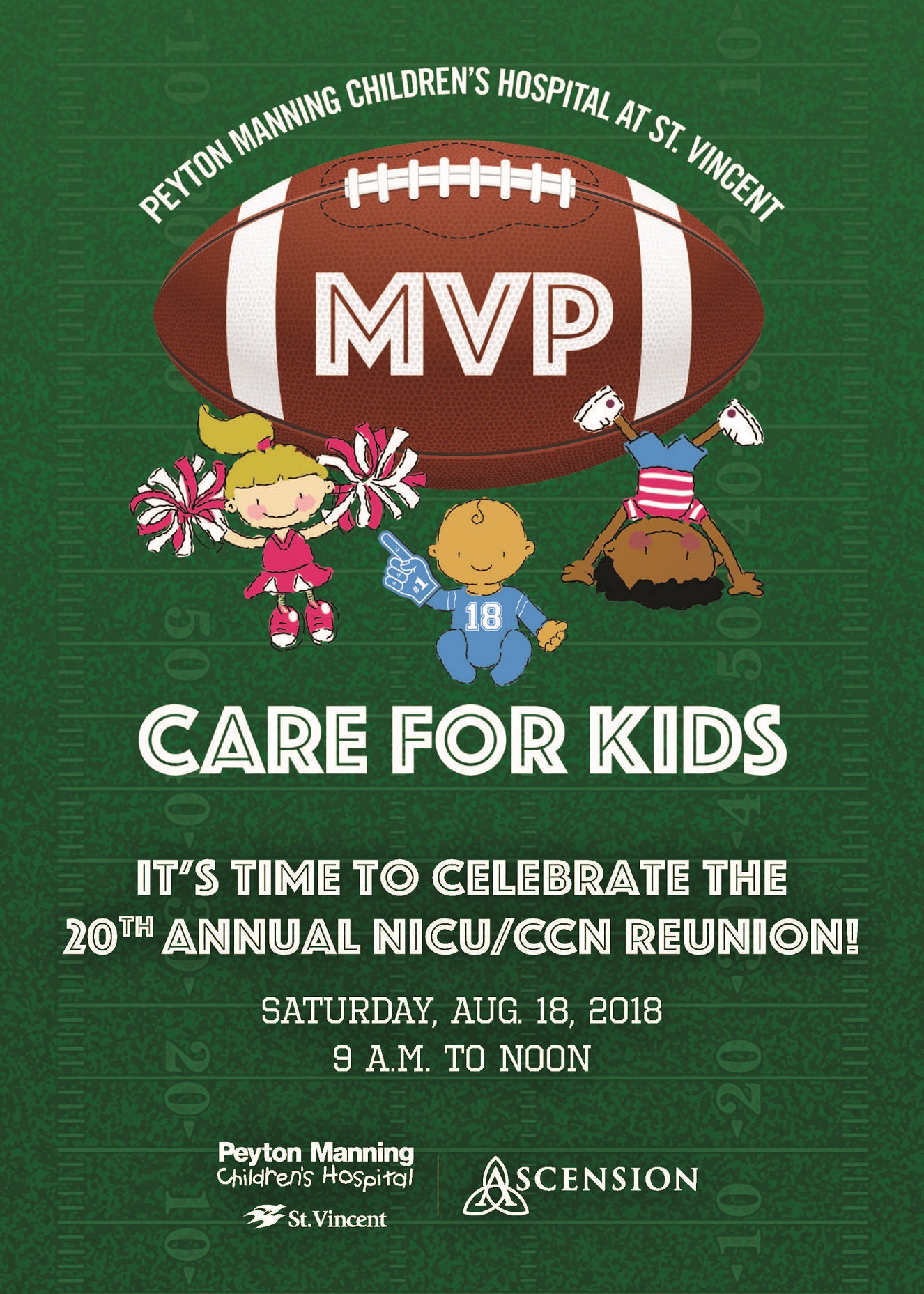 Join us for the 20th Annual NICU/CCN Reunion celebrating our MVPs as we bring together families, our exceptional care team, and your NICU/CCN graduate.  We are excited to see how your children have grown and progressed over the years.  A special message will be delivered at 11:00 am by Hossain Marandi, MD, President of Peyton Manning Children's Hospital at St. Vincent.
As part of this reunion, we also welcome family members who lost an infant(s) to visit the Angel Tree planted at Zionsville Lions Park in 2010 and take a special memento in remembrance.
Please no pets.
To register, or for more information, call 317-338-CARE (2273) or visit
StVincentNICUReunion.eventbrite.com.
Para inscribirse, o para mayores inforames, llame 317-338-CARE (2273) o visite
StVincentNICUReunion.eventbrite.com.
If you stayed at the St. Vincent House and would like to give back, there will be a collection box at the St. Vincent House table at the reunion.  Requested items include snacks and toiletries.
If you would like to share your graduate's journey with us, please send your favorite photo along with your child's first name and your contact information to PMCH@ascension.org.
When & Where

Lions Park
115 South Elm Street
Zionsville, IN 46077


Saturday, August 18, 2018 from 9:00 AM to 12:00 PM (EDT)
Add to my calendar
Organiser
We offer comprehensive healthcare services designed to empower you to be proactive about your health through every stage of life. From routine gynecology and maternity services, to menopausal care and breast health, we are committed to providing you with spiritually-centered, holistic care. We will give you the tools you need to reach your personal wellness goals, while providing information and resources to help you achieve and maintain a healthy lifestyle for both you and your baby.
We offer Childbirth Education at St. Vincent Women's, St. Vincent Carmel, and St. Vincent Fishers Hospitals.
PLEASE NOTE THE FOLLOWING INFORMATION:
One registration is valid for two people to attend each class.
You may register for a class at any of the 3 locations (Carmel, Fishers, Women's-Indianapolis), regardless of your place of delivery.
Please do not register for the same class for multiple dates. Each class has a limited number of spots available.  You will be contacted by St. Vincent if multiple registrations are received to verify which class you will be attending.
If you are registering for the Done in a Day class or Done in 2 Evenings class, you do not need to register for the individual classes of Newborn Care and Breastfeeding Basics.
Please complete the classes by 36 weeks of pregnancy.
All classes are completely FREE.
If you have any questions, please contact us via email at Maternity@stvincent.org or by calling 317-338-2229.