The 20th Anniversary Marian Anderson Award honoring Queen Latifah
Description
The Marian Anderson Award will honor globally acclaimed rapper, singer, songwriter, actress, author and producer Queen Latifah during the eagerly anticipated 20th Anniversary Black-Tie Award Gala Dinner and Concert. This year's celebration will be held on Tuesday, November 20, 2018 at The Kimmel Center for the Performing Arts.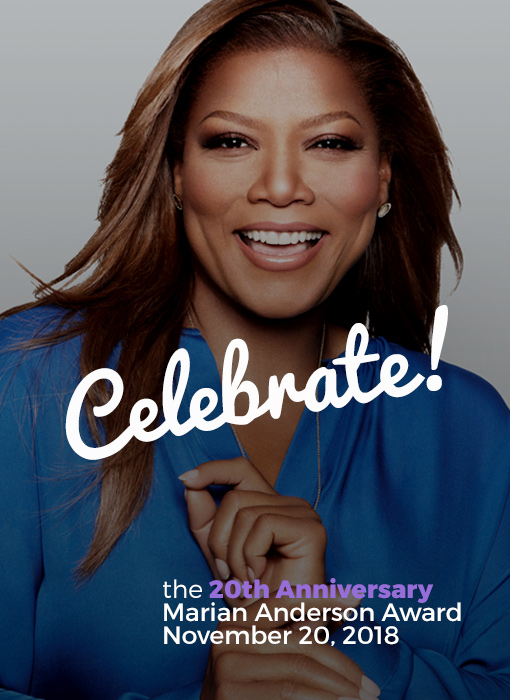 Guests can be a part of the entire evening as either a Benefactor or a Patron, which includes a cocktail reception, seated black-tie dinner and a ticket to the Award Gala performance. Programming includes:

Cocktails 5:30 p.m.–7:00 p.m. (Benefactors receive access to an exclusive reception and photo opportunity with the honoree)
Black-Tie Dinner 7:00 p.m.–8:00 p.m.
Award Gala and Concert 8:30 p.m.–10:00 p.m.
Dress code is black tie.
ABOUT THE AWARD
The Marian Anderson Award honors critically acclaimed artists who have impacted society in a positive way, either through their work or their support for an important cause.
Created in 1998, the Award is named for the great Philadelphian and American artist. The first recipient of the Marian Anderson Award in 1998 was Harry Belafonte, followed by Gregory Peck, Dame Elizabeth Taylor, Quincy Jones, Danny Glover, Oprah Winfrey, Ruby Dee and Ossie Davis, Sidney Poitier, Richard Gere, Maya Angelou and Norman Lear, Mia Farrow, James Earl Jones, Berry Gordy, Jon Bon Jovi and Wynton Marsalis.
Each year honorees are selected by the Award's board of directors from among candidates with distinguished careers of artistic achievement and critical acclaim.
Importantly, The Marian Anderson Award also honors the legacy of Marian Anderson through its Young Artist Study-Grant (YASG) Program which supports financially challenged high school-aged artists from throughout the Greater Philadelphia area.
Tickets for the concert only can be purchased directly through the Kimmel Center Box Office by calling 215-893-1999.