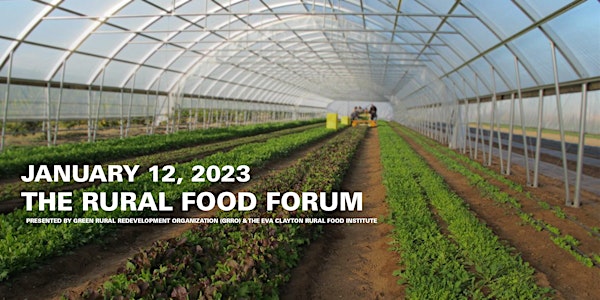 The 2023 Rural Food Forum
The Rural Food Forum is an in-depth conversation around access to healthy foods and their importance in ensuring community health outcomes.
When and where
Location
Vance-Granville Community College 200 Community College Road Henderson, NC 27536
About this event
On Thursday, January 12, 2023 the Green Rural Redevelopment Organization will convene leaders, community members, rural farmers and a host of national and international guests to discuss existing programs, resources and opportunities to address challenges and solutions to create sustainable economic growth in rural communities through the creation and/or increased utilization of equitable food systems.
The 2023 Rural Food Forum will engage stakeholders in Eastern North Carolina in an in-depth conversation around access to Healthy Foods and its importance to individuals and community health, sharing their experience and informing our priorities in the future.
Visit: grronc.org/rural-food-forum