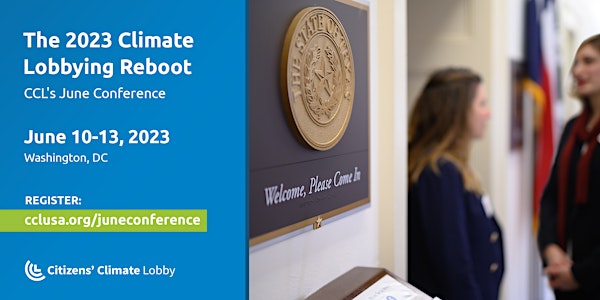 The 2023 Climate Lobbying Reboot
CCL's June Conference | Join us June 10-13, 2023
By Citizens' Climate Education/Citizens' Climate Lobby
Date and time
June 10 · 1pm - June 13 · 11pm EDT
Location
Omni Shoreham Hotel 2500 Calvert Street Northwest Washington, DC 20008
Refund Policy
Contact the organizer to request a refund.
About this event
3 days 10 hours

Mobile eTicket
We're back on Capitol Hill
It's a new Congress, and we'll welcome them with the biggest single day of climate lobbying since 2019. CCL's conference includes everything you'll need to power up your climate advocacy - inspiration, best practices and information. This year, you'll get to put everything you learn to use when you meet with members of Congress on Capitol Hill and talk to them about climate change.
For more information, visit the June Conference & Lobby Day website, or email conference.inbox@citizensclimate.org
Register by May 21st, 11:59pm ET.
Add a Saturday Seminar:
Go deeper in these pre-conference sessions on June 10th, 2pm ET. Seminars are 1-2 hours long, and go deeper into a topic than a standard conference breakout. If interested in attending a Saturday Seminar, be sure to add the "Add on: Saturday Seminar" ticket for $25 to your registration. Space is limited. Attendees can choose one of three topics (you will be asked which you want to attend during registration):
1.) ConnectEffect
From two-time Emmy-nominated & NAACP-Image Award nominated Executive Producer/Director Riaz Patel, ConnectEffect is an immersive Entertainment Experience that explores media, division, identity and the profound difference between the REAL WORLD and the SCREEN WORLD in a deeply personal & poignant way. It takes an audience of strangers - from all sides of all issues - and quickly connects us through an experience optimized for vulnerability, compassion, connection & hope. It has been described as a "Hard-Reset of shared Humanity."
2.) En-ROADS Climate Workshop
The En-ROADS Climate Workshop is an interactive group experience that uses the En-ROADS climate solutions simulator—a free, easy-to-use, online tool built by the MIT Sloan Sustainability Initiative and the not-for-profit think tank, Climate Interactive. En-ROADS gives users the opportunity to test out different climate change solutions, en route to creating a future that limits global warming to well below 2°C from pre-industrial levels, in line with the Paris Agreement. The experience delivers insights into policies and actions that can meet climate goals. To-date, it has been used by more than 140,000 people in 110 countries, including 1600+ top decision-makers, and by many CCL members in their engagements with leaders. Come experience En-ROADS for yourself and see how it can be useful in your work.
3.) Building Community in Your Chapter
CCL exists to empower all everyday people - of all colors, ages, and political stripes - to build political will for climate solutions. In this seminar, CCL focused outreach staff will discuss CCL National's work in reaching people of color, students, and those politically right of center, and review ideas and resources available to volunteers to help with your own outreach in your community.
Lodging:
The host hotel is the Omni Shoreham, located at 2500 Calvert Street NW, Washington, D.C., 20008. For conference attendees, the rate starts at $294 per night plus tax with up to four people per room. You must book by May 18th to receive the CCL rate. Visit our group room block reservation page on the hotel's website to make your reservation. Reservations are made on a first come, first served basis and fill up quickly, we suggest you make your reservation early.
Minors:
We welcome conference attendees of all ages. Attendees under the age of 18 must be accompanied by a chaperone. There is a limit of one minor per chaperone or parent/legal guardian on lobby day. There is additional paperwork required if you are a minor or are registering a minor, we will contact you after you register with more details.
About the organizer
Citizens' Climate Lobby (CCL) is a non-profit, nonpartisan, grassroots advocacy organization focused on national policies to address climate change.
Our consistently respectful, nonpartisan approach to climate education is designed to create a broad, sustainable foundation for climate action across all geographic regions and political inclinations. By building upon shared values rather than partisan divides, and empowering our supporters to work in keeping with the concerns of their local communities, we work towards the adoption of fair, effective, and sustainable climate change solutions.
In order to generate the political will necessary for passage of the Energy Innovation and Carbon Dividend Act we train and support volunteers to build relationships with elected officials, the media and their local community.
Citizens' Climate Education (CCE), since its founding in 2007, has exponentially grown its global coalition to a remarkable 190,000+ registered supporters. Volunteers are organized into over 500 active chapters. Each chapter is run by a Group Leader and supported by State Coordinators and Regional Coordinators. Chapters work closely with their corresponding Congressional Liaison, who is a designated CCE volunteer leader that maintains the ongoing relationship between a specific member of Congress and local CCE chapters within that member's district or state. At each level of our organizational model, CCE staff provides robust coordination, systems, training, and support to ensure volunteers are successful in their advocacy work. Learn more at https://citizensclimateeducation.org/
Citizens' Climate Education (CCE) and Citizens' Climate Lobby (CCL) are sister organizations that complement each other in strategically building political will for impactful climate solutions. CCE is a registered 501(c)(3) organization that provides key trainings, tools, and other educational resources to help volunteers become effective advocates for climate solutions. CCL is a registered 501(c)(4) organization that supports volunteer-led and other direct lobbying efforts on specific climate legislation. Each organization has its own governing board, operating budget, and audited financials. As CCL has a more public-facing presence, most public accomplishments are attributed to it. Nevertheless, most program activities are related to climate education rather than direct lobbying efforts, and come from the CCE budget.