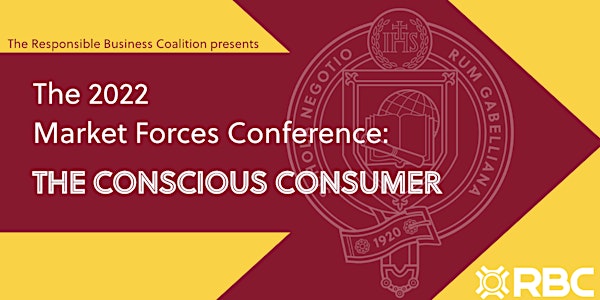 The 2022 RBC Market Forces Conference: The Conscious Consumer
The Responsible Business Coalition (RBC) at Fordham University's Gabelli School of Business presents The 2022 Market Forces Conference.
About this event
This year, the RBC's Annual Market Forces Conference will bring a spotlight to a powerful force driving sustainability forward: The Conscious Consumer. Changing consumer preferences have shifted in recent years towards an increased demand for sustainable products and services. Many consumers now consider sustainability and a company's values when making purchasing decisions – and companies are listening!
Join us as we shed a light on the innovation and action stemming from conscious consumer demand. This year's conference will bring together sustainability experts to explore how the industry is responding to changing consumer demand through more responsible products, circular business models, and opportunities for consumer engagement
Who should attend?
Anyone with an interest in better understanding market forces driving sustainability forward including students, faculty, executives and management in innovation strategy, branding and marketing.
Conference Schedule
12:00pm - 12:05pm - Opening Remarks, Frank Zambrelli, Executive Director, Responsible Business Coalition
12:05pm - 12:10pm - Welcome, Dr. Lerzan Aksoy, Interim Dean of the Gabelli School of Business, Managing Director, RBC
12:10pm - 12:25pm - Fireside Chat on the role of the Conscious Consumer
Cara Smyth, Gabelli Fellow, Founder Responsible Business Coalition
Maani Safa, Chief Executive Officer, Poppins
12:25pm - 12:40pm - Circularity & Sustainable Product
A discussion on how companies are meeting increased demand for more sustainable product offerings and the role of the consumer in the success of a circular economy.
Moderated by Frank Zambrelli, Executive Director, Responsible Business Coalition
Andy Ruben, Founder and CEO, Trove
Jamie Hall , Co-Founder, Pentatonic
Rima Mehta, Senior Manager, Environmental Sustainability, Nordstrom
12:40pm - 12:55pm - The Impact of End-to End Diversity and Inclusion
Tara Donaldson, Executive Editor, WWD
Bahja Johnson, Head of Customer and Community Belonging & Enablement, Gap Inc.
12:55pm - 1:10pm - Strategic Role of Technology in Sustainability
In today's digital world, it is critical to have the proper data and technical infrastructure to support and communicate sustainability claims. This panel brings together experts to explore the links between ESG and the role of data.
Moderated by Alex Markle, Director of MBA Program, Associate Professor and Associate Chair, Strategy and Statistics
Maria McClay, Director of Fashion and Beauty, Google Cloud
Debbie Shakespeare, Senior Director of Sustainability, Compliance and Core Product Lines, Avery Dennison
1:`10pm - 1:25pm - Measuring and Communicating Sustainability to Empower Consumers
This panel unpacks innovations in communicating sustainability efforts to consumers and support the tracing of ESG elements throughout the value chain.
Moderated by Genevieve O'Connor, Associate Professor, Marketing
Cara Smyth, Gabelli Fellow, Founder Responsible Business Coalition, Chair Fashion Makes Change
Gina Woodall, President, Rockbridge Associates
1:25pm - 1:40pm - Student Panel: The Future We Want
An opportunity for future business leaders, our Fordham students, to reflect on and share what a sustainable future looks like to them and how they hope companies will take on the climate crisis.
Moderated by Sophia Town, Assistant Professor, Leading People and Organizations
Gabrielle da Rocha-Afodu, GSB Class of 2024
Julianna Lee, GSB Class of 2024
Pranati Yekula, GSB Class of 2025
1:40pm - 1:55pm - KEYNOTE: ESG & the Changing Consumer Tide with Whitney Dailey, Executive Vice President, Allison + Partners
1:55pm - 2:00pm - Closing thoughts, Leigh Anne Statuto, Director, RBC
2:00pm Conference Closing
General Inquiries: Please email Leigh Anne Statuto (Lstatuto@fordham.edu) Director of the Responsible Business Coalition, Fordham University, Gabelli School of Business for any questions, comments or press inquiries.