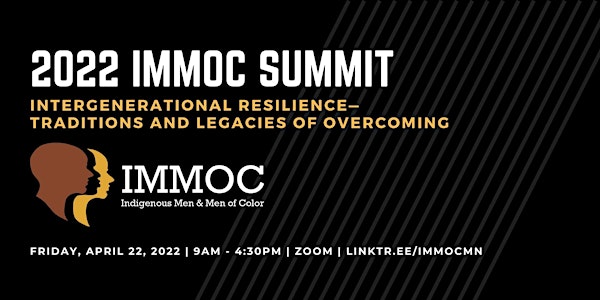 The 2022 IMMOC Summit
"And yet there are times when life demands the perpetual doing of the impossible..." - Martin Luther King, Jr.
About this event
The 2022 IMMOC Summit's theme is "Intergenerational Resilience". The conference will feature keynote addresses highlighting the need for Intergenerational Dialogue, the State of Indigenous Men and Men of Color in Minnesota, and The Resilience Mindset in Practice. Breakout sessions will also be utilized to enhance the themes of this conference. This is a day-long conference geared towards Black, Indigenous, and People of Color (BIPOC) students and staff/ educators who support BIPOC students.
WHO WE ARE: IMMOC consists of BIPOC staff, students and community members who work to ensure the success of BIPOC employees and students within the Minnesota State Colleges and Universities and surrounding secondary education. IMMOC have holistic institutional support this mission to enhance academic, personal and professional success.
Tentative Conference Schedule: We welcome you to attend as much of the conference as you are able. Each roundtable will have a separate breakout room link. To be eligible for scholarships, you will need to attend at least 50% of conference content. Scholarship Submission Guidelines
9:00 to 9:10am—Welcome Remarks
9:10 to 9:20am—Land Acknowledgment & Libation, Invocation of Ancestors
9:20 to 9:30am—Entertainment
9:30 to 10:30am—First Keynote Address: Why the Need for an Intergenerational Dialogue?
10:45 to 11:45am—Roundtable Rap Sessions:
Identity and Backstory: Viewing Your Life from An Asset-Based Lens
Money Matters—Financial Literacy for Everyday Life
The Meaning of Justice for George Floyd
Is Literacy a Vehicle for Liberation—On the Value of Higher Education
11:45 to 12:15pm—LUNCH BREAK
12:15 to 12:30pm—Entertainment
12:30 to 1:30pm—Second Keynote Address: The State of Indigenous Men and Men of Color in Minnesota
1:45 to 2:45pm—Roundtable Rap Sessions:
Entrepreneurship in Our Communities
Critical Race Theory—the What, the Why, and the How
The Cipher—Decoding Positive Masculinities
Equity 2030—Keeping the Score
3:00 to 4:00pm—Third Keynote Address: The Resilience Mindset in Practice
4:00 to 4:10pm—Entertainment
4:10 to 4:20pm—Closing Remarks
4:20 to 4:30pm—Libation, Invocation of Ancestors