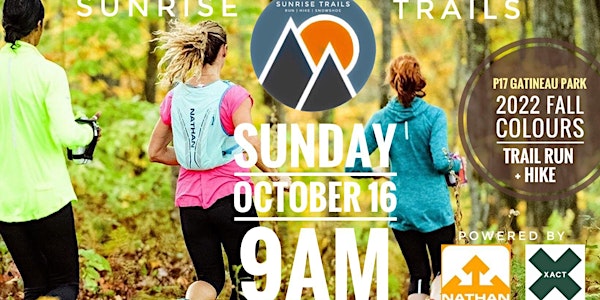 The 2022 Fall Colours trail run/hike
Come on out for a fun Gatineau Park trail run/hike & celebrate the fall colours. All ages. All paces.
When and where
Location
P17 Gatineau Park Route Principale Est La Pêche, QC J0X 3G0 Canada
About this event
Join Sunrise Trails co-leader Tamara Robinson (@tammynutrition) as she takes the group on an easy-paced 21.1k run/hike loop on Sunday, October 16, 2022 at 9am.
Gatineau Park is one of our fav spots and fall is our fav season, so let's mash 'em up all together for a fun trail run and/or hike.
There will be a little bit of everything so be prepared for uphills, downhills, views (Lac Philippe!), views (the leaves!) and a chance to connect with nature.
We will stop for snacks/washrooms at Lac Philippe which is just over the half way point.
Trail run/hike options include doing as much distance as you like if you want to make it an out & back.
We meet at P17 (exit 28 on Hwy 5 North) in Gatineau Park at 8:50am and we are gone gone gooooone at 9am.
Hydration pack, healthy snacks and appropriate trail running gear recommended. It is also recommended that you bring a change of socks, shoes, and clothes, and a towel for post-run/hike.
All ages. All paces.
Rise and shine. Rain or shine.
Registration and participation is an understanding that the participant has read and accepts the following waiver (please read in full):
WAIVER
In consideration of your acceptance on Eventbrite and your participation in Ottawa Free Fitness (OFF) & Sunrise Trails outdoor in-person events, you hereby release and covenant not to sue OFF, Sunrise Trails, and/or its leaders, for any and all present and future claims resulting from ordinary negligence and inherent risk during the OFF & Sunrise Trails outdoor events, including but not limited to, any loss, injury, damage or liability sustained by you. You acknowledge that physical exercise can be dangerous and involve risk of serious injury, paralysis and/or death. You hereby acknowledge and agree to assume responsibility for all the risks, whether identified herein or not, even those risks arising out of negligence of the release. Your participation is purely voluntary. You assume full responsibility for yourself for any bodily injury.
#OttFreeFit #FreeFitness #FreeWellness #SunriseTrails #Trails4Life #FuelYourGoals #RunHappy #BeyondBoundaries #SunriseTrails #trailrunning #trailrunner #trailrun #hike #hiker #hiking #hikingadventures #takeahike #Trails4Life