We are so close to achieving Statehood for the people of D.C. Attorney Barnes and Friends will update, inform you and discuss a lawsuit.
About this event
EACH ATTENDEE at the Live Symposium will receive a Certificate of Attendance from Living with the Law. Recently published, relevant books will be available for sale, including "Towards Equal Footing, A Simple Case of Democracy Denied," The First Edition, with photos, by Attorney Johnny Barnes.
AN AWARDS DINNER, FASHION PRESENTATION, MUSIC, DANCING AND AFTER PARTY will follow the Symposium.
JOHNNY BARNES spent more than a quarter of a century in various Congressional staff positions, including service as Chief of Staff for three Members of Congress. In addition, he has taught law and college courses at area schools and has practiced law in the District of Columbia and the Virgin Islands.
Other related experience includes his appointment as the first male Member of the D.C. Commission for Women; as a Member of the D.C. Commission on Residential Mortgage Investment, an entity that tackled the prevalent problem of redlining and mortgage loan discrimination; as a Member of the D.C. Human Rights Commission; and as an attorney on a Special Task Force that addressed ill treatment of small Minority farmers by the Reagan and Bush administrations and discrimination by rural loan officers. That activity resulted in a resolution --- supported by the Congressional Republican Leadership --- in which billions of dollars was slated to flow to the Minority farmers. Barnes is particularly proud of the role he played in helping to create the "Street Law" Program at Georgetown University Law Center; a program that began in two D.C. High Schools and now involves 150 law schools throughout the World and is taught throughout the United States in schools and prisons and in thirty-five foreign countries.
A Distinguished Military Graduate, Commissioned and Honorably Discharged, Regular Army, Combat Engineer Officer, Barnes graduated, Cum Laude, from Central State University and received his Juris Doctor Degree from Georgetown University Law Center. He is the Father of two grown sons, a grown daughter, six grandchildren and one great grandchild. For a decade, Attorney Barnes served as the Executive Director of the American Civil Liberties Union for the National Capital Area.
During his time at the ACLU-NCA, he led several successful efforts to conserve the Constitution and preserve the Bill of Rights. Those efforts include resisting the proliferation of video surveillance cameras in D.C.; fighting against proposed warrant less searches by the D.C. Police; standing up against unconstitutional police checkpoints in the Trinidad Neighborhood; and pushing back against the Secure Communities program in behalf of D.C.'s Immigrant population. Barnes worked with several ACLU interns, including many from the University of the District of Columbia Law School, in updating and completing a Law Review article on D.C. Statehood and a separate 265-Page Article, now a book, on the subject; that will be available.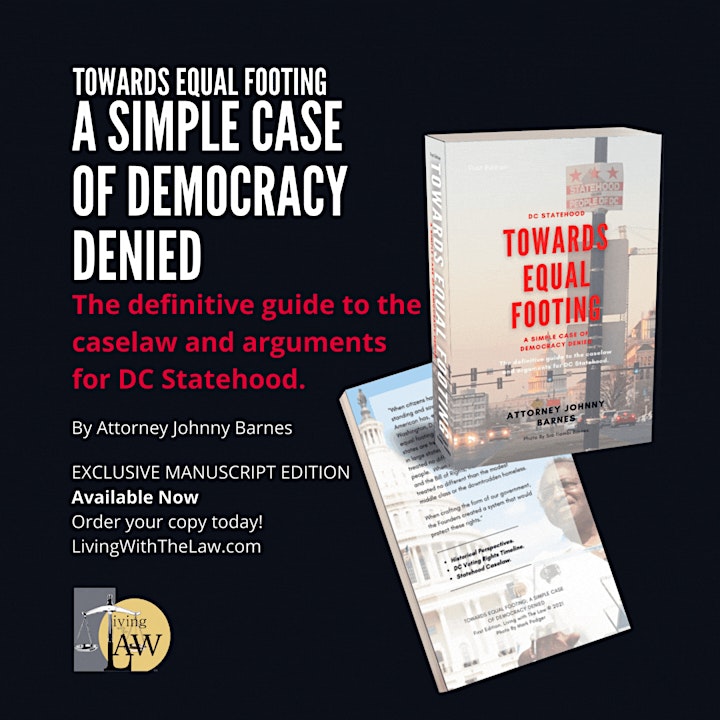 Over the years, I have written about the contradiction between benefits and burdens. America seeks to "extend the perimeters of democracy around the world," as former President Reagan often stated, yet democracy comes to a screeching halt within view of the White House. I have joined many and many have joined me in these writings, far too many to mention here. This treatise is designed to assist readers in understanding the complex relationship between the federal government and the American citizens who happen to reside in the nation's capital. Throughout the muddied history of the District of Columbia, this relationship has been marked by false promises, mounting legal complications, and the unwillingness of the courts to provide the rights that these citizens deserve. This relationship, unique throughout the world, is a classic "chicken and egg" dilemma. If District residents had political standing and sovereignty, they could have senators, representatives, and local autonomy. If they had senators, representatives, and local autonomy, they could have political standing and sovereignty. The challenge, however, is how to initiate this cycle, because currently, the District has neither the chicken nor the egg. As an Assistant Attorney General for the United States, former Supreme Court Chief Justice William Rehnquist stated, "The need for an amendment [providing representation for the District] at this late date in our history is too self-evident for further elaboration; continued denial of voting representation from the District of Columbia can no longer be justified." Unfortunately, the promissory note that Rehnquist once issued has never been collected. This abandoned promise of the United States still persists as the greatest stain on our country, and now is the time, more than ever before, when we should insist that this promise be fulfilled.
Organizer of The 2021 D.C. Statehood Symposium
Living With The Law (livingwiththelaw.com) is an online publication, updated monthly and is designed to give voice and vote to the voiceless and voteless, power and strength to those who consider themselves without recourse. It will center on providing information to consumers and tenants, those of us who it seems these days face maltreatment and mistreatment at the hands of providers of goods and services because they believe we will not fight. Information will be provided on family matters, including wills, estates and insurance, housing issues, including tenant rights and fighting foreclosure; consumer questions; and domestic relations. It also centers on the situation in Washington, D.C., the Nation's "last Plantation."  The answer of course is D.C. Statehood!