This Scholarship, celebrating its Sixth Year, was founded by Ballet in the City and Misty Copeland.
About this event
The 2021 Ballet in the City Scholarship 
The Ballet in the City Scholarship (formerly The Misty Copeland Scholarship) was established by Ballet in the City in 2015 to provide opportunities for African American dancers in classical ballet. To continue this legacy, Ballet in the City will award a $350 scholarship to an African American dancer to support costs associated with continuing their ballet training. The 2021 recipient should be not only hardworking in the studio, but also demonstrate upstanding character.
THANK YOU, CALVIN ROYAL III, Principal, American Ballet Theatre, and Scholarship Ambassador
Applicants for the 2021 Ballet in the City Scholarship must meet the following criteria:
-Be an African-American dancer
-*New this year... in years past, there has been an age range between which the Scholarship recipient must fall. This year we have changed this so that there are no age restrictions. Ballet in the City wishes to support all dancers on their unique journeys at all stages.
-Area of focus of dance studying must be classical ballet
-Must register by clicking "Get Tickets" (NO FEE TO APPLY)
You must also follow the guidelines below
To apply:
APPLICANTS MUST SUBMIT AN ESSAY (no more than 500 words) AND VIDEO TO BE CONSIDERED. VIDEO MUST SHOWCASE BARRE WORK AND A SHORT BALLET VARIATION. 

Please use a personal YouTube account to upload your video(s).

Email the YouTube video link(s) to scholarship@balletinthecity.org along with your essay.

Essays should be in Word or PDF format.

Submit to: scholarship@balletinthecity.org NO LATER than 11:59pm EST on November 30, 2021.
Scholarship Recipients will receive:
$350 scholarship to support costs associated with the pursuit of ballet studies

Additional honors to be confirmed upon selection of the recipients
Application open from November 1, 2021 to November 30, 2021
*ALL APPLICATIONS and materials (ticket, video and essay) DUE November 30, 2021 by 11:59pm EST. No exceptions will be made. 
Recipient to be Notified no later than December 6, 2021.
ALL QUESTIONS: Please email scholarship@balletinthecity.org.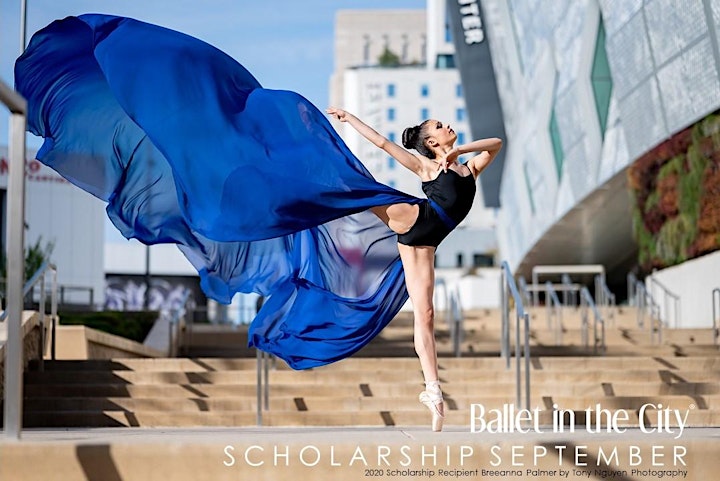 Organizer of The 2021 Ballet in the City Scholarship
The mission of Ballet in the City is to present professional ballet performances, programming, and events in cities around the nation, cultivating and enhancing the unique culture of ballet in each location and beyond. For more information, visit  www.balletinthecity.org.