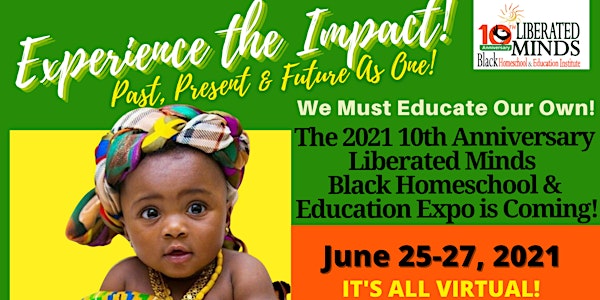 The 2021 10th Anniversary Liberated Minds Black Homeschool & Education Expo
Introducing A Black Homeschool & Education Expo W/ Over 40 Comprehensive Masterclasses, 100's of Black Educational Resources & Support!
About this event
*Please note that you will receive the log-in link just before start time !
Please view the schedule here (You may have to copy & paste the link in your browser)
https://docs.google.com/document/d/1O5M5oDA5Au6eD5oO5MjDyMX4KxvGAoEjfScRcuK6UlQ/edit?usp=sharing
*SPECIAL! MESSAGE TO OUR LIBERATED MINDS FAMILY: We honor you and want to fully support you in this process of LIBERATING & CULTIVATING our BLACK CHILDREN and FAMILIES as much as possible! As a result, after the LIBERATED MINDS EXPO, RECORDINGS WILL BE PROVIDED FOR 14 DAYS AS A COURTESY to those who may not be able to attend all of the presentations or those who may want to just further study the information and ENJOY! *Please note that some of the masterclasses may not be included due to technical difficulty during the recording process
"If you are clear that your children deserve a meaningful education that assures a future of LIBERATION, prosperity, power, and upward mobility, then THIS is the event for YOU!"
-Queen Taese
Liberated Minds would like to personally invite you to The 2021 10th Anniversary of the longest standing Black Homeschool & Education Expo in the world, with over 10,000 Black parents, educators, children, and community families that have now joined the ranks of those in attendance from throughout the Afrikan Diaspora!
We have over 40 comprehensive masterclass intensives, 100's of educational resources, virtual vendors, and a supportive community family of serious-minded parents and educators, that produce children who are exceptional, culturally conscious critical thinkers & self-motivated scholars.
***Masterclass Presenters/Topics Subject to Change.***
WHO IS THIS LIBERATED MINDS EXPO FOR?
Whether one homeschools or not, this gathering will be pivotal for Black Parents and/or Black Educators, Grandparents, Extended Family, as well as Brothers & Sisters who are community leaders & activists, etc.
Participants will be captivated by the information, practical knowledge and resources all in one sacred place, in addition to the family reunion frequency of so many coming together for one collective mission of cultivating the BLACK EXCELLENCE in our children and families.
In this 3-day historic event of unified greatness, you will find the solutions to many of the difficult questions that must be answered and decisions that must be made in order to actualize the Liberation we seek inter-generationally.
We are excited to connect with families who are actively seeking to learn, share, and collectively engage in an authentic community with the common goal of creating a reality where every Black child has the opportunity to experience the quality of education they deserve, an education that affirms a positive self-identity, challenges socio-political belief systems, promotes deep learning and generates innovative pathways to inter-generational wealth in every area of life.
Join the Excitement! Experience the IMPACT!!!
www.LiberatedMindsExpo.com