The 2020 Virtual Bessies Ceremony
About this Event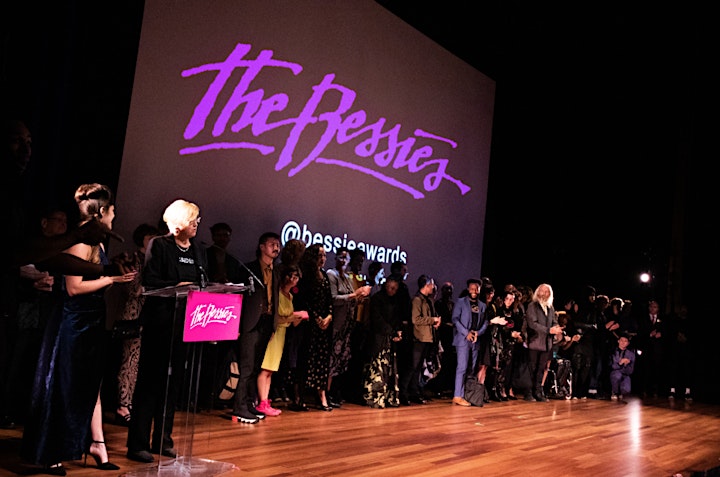 We are thrilled to welcome you to the 36th annual Bessies Ceremony, streamed on a virtual platform on Monday, December 14, at 7:30pm ET.
This year, we lift up all nominated artists, who will receive a $500 honorarium from the Doris Duke Charitable Foundation. Honorees for Lifetime Achievement, Service to the Field of Dance, and 2020 Special Citation will be announced at The Bessies Ceremony. For more on the nominated artists, please visit bessies.org.
The 2020 Virtual Bessies Ceremony will be a place for the dance and performance community to come together in solidarity, support, and celebration during these times of continuing challenge. The event will feature video footage of the nominated artists' works, and will include a special tribute to the often unsung but essential members of the community who are central to the process of bringing live and online dance and performance to audiences in New York City. In addition, segments highlighting Black Lives Matter efforts in and beyond the dance community and an annual 'In Memoriam' honoring lives lost the past year will be included in the virtual ceremony and program.
Tickets are donation based. You are invited to choose what you pay for tickets based on your circumstances. You are welcome to attend by only paying for Eventbrite's required $1 minimum; if that minimum is purchased, an extra 3 cents is added for processing for a total of $1.03. If this cost is still a barrier, please contact dani.bessiesassist@gmail.com. All donations from tickets, whether an individual payment of $5 or $500, goes directly towards sustaining The Bessies and ensuring we are able to continue to celebrate, lift up, and engage the dance and performance community for years to come.
A link to the event and a digital program of the evening will be shared with you prior to the virtual ceremony. The celebration will continue at the free, virtual Bessies After Party following the ceremony. Everyone who registers for The Bessies Ceremony will be invited.
Please direct any questions regarding the virtual ceremony to dani.bessiesassist@gmail.com. We welcome the opportunity to make this event more accessible. If you have accessibility needs specifically in relation to ASL Interpretation or CART services, please submit your requests no later than Wednesday, December 2 at 6:00pm ET by emailing dani.bessiesassist@gmail.com or calling Dani Cole, Associate Manager, Special Projects, at 804-396-2876 (voice only).
ABOUT THE BESSIES
The NY Dance and Performance Awards, The Bessies, are New York City's premier dance awards honoring outstanding creative work in the field. Produced in partnership with Dance/NYC, The Bessies have saluted groundbreaking creative work by independent dance artists in NYC for 36 years. Known as "The Bessie" in honor of revered dance teacher Bessie Schönberg, the awards were established in 1984 by David White at Dance Theater Workshop. They recognize exceptional work in choreography, performance, music composition and visual design.
A Selection Committee comprised of artists, presenters, producers, designers and writers choose nominees. All those working in the dance field are invited to join the NY Dance and Performance League—members participate in annual discussions on the direction of the awards and nominate members to serve on the Selection Committee.
Photo by AK47 Division