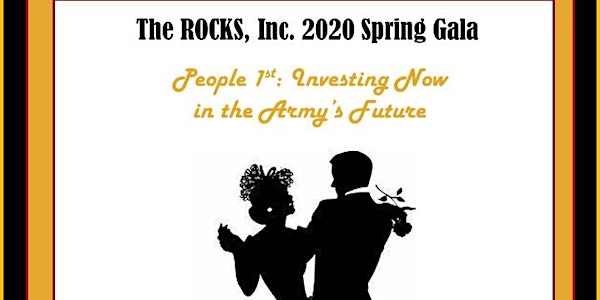 The 2020 ROCKS Spring Gala - People 1st: Investing Now in the Army's Future
The 2020 ROCKS Spring Gala - People 1st: Investing Now in the Army's Future
When and where
Location
Fort Belvoir Officers Club 5500 Schulz Circle # 20 Fort Belvoir, VA 22060
Refund Policy
Refunds up to 7 days before event
About this event
THIS EVENT HAS BEEN CANCELLED. PLEASE READ OUR CHAIRMAN'S MESSAGE BELOW
We Are In This Together
Ladies and Gentlemen,
We hope this correspondence reaches you finding you and your extended family well in good health. As not only our nation but the world battles this pandemic, the likes of which our earth has not seen since 1919 after World War II with the H1N1 virus.
It is for this reason, on March 14th, we elected to cancel the 2020 ROCKS Conference and Gala while we determine our next steps. At this point we have cancelled all 2020 events as the health and safety of our members and their families are paramount. In addition, we recognize and applaud the heroes at the frontline of this battle…our doctors, nurses and healthcare providers, that each and every day are waging war against the corona virus to help those infected while trying to abate this disease. We are watching with you as the world battles this COVID-19.
Now more than ever our nation is showing what makes it us great as we look past bipartisanship, racial barriers, across states lines and realize we are all in this together. It is our intent to make dealing with the cancellation of these events easy for you as you handle with more pressing matters. As we cancel and process refunds for all conference tickets and for the gala we are offering one of three options:
Keep your ticket and it will honored for our next gala, March 27th

Gift your refund as a tax deductible donation to our 501(c)(3) organization

Our simply let us know you would like a full refund.
Please let us know how you would like us to proceed. Moreover, we ask that you please take care of yourselves and adhere to directions of our government and military leaders; until we can get together to celebrate and recognize those who give of themselves; we ask that you refrain from leaving home unless you are mission essential personnel. The CDC advises that the best way to avoid infection is to stay at home and observe social distancing.  The best place to be for the next few weeks is in the safety of your home; don't venture out unless you have to and need to get necessities like food.
There are a number of resources you can use to stay connected, we do recommend one radio station to get news with an emphasis on the Federal New Network (FNN) at 104.5 here in the National Capitol Region or visit, https://federalnewsnetwork.com
Stay healthy, stay safe - We are in this together!
Sincerely,
Lawrence Gillespie, BG (Retired)
Chairman, ROCK, Inc.
The ROCKS, Incorporated's highest priority and paramount concern is the health and safety of our attendees and guests of our scheduled events. We had crafted an exceptional conference consisting of presentations from our Army's Senior Leaders, seasoned speakers and entrusted leaders from across the entire Army enterprise. However, with growing concerns regarding the spread of the Coronavirus and its impact on future travel, the ROCKS, Inc. has decided to  postpone our April 2020 events; both conference and gala.  People 1st: Investing Now in the Army's Future.  We will continue to monitor the guidance received from government and local authorities pertaining to the Coronavirus and will post information soon once we determine the dates of our rescheduled events.
 Registration for events have now been suspended. In the interim, please hold your registration tickets until we have identified a new date; your purchased ticket will be honored.   We will provide details in coming weeks, if you cannot attend our new event date once it has been identified, we will refund the cost of the tickets purchased.  Also please consider donating the monies paid as a tax deductible contribution to support the ROCKS, our mentorship operations and efforts.
Thank you again for your patience as we navigate through events that are impacting our communities around the globe.
Sincerely,
BG (R) Lawrence Gillespie, Chairman, ROCKS,Inc.
The National Board of the ROCKS Incorporated and the DC Chapter of the ROCKS cordially invites you to their annual Spring gala. Join the ROCKS Incorporated as we celebrate 46 years of commitment to mentoring Cadets, Officers, Department of Army Civilians and spouses.
The ROCKS recognizes members who in serving the community are the embodiment of the organization's motto: Concern, Dedication and Professionalism by presenting deserving recipients with the Robert "Bobby" Burke, the ROCK of the Year and the Honorary ROCK of the Year awards. Upon the conclusion of the formal portion of the program, dance to the sounds of DJ A-Ron.
Meal Selection: New York Strip with Bordelaise Sauce or Chicken Cordon Blue with White Wine Sauce or Vegeterian Meal.
Don't wait to buy your ticket as our annual gala has sold out two weeks before ticket sales ended for the last three years.  Buy your ticket today for an event that is the equivalent to a family reunion among a team of Army Professionals and provides an excellent networking opportunity.
The ROCKS, Incorporated is a 501(c)3 organization and the proceeds from this event supports fundraising efforts for ROTC Scholarship and ROCKS Outreach.