The 2020 Black Mindfulness Summit: Healing, Justice, and Joy!
A Mindfulness Event for Black Folks!
About this event
The Black Mindfulness Summit (BMS) is an annual convening of African diasporic mindfulness & contemplative practitioners. The summit is for educators, academics, artists, healers, activists, students, creatives, techies, entrepreneurs, and retirees. In the BMS space WE are the center of the agenda. In the BMS space Black art, culture, spirituality, music, and scholarship is interwoven into our experience. In the BMS space of US we lay our burdens down, bear witness to our journeys, celebrate our victories, learn, network, share, and build. We restore and expand ourselves so we can return to our families and our work with a renewed commitment. Join us!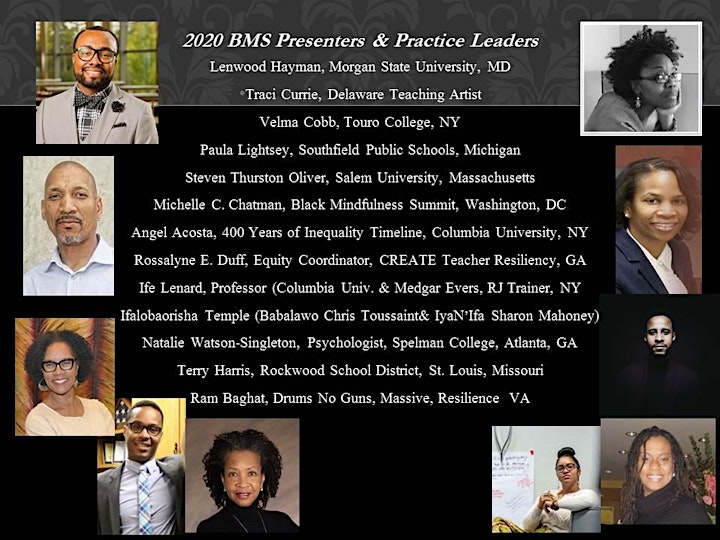 Organizer of The 2020 Black Mindfulness Summit: Healing, Justice, and Joy!

Dr. Michelle Coghill Chatman is an anthropolgist, activisit, vocalist and contemplative educator. The Founder of Integrate Mindfulness, LLC, an essential component of her life's work involves expanding the use of culturally-based mindfulness and contemplative approaches for the advancement of healing, justice, and liberation for African descended families and communities. Dr. Chatman (Iya Omo Olufina) is also a practitioner of the West African based Yoruba religious tradition, and was initiated in 1998 at the Yoruba Temple of Spiritual Elevation and Enlightenment in Washington, DC.