Description

The 2019 Mardi Gras Masquerade!
---
Join Us on Saturday ~ February 23rd for a Night full of sizzling entertainment and enticing costumes at the 17th annual Mardi Gras Masquerade! Bring your bare as you dare attitude and prepare to mix, mingle, see, and be seen. Come Early To Take Advantage Of The $5 24oz PBR Beer Special While Supplies Last! You Definetely Don't Want To Miss The Spectacular Fireworks Show Starting Promptly At 9:00pm! Roam the grounds of Castle McCulloch, an almost, 200 year old Castle while indulging in live music, fire performances, amazing DJs and other fantastical entertainment. Located in the heart of North Carolina, Jamestown is sure to light up the night.
Step 1: Purchase Your Event Entry Tickets!
Please Read Each Ticket Description To Be Sure You're Purchasing The Ticket That Best
Matches The Experience You're Looking For!
Step 2: Pick Out Your Hottest Mardi Gras Attire!
Visit TheCastlePresents.com For Outfit Ideas And Inspiration
Step 3: Pick Out A Sexy Mask To Pair Up With Your Outfit!
Masks Are Required For Event Entry
Step 4: Share Your Outfit Choice And Your Mask With Us!
Twitter @CastlePresents
Insta @TheCastlePresents
Step 5: Attend The Wildest Mardi Gras Party On The East Coast, Sat February 23rd 2019!
Gates Open At 7pm.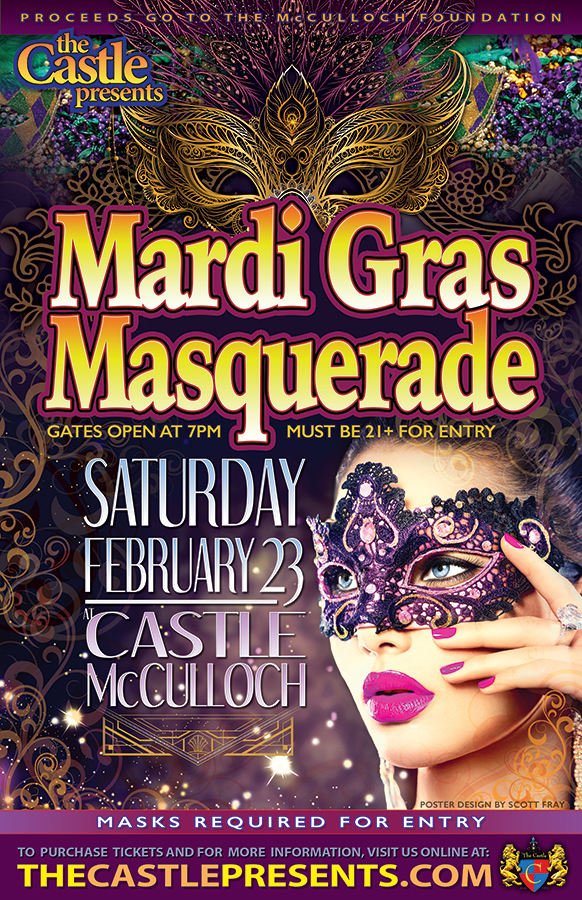 The 2019 Mardi Gras Masquerade Is An Event, Second Only, To New Orleans' Mardi Gras!
We're Talking Mardi Gras Beads, Live Bands, Parades, Fireworks, & Dancing With Multiple Bars Throughout Eleven Clubs & Party Areas!
Mark Your Calendars To Experience Mardi Gras Within A Genuine 200 Yr Old Castle!
This Event Sold Out In 2016, 2017, And In 2018! So Get Your Tickets While They Last!
(Lounge Tickets Available Online With Only 300 Being Sold)

(Masks Required For Entry)

(Must Be 21+ To Enter)

Fireworks Show Begins Promptly At 9pm
FAQs
For A Full List Of FAQ's Visit: TheCastlePresents.com/faq
Are there ID Requirements or An Age Limit to Enter The Event?
Yes, you must have a Valid Government Issued Photo ID

You MUST be 21 Yrs. of Age or Older at Time of Entry.
What are my transportation/parking options for getting to and from the event?
Parking onsite is $5.00 Per Vehicle.

We also have a Separate Gate for Drop Off for Taxis, Shuttles, Limos, Buses, Etc.

The Drop Off Entrance puts you right inside the party much quicker than the Parking Lot Gate.

If possible, we strongly suggest utilizing Drop Off Transportation options for a Safe & Enjoyable Event.
What can I bring into the event?
Costumes Are Encouraged & Masks are REQUIRED!

The Event is held over a Large Area so Comfortable Shoes are suggested.

We do not allow any weapons or weapon like devices such as Pepper Spray, Knives or Pellet Guns.

If your costume/outfit uses a prop weapon such as a Plastic Sword or Plastic Gun it must be clearly a prop (Orange Plastic Tip, it MUST be Plastic).
What's the refund policy?
We DO NOT Offer Refunds For Any Tickets Purchased. All Sales Are FINAL!
How can I contact the organizer with any questions?
With A Show This Big We Get Many Inquiries.

The Fastest Way To Connect Is Via The Castle Presents FB Page, Or By Email.

Please Feel Free To Reach Out With Questions Regarding The 2019 Mardi Gras Masquerade By Sending Your Inquires To:


More Awesome Info Can Be Found Below:
Click Here For The Castle Presents Facebook Page
Click Here For The Castle Presents Instagram Page
Click Here For The Castle Presents Twitter Page