The 2019 Craig Noel Awards for Excellence in San Diego Theatre
About this Event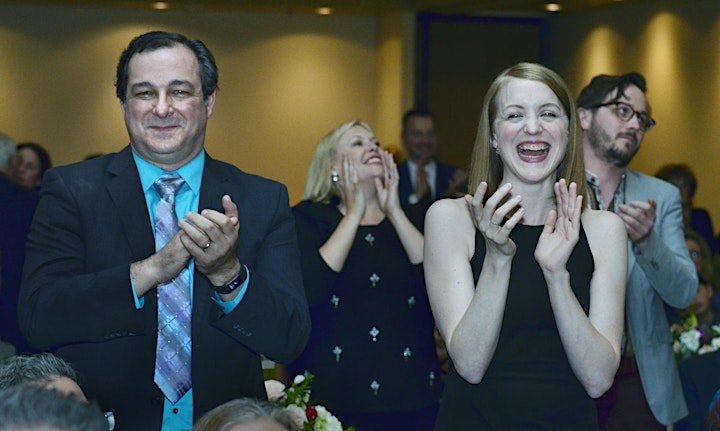 On Feb. 10, 2020, join the San Diego Theatre Critics Circle and more than 400 local theater artists, patrons and fans for San Diego's own version of the Tonys: The 18th annual Craig Noel Awards for Theatrical Excellence. On the one night of the year that San Diego's professional theater community comes together, we will honor the top achievements of 2019 in professional San Diego County theater performances, direction, choreography, design and new plays with more than 25 awards, cash grants and short films.
Event schedule:
• 6 p.m.-7:30 p.m. — Pre-show reception with hosted hors d'oeuvres and no-host bar
• 7:30-9 p.m. — Awards ceremony
• 9-10 p.m. — Post-awards hosted coffee and desserts
________________________________________
Tickets are now on sale at two tiered levels:
Blue Tier: General reserved table seating: $50 per person
Pink Tier: Gallery rows unreserved seating: $15 per person
Gold Tier: VIP tickets are sold out.
Note: A limited number of unreserved row seats will be available at the door on Feb. 10 for $20 (cash only).
Online sales will close at 6 p.m. Friday, Feb. 7.
____________________________________________________________________________
Answers to frequently-asked questions:
Where is the list of nominees for the 2019 Craig Noel Awards?
I'm a nominee! Do I get in free?
Yes. Each individually named nominee is entitled to one free unreserved ($15) ticket. (Ensemble nominees not eligible). Nominees who would prefer to purchase a reserved table seat will get a $15 discount. To receive a special "nominee" ticket code, contact San Diego Theatre Critics Circle president Pam Kragen at pam.kragen@sduniontribune.com.
How can I get the best reserved table seats at the ceremony?
Table seats will be sold on a first-come, first-serve basis.
Can I buy a whole table for my theater party?
Yes! A table of 10 is $500. To order a table, contact San Diego Theatre Critics Circle president Pam Kragen at pam.kragen@sduniontribune.com.
What if my theater group would like to seat one of our nominees at our table?
We will provide a free seat to a nominee at a theater-purchased table. A nominee's guest can also join the table for $35 (a $15 discount from the regular $50 purchase price).
Is there parking and security available onsite?
Yes. The Jacobs Center has its own onsite parking lot and will be offering complimentary valet parking that night (gratuity not included). To reduce wait time, we recommend carpooling. There is also San Diego Trolley stop onsite (Orange Line, Euclid Street Station). The well-lit and private parking lot is also staffed with security guards.
What is the suggested attire for the event?
We recommend dressy cocktail/business attire.
How substantial is the food served at the event.
We offer a wide variety of free hot and cold hors d'oeuvres at buffet-style stations. We also have a no-host cocktail bar serving soft drinks, beer, wine and quick-pour cocktails. If you're looking for a more substantial meal, there are several quick-service restaurants in the adjacent shopping center.
Do I need to print out my ticket confirmation when I attend?
No. We will have a check-in staff in the lobby with lists to direct ticket-holders to their tables or the gallery seating areas.
Who are the awards named after?
Craig Noel, a National Medal of Arts recipient who passed away in 2010 at the age of 94, is widely revered as the founding father of San Diego's theater community. He was a leader in local arts education, a pioneer in bilingual theater productions and a mentor to countless local theater artists. Full bio here.
What is the San Diego Theatre Critics Circle?
Originally established in 1983, then relaunched and re-dedicated in 1992 to honor Noel's legacy, the San Diego Theatre Critics Circle is an all-volunteer, not-for-profit organization made up of experienced theater critics at San Diego newspapers, magazines, websites and theater blogs. All money raised through ticket sales at the annual awards ceremony goes toward producing the event as well as cash grants and scholarships for recipients.
Any other questions?
Contact San Diego Theatre Critics Circle president Pam Kragen at pam.kragen@sduniontribune.com.