Event Information
Location
African American Art & Culture Complex
762 Fulton Street
San Francisco, CA 94102
San Francisco invites you to experience the undocumented inner-city Black dance culture of 1970s Fillmore Strutting.
About this event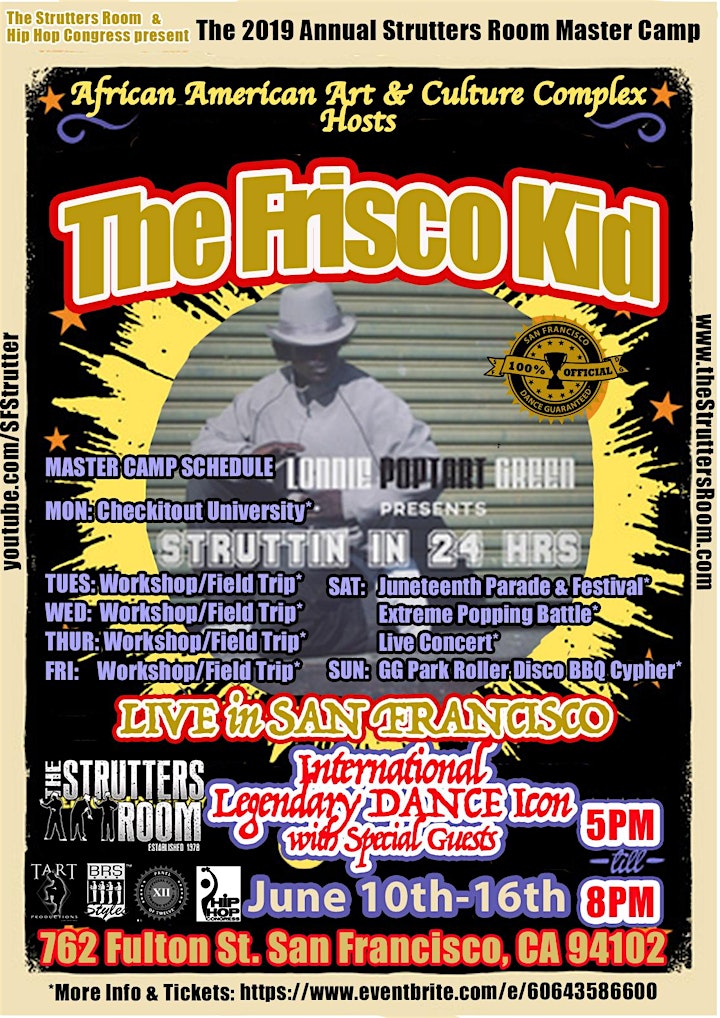 2019 Master Camp Price: $175
2019 AAACC Youth Special (17 & Under Only): $75
Before the world was introduced to "Popping" and "Breakdancing" from New York's Hip Hop culture, the inner-cities of Oakland, Richmond and San Francisco were home to a regional street culture with unique dance expressions known as Boogaloo, Robottin and Struttin. With the competitive nature emerging out of the late 1960's and dominating the Bay Area dance scene throughout the 1970's, these "BRS" funk styles were positive outlets of urban expression that served as an alternative to street activity, much like the East Coast equivalent of BBoy/BGirl culture.
San Francisco's Strutting tradition can be documented as far back as 1975 with A-list groups such as Bambam Inc., Granny & the Robotroids, Live Inc., Monty & the Mechanical Midgets, Close Encounters of the Funkiest Kind, Aliens, Electroids, and their offspring like Baby Funk & the Funkanauts, Mechanical Magicians, Demons of the Mind, PT-3000 and more. Similar to Boogaloo & Robottin, Strutting culture was never fully explored by Hollywood because its community would not easily compromise its traditional values to align with corporate interests. Thus in the 1980's when films like "Breakin" and "Breakin 2: Electric Boogaloo" were taking the mainstream by storm, the BRS origin story was eclipsed by the dominating urban narrative of the South Bronx, leaving the detailed history of the Bay Area inner-city Black dance expression, which influenced an entire generation of Hip Hop dancers, poppers, and Pop stars, virtually unknown to the public.
For the entire week of leading up to the SF Juneteenth Parade & Festival, one of the Fillmore's most beloved public figures, co-founder of BRS Arts Alliance and founder of The Strutter's Room, international Hip Hop dance icon and A-list Strutter Lonnie "The Fillmore Kid" Green a.k.a. PopTart, will open the doors to the African American Art & Culture Complex with the 2019 Annual International Strutter's Room Master Camp for dancers all over the world who are looking to get their information directly from the source - the very community that pioneered the 1970's style of dance that can only be called one thing: Strutting.
SCHEDULE OF CLASSES
6.10 - MONDAY: Welcome to Checkitout University, AAACC
5PM: Doors Open
5:30: Homeroom Orientation
6PM: The History of Boogaloo - Robottin - Struttin - Special Guest Panel
6:15: Language Arts: Strutting Terminologies
6:30: Film Class
6:45: The Science of Strutting Groups
7:00: The Math of Strutting: Counts, Steps, Routines
7:15: Arts & Crafts: Props & Costumes
7:30: The Arts & Crafts of Strutting
7:45: Extended Gym
8PM: Field Trip - Hamilton Recreation Center
6.``11 - TUESDAY: Strutter's Room Study Hall, AAACC
5PM: AAACC Youth Class
6PM - 8PM: Group Stepping Routines
8PM: Field Trip - TBA
6.12 - WEDNESDAY: Strutter's Room Study Hall, AAACC
5PM: AAACC Youth Class
6PM - 8PM: Group Stepping Technique
8PM: Field Trip - TBA
6.13 - THURSDAY: Early Class, Yacht Party Field Trip
12PM - 4PM: Group Step Mastering, AAACC
5PM - 9PM: Field Trip - Hornblower Yacht Party (ticket not included)
10PM: Strutters Room Party, Milk Bar
6.14 - FRIDAY: Strutter's Room Study Hall, AAACC
5PM: AAACC Youth Class
6PM: Juneteenth Kick-Off, Mini Park on Fillmore St.
6.15 - SATURDAY: Juneteenth Parade & Festival, Extreme Popping Battle & Concert
10AM: Juneteenth Parade, Fillmore St.
12PM: Extreme Popping Battle
4:30: Juneteenth Stage Performance
6PM: Strutter's Room Concert
8PM: Strutters Room Party, Emporium SF
6.16 - SUNDAY: Strutter's Room BBQ
1PM: Golden Gate Park, Roller Disco BBQ Cypher
Date and time
Location
African American Art & Culture Complex
762 Fulton Street
San Francisco, CA 94102